Tickets and Travel
1
Newcastle v City: Ticket Information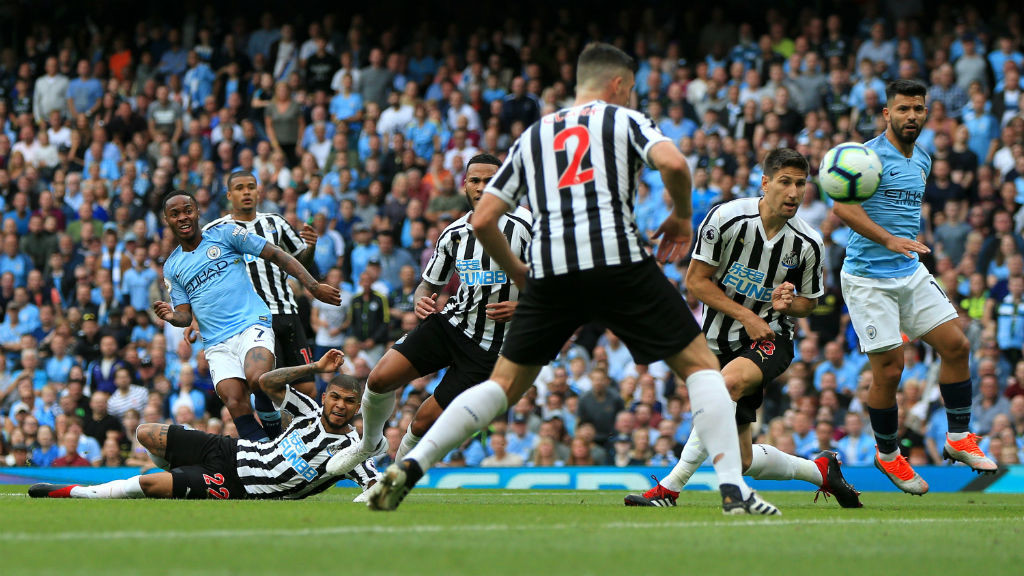 INFORMATION: Ticket details for the game at Newcastle United
Premier League - Ticket Information
Newcastle United v Manchester City
Tuesday 29th January
Kick off – 8:00pm
The Club has received an initial allocation of 2,811 tickets priced as follows:
Adults - £30.00
Over 65s - £24.00
Under 18's - £18.00
The Club would like to remind supporters that it advises against booking travel or accommodation for fixtures until they secure a ticket. Fixture dates and kick-off times can change at any time.
The following groups will receive an allocation of tickets for this match: Supporters, Seasonal Hospitality Supporters, Football Management, Players, Club Partners and the MCFC Supporters Club.
QUALIFYING SALES CRITERIA
Tickets will be available online at www.mancity.com/tickets, by telephone on +44 (0)161 444 1894 (option 1) and in-person at the North Stand Ticket Office located behind the City Square Stage and facing the City Store at the Etihad Stadium.
All Cityzens – Wednesday 9th January at 3pm
Cityzens with a Matchday Cityzen Membership – Wednesday 9th January at 12noon
Cityzens with a 2018/19 Platinum, Gold or 93:20 Seasoncard – Wednesday 9th January at 9am
Should any tickets remain; further selling criteria will be announced on the website.
DISABLED AWAY TICKETS ONLINE
The Club has received an allocation of 16 wheelchair bays and a limited number of walking ambulant tickets, both with the provision for a free personal assistant. Wheelchair supporter tickets are priced at Adult £15, Under 18's at £9 and Over 65's at £12. Walking ambulant supporter tickets are priced at the relevant prices above. Qualifying disabled supporters can purchase by calling the Access Line on +44 (0)161 444 1894 (option 1) or online as follows;
Wheelchair bays – simply log in to your online account, select the 'wheelchair section' and you will be allocated the best available position

Ambulant* – once logged in to your account, select the block you would like to sit in and you will be allocated the best available seats
When purchasing online, select the quantity as one ticket, as this will pull through the personal assistant to the basket. Within the basket, you can then change the owner of the second ticket to your personal assistant.
*We do not restrict where a supporter sits as we are aware that you may wish to sit with your friends and family. If you have a specific seating requirement where you need to discuss the specific seats that the opposing club may have allocated for easy access, please contact the team on +44 (0)161 444 1894 (option 1) to discuss your needs in more detail.
There is a limited allocation for juniors to purchase at the same time as a qualifying adult. At the point where the adult qualifies, they can also purchase one junior ticket regardless of the junior's ticket point status. Once this limited allocation has been sold, no further tickets will be available, and all junior supporters must then qualify in their own right to purchase a ticket.This option is available online and over the phone on +44 (0)161 444 1894 option 1.
*Tickets purchased over the telephone will be subject to a £2.50 booking fee per ticket. Phone lines are open 8am to 8pm, 7 days a week. Booking fees may apply on all channels.
If the supporter number used is that of an adult, then only an adult ticket may be purchased. This also applies to, Over 65s and Under 18's.
Cityzens with a 2018/19 Platinum or 2018/19 93:20 Seasoncard will be awarded 40 ticket points. Cityzens with a 2018/19 Gold Seasoncard will be awarded 20 ticket points for attending this fixture.
If you are making your own way to St. James' Park , plan your journey following the directions as advised by Newcastle United available here.
FORGOTTEN YOUR ONLINE LOG IN?
Supporters purchasing online will need to have a valid email address which is already registered with the Club, and a valid supporter number, before they can log into their account online. If any supporter has forgotten their password, they will have the option to request a new password which will be sent to their registered email address. You can also view your ticket points online by logging in here, and clicking 'My Account'.
LINKING YOUR FRIENDS AND FAMILY
Don't forget to link your Friends and Family before you buy. You can do this at any time, why not log in online now and set your group up now.
As guardians of this great Club, we all have a responsibility to act as ambassadors of not only Manchester City, but also the City of Manchester. On your visit to St. James' Park, please respect the stewards and staff at the Club and we ask that you:
Remain in the seat that you have purchased.

Keep your ticket with you at all times.

Do not block the aisles or gangways.

Do not smoke.

The use of pyrotechnics, flares and smoke bombs is strictly prohibited
The Ticket Office is open Monday to Friday 9am to 5:30pm. Supporter Services is open Monday to Friday, 9am to 5pm. Both facilities will open at 10am on Thursday and are closed on Weekends & Bank Holidays, except where there is a First Team home match. For queries, please call +44 (0)161 444 1894. To keep up to date with all the current ticketing information follow official Twitter account, @MANCITYHELP
All tickets are sold subject to availability and are issued subject to Manchester City Football Club Limited's 2018-19 Away Match Terms and Conditions of Sale and the applicable Ground Regulations of the opposing team. It is important to note that tickets cannot be returned within 7-days of the match in line with our refund policy.