Tickets and Travel
1
West Brom v Man City: Supporter information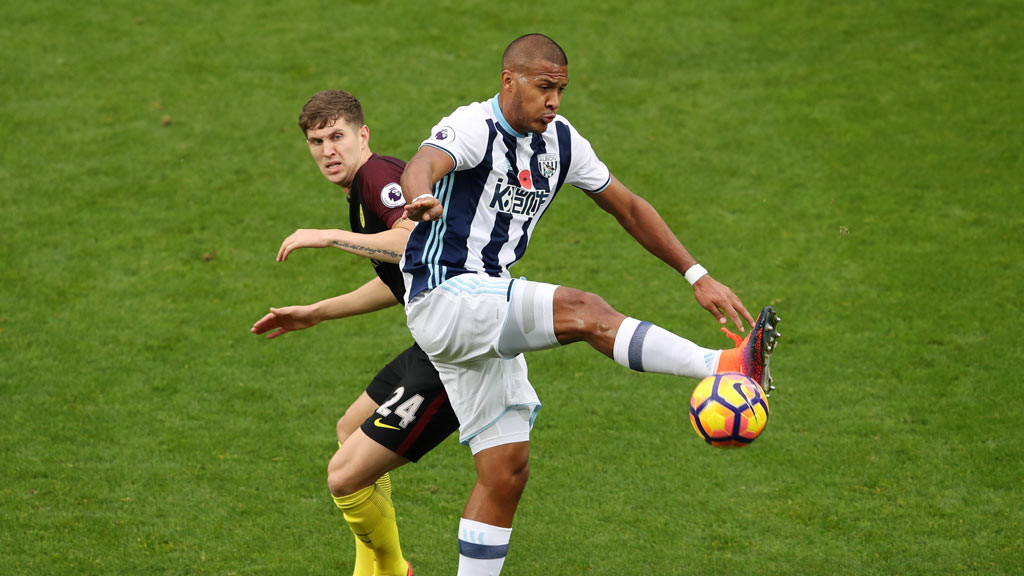 DUEL: John Stones and West Brom's Salomon Rondon clash
Below you will find important service information ahead of our away fixture against West Bromwich Albion, Wednesday 20th September, 8pm kick-off. We ask you to arrive early to ensure that there are no delays in entering the stadium.
Supporters attending this match are advised not to take any bags unless essential. Bags will be searched, in accordance with visiting supporter stand security procedures, which may cause a delay in entering the stadium.
Travelling to the stadium
Ticket Collections
Accessibility
Official Match Ticket
General Information
Code of conduct: Respect the Badge
TRAVELLING TO THE STADIUM
For directions to The Hawthorns, including address and contact details, please see the visiting supporters guide here.
The postcode for The Hawthorns is B71 4LF, located just 500m from Junction 1 of the M5. There are a number of privately run car park in close proximity of the Stadium.
The rail and Metro services both stop at The Hawthorns station on Halfords Lane/Middlemore Road. Further details on all forms of public transport can be found here.
Supporters are advised to always allow extra time to travel on a match day and plan ahead.
TICKET COLLECTIONS
Supporters can collect from the main East Stand ticket office until 6.30pm thereafter from the away supporter's kiosk situated next to A block turnstiles.
Supporters must provide photographic identification to collect their ticket.
Supporters are advised to collect their tickets at least 60-minutes before kick-off to pass through security checks and enter the stadium in time.
ACCESSIBILITY
A hearing loop is available in the Ticket Office and a portable system at reception. The club broadcases live in house match commentary for all first team matches. The commentary can be picked up on either the supporters own FM radio of the one provided by the Club.
The Clubs access statement can be found here.
OFFICIAL MATCH TICKET
The Away Supporters' Area is located in the Smethwick End. Turnstiles will open approximately 90 minutes prior to kick-off.
Supporters are located in Blocks A1-A6 and B1-B6. Please find the correct turnstile printed on your match day ticket. It is important that aisles are kept clear and supporter do not stand in the hatched areas.
The Club accepts no liability for tickets purchased through unofficial channels.
GENERAL
Visiting supporters are welcome at the Hawthorns Fan Zone, with games opening approximately 2 hours before kick-off. The Fan Zone is situated on the corner of Halfords Lance and Birmingham Road.
The West Brom visiting supporter guide can be found here.
CODE OF CONDUCT: RESPECT THE BADGE
If you ever witness crime, vandalism, violence, drugs, the use of smoke bombs and pyrotechnics or abusive behaviour from visiting or home supporters, inside or outside a Stadium, contact a steward as soon as you can and report your concerns.
Man City is proud to support the Kick It Out campaign. Download the KIO reporting app today.
In 2008, the Justin Campaign was formed to tackle homophobia, biphobia and transphobia in football, and two years later the initiative FvH began.
The Hawthorns has a strict no smoking policy; the use of electronic cigarettes is also prohibited.
Supporters travelling via public transport are asked to be mindful of other passengers travelling and respect the staff on board.
West Brom general enquiries can be contacted on 0871 271 1100.
Should you require any information from Manchester City Supporter Services, the phone lines are open Monday to Friday, 9am to 5:00pm (closed Weekend's and Bank Holidays). For this fixture, the Supporter Services phone line will be open from 9am-8.15pm.
Add to Calendar