Tickets and Travel
1
Middlesbrough v Man City: Away fan guide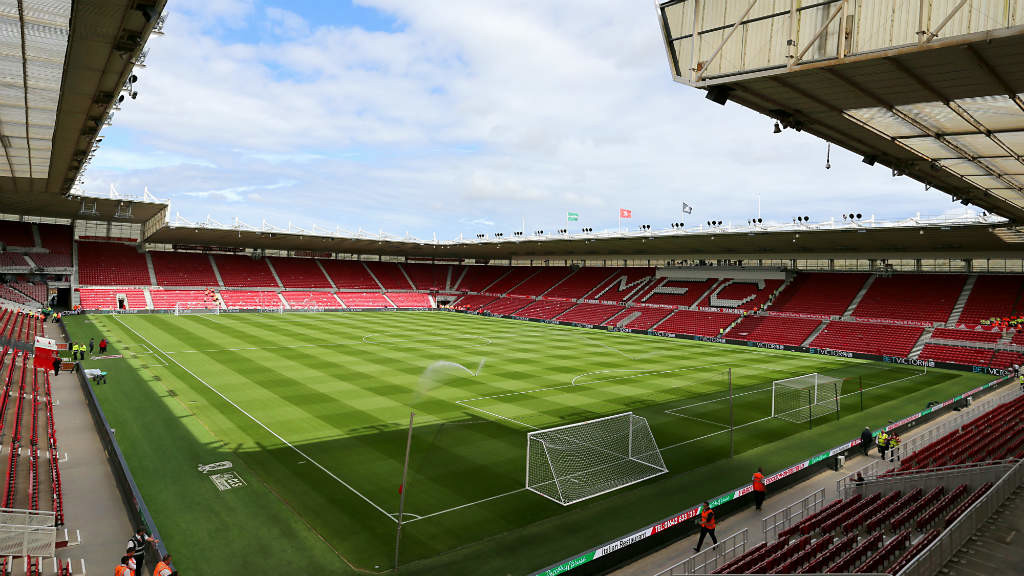 AWAY DAY: Man City travel to the Riverside Stadium in the FA Cup sixth round.
Ticket and travel information and advice for supporters attending Manchester City's away game at Middlesbrough in the the FA Cup sixth round.
The game kicks off at 12.15pm on Saturday 11 March at the Riverside Stadium.
We ask you to arrive early to ensure that there are no delays in entering the stadium.
Supporters attending this match are advised not to take any bags unless essential. Bags will be searched, in accordance with visiting supporter security procedures, which may cause a delay in entering the stadium.
Travelling to the Stadium
For directions to the Riverside Stadium, including address and contact details, please click here.
Matchday Parking at the Stadium is only available to permit holders. Visiting fans can purchase a permit by calling the ticket office on 0844 499 1234* (subject to availability).
Those without a permit are advised to park in the town centre. For further information of where to park on a matchday please go to visit Middlesbrough.
Coaches and minibuses can park in car park 'D' at the stadium, directly outside the visitors' turnstiles, access is from The Leeway. Coach parking is £20 per coach and minibuses are £10.
Middlesbrough Train Station is located on Albert Road, approximately a 10-15 minute walk from the Riverside.
Ticket collections
Supporters who have arranged duplicate tickets to be collected at the Riverside Stadium can do so from 10am on the day of the fixture.
Tickets will be available from the Visitors ticket office (situated by the away turnstiles).
Supporters are advised to collect their tickets at least 60-minutes before kick-off in order to pass through security checks and enter the stadium in time.
Accessibility
Accessible parking can be discussed with a member of the Disability Liaison Team at Middlesbrough. They can be contacted on 0844 499 6789 or email supporters@mfc.co.uk
Supporters are advised accessible toilets can be entered with a radar key.
Official match ticket
The turnstiles will open 90 minutes prior to kick-off. Middlesbrough stewards will carry out searches at the turnstiles.
Supporters are located in Blocks 44-57 located in the East Stand. Please find the correct turnstile printed on your match day ticket. It is important that aisles are kept clear and supporter do not stand in the hatched areas.
The Club accepts no liability for tickets purchased through unofficial channels.
General
There are 5 concessions in the away end, supplying hot and cold drinks including alcohol, there is also an extensive food range. Supporters can use Credit & Debit (excluding Amex) cards at concessions, there is no cash machines located at the stadium.
The matchday programme can be purchased at the ground or online here at a cost of £3.
Code of Conduct: Respect the Badge
If you ever witness crime, vandalism, violence, drugs, the use of smoke bombs and pyrotechnics or abusive behaviour from visiting or home supporters, inside or outside a Stadium, make contact with a steward as soon as you can and report your concerns.
Man City is proud to support the Kick It Out campaign. Download the KIO reporting app today.
In 2008, the Justin Campaign was formed to tackle homophobia, biphobia and transphobia in football, and two years later the initiative FvH began.
The Riverside Stadium has a strict no smoking policy; the use of electronic cigarettes is also prohibited.
Supporters travelling via public transport are asked to be mindful of other passengers travelling and respect the staff on board.
Middlesbrough FC Customer Services can be contacted on 0844 499 1234
Should you require any information from Manchester City Supporter Services, the phone lines are open Monday to Saturday, 9am to 5:30pm except for Thursday when we open at 10am (closed Sunday and Bank Holidays).
Please call +44 (0)161 444 1894 (option 1, option 3).
You can also use our official service Twitter account, @ManCityHelp.