Tickets and Travel
1
Ticket exchange available for Man City v Liverpool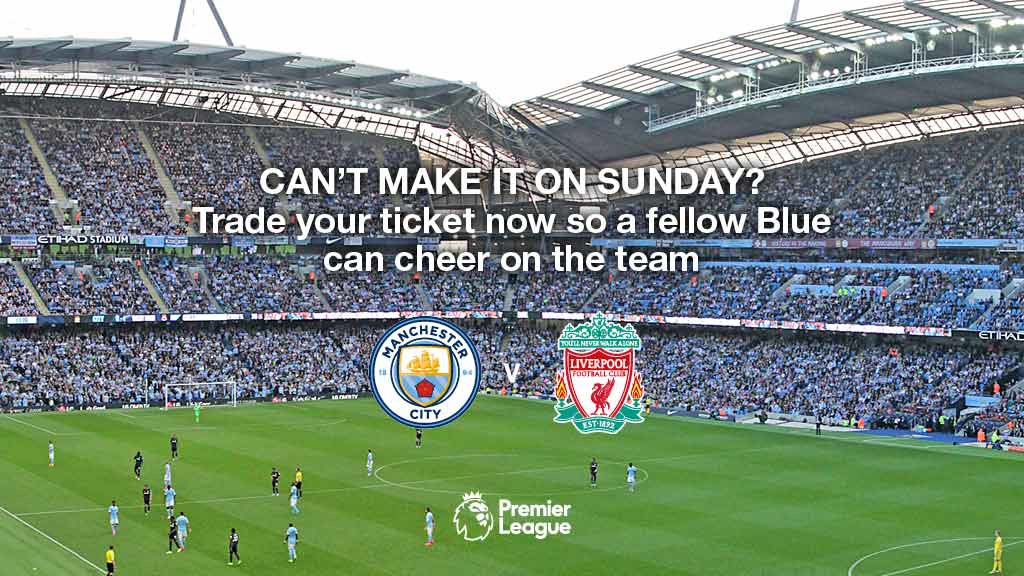 TRADE: List your Seasoncard for exchange if you can't attend City v Liverpool.
If you're a Seasoncard holder who can't make it to the Etihad Stadium on Sunday, remember you can use City Ticket Exchange.
Our trading service gives another fan the opportunity to watch a game you can't attend and ensures you're not left out of pocket.
So, if you can't be there to see us take on Liverpool, list your ticket for exchange and another Blue can get behind the lads for this important game.
Thanks to your fantastic support this game is now sold out, which means City Ticket Exchange is the only way supporters without a Seasoncard can secure their seat for this Premier League clash between two North West rivals.
If your ticket is sold you'll receive a credit towards the price of a 2017/18 Seasoncard and with your seat occupied, Pep Guardiola's team will be cheered on by another passionate Blue.
City fans are the best in the world and when a packed house at the Etihad is in full voice, you really do make the difference.
So, if you can't be there on Sunday, make sure you use City Ticket Exchange.
Please note that only Seasoncard holders can sell their seats via the City Ticket Exchange, which is only available to use for home Premier League matches.
For more information on City Ticket Exchange, please click here.
All tickets are sold subject to availability and are issued subject to Manchester City Football Club Limited's 2016-17 Home Match Terms and Conditions of Sale and any applicable Ground Regulations.