Tickets and Travel
1
Cityzens Saturday: Afternoon only tickets on sale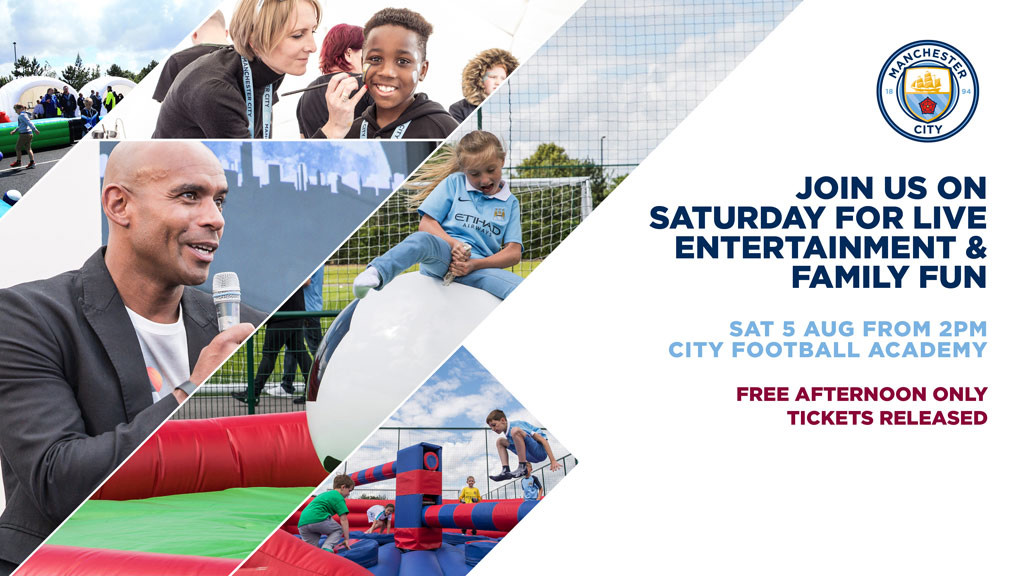 FREE: Afternoon only tickets for Cityzens Saturday.
Due to popular demand, we have released a limited amount of FREE afternoon only tickets for Cityzens Saturday, so that more fans can join us to celebrate the start of the 2017/18 season.
The afternoon segment kicks off at 2pm on Saturday 5 August and includes a wide-range of activities and entertainment for all ages.
Please note: You will have to log-in before you can redeem a ticket. Afternoon only tickets will not grant you access to the Open Training event taking place in the Academy Stadium in the morning.
There'll be a host of football skill challenges, coaching sessions from City in the Community and live music, whilst on stage we'll introduce fans to Club representatives both past and present.
Staff will be on hand to provide an exclusive insight into the Club and the Manchester City Women, EDS and Academy squads will all join us to share their thoughts ahead of their respective campaigns.
We'll also welcome back a number of ex-players who'll regale us with tales of yesteryear, as well as utilising their experience to look ahead at what we can expect from the current crop of City stars.
Tickets for Cityzens Saturday - afternoon only - are available to redeem online at mancity.com/tickets and supporters can claim up to four FREE tickets.
The full Cityzens Saturday running order is now available here.
All tickets redeemed online will be available using the Print@Home E-ticket. Card activations will not be available for this event.
Your Print@Home ticket(s) must be printed before you arrive on plain, clean, A4 white paper.
Disabled supporters are unable to redeem tickets online and should call +44 (0)161 444 1894 (option 1, option 1, option 1).
The Ticket Office is open Monday to Saturday 9am to 5:30pm. Supporter Services is open Monday to Saturday, 9am to 5pm.
Both facilities will open at 10am on Thursday and are closed on Sunday/Bank Holidays except where there is a First Team home match.
For queries, please call +44 (0)161 444 1894 (option 1, option 3). To keep up to date with all the current ticketing information follow official Twitter account, @MANCITYHELP.