Tickets and Travel
1
Monaco v Man City: Sold out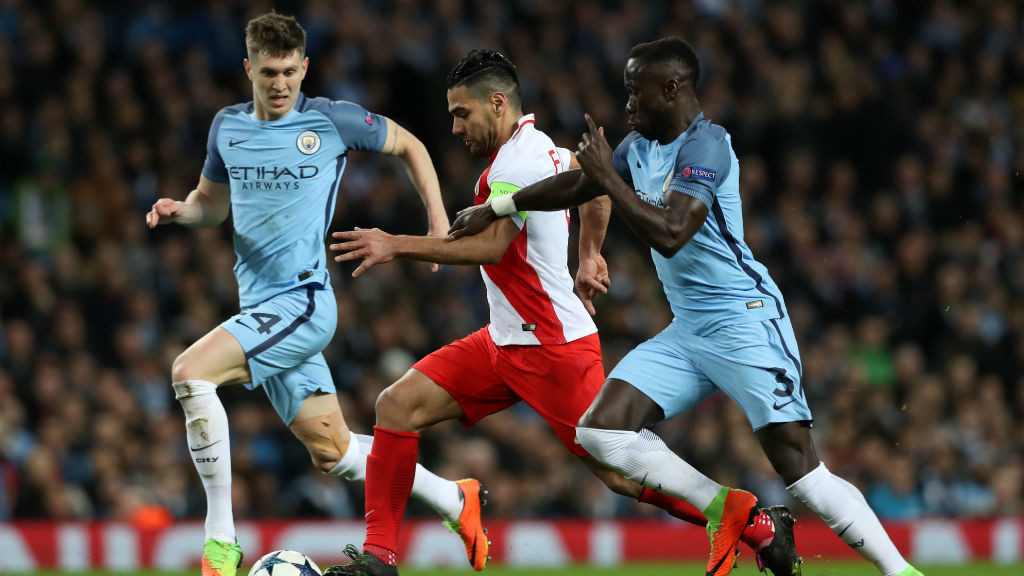 PURSUIT: Stones and Sagna challenge Falcao for the ball
Tickets for Manchester City's Champions League away game against AS Monaco are sold out.
The second leg of the last 16 tie kicks off at 8.45pm local time, at Stade Louis II on Wednesday 15 March.
Official match ticket
Entry to the Stadium will be granted on the presentation of a valid match ticket purchased from the Club.
The Club excludes all liability to any supporter who is denied entry to the Stadium as a result of their ticket having been purchased through an unauthorised seller, or not being in possession an official match ticket.
The unauthorised sale or disposal of tickets may also amount to a criminal offence and the Club will inform the police as soon as it becomes aware of any unauthorised sale or disposal of tickets.
Supporters are reminded that the name of the supporter who has purchased the match ticket will be written on the back of the ticket.
Supporters are advised that on the night of the match stewards will check that the name on the ticket matches that of the supporter who has purchased. Photo identification will also be requested to validate the name of the respective supporter and to allow entry in to the stadium.
Ticket dispatch
All tickets will be dispatched to the lead supporter week commencing 20 February. Supporters are advised; no tickets will be given out at the counter to any supporters who purchase in person.
Respect the Badge
Manchester City Football Club is proud to have the best fans in the world and with your help we plan to keep it that way.
As guardians of this great Club, we all have a responsibility to act as ambassadors of not only Manchester City, but also the City of Manchester.
On your visit to Stade Louis II, please respect the stewards and staff at the Club and we ask that you:
Remain in the seat that you have purchased
Keep your ticket with you at all times
Do not block the aisles or gangways
Do not smoke
The use of pyrotechnics, flares and smoke bombs is strictly prohibited
The Ticket Office is open Monday to Saturday 9am to 5:30pm. Supporter Services is open Monday to Saturday, 9am to 5pm.
Both facilities will open at 10am on Thursday and are closed on Sunday/Bank Holidays except where there is a First Team home match.
For queries, please call +44 (0)161 444 1894 (option 1, option 3).
To keep up to date with all the current ticketing information follow official Twitter account, @MANCITYHELP
All tickets are sold subject to availability and are issued subject to Manchester City Football Club Limited's 2016-17 Away Match Terms and Conditions of Sale and the applicable Ground Regulations of the opposing team.
It is important to note that tickets cannot be returned within 7-days of the match in line with our refund policy.