Tickets and Travel
1
MCWFC 2017/18 Seasoncard window extended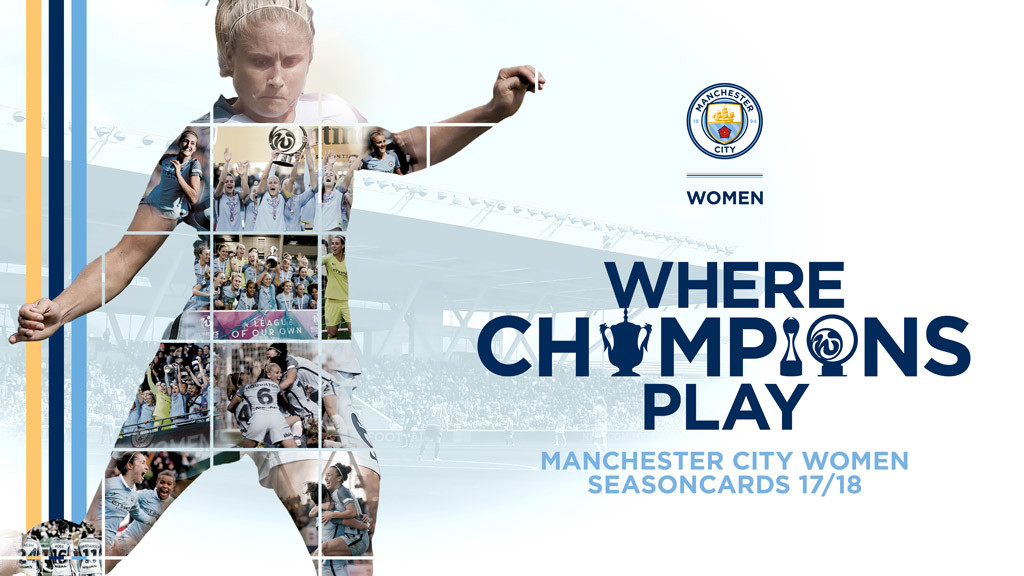 SEASONCARDS: On sale now!
The window to purchase Manchester City Women 2017/18 seasoncards has been extended to 25 September.
With a historic first FA WSL title, a second FA WSL Continental Tyres Cup win and a UEFA Women's Champions League debut, the 2016 season was unforgettable for Manchester City Women.
Secure your seat now at the Academy Stadium, for what's sure to be another thrilling season as the 2016 Double Winners look to retain the league title and challenge for more silverware on four fronts, including the UEFA Women's Champions League after qualifying for a second successive season.
Change of calendar
From the 2017/18 season onwards, The FA Women's Super League will be played alongside the traditional football calendar, running from September 2017 until May 2018.
Reserved seating
For the new season the Academy Stadium will also be switching to reserved seating.
With the introduction of reserved seating, supporters will now have the chance to secure their preferred seat in the stadium to watch all next season's action unfold.
Seating in the Academy Stadium will now be split into two categories - A and B. Category A seats are the two central blocks (E3 & E5) situated on either side of Heart of the City hospitality area. Category B seats are located on the two end blocks (E1, E2, E6, E7) situated on either side of Category A seating.
To view the Academy Stadium map please click here.
Games included in Seasoncard package
Manchester City Women's 2017/18 Seasoncard includes all home FA WSL, FA WSL Continental Tyres Cup, SSE FA Women's Cup and UEFA Women's Champions League fixtures.
With the expansion of the FA WSL league and four competitions to enjoy all season long, this will mean even more home matches included in your Seasoncard package than ever before.
You can buy your MCWFC 2017/18 Seasoncard by any of the following ways:
Online at mancity.com/tickets
Calling (0)161 444 1894 (Option 1) – lines open 24hrs / 7 days a week, £2.50 booking fee per Seasoncard will apply
Visit the Etihad Stadium Ticket Office located on the first floor of the City Store
General sale prices for 2017/18 MCWFC Seasoncards
Category A
Central blocks (E3 & E5)
Situated on either side of Heart of the City hospitality area
Category B
End blocks (E1, 2, 6 & 7)
Situated on either side of Category A seating
Under 16
£32
Under 16
£32
16-21
£50
16-21
£45
Over 65
£50
Over 65
£45
Adult
£70
Adult
£60
Supporters with Access Requirements (Including Wheelchair and ambulant)
Seasoncards will be charged at the appropriate age band.
Where a personal assistant is required to accompany a Disabled Supporter who is over the age of 14, the personal assistant will receive a seat free of charge (subject to availability and the provision of supporting medical evidence).
Please note: This relates to the seat only and all other elements of the Hospitality Package are to be paid at the full prevailing rate..
As per previous seasons you will also be able to spread the cost of your Seasoncard across three payments. If you opt for Direct Debit, you will be required to pay 25% of the total cost on checkout followed by three equal month instalments payable on 1st July, 1st August, 1st September. Terms and conditions apply.
General admissions
Individual general admission tickets will go on sale later this summer priced at £8 per game for category A tickets, £6 per game for Category B tickets and a reduced price of just £4 for standing. Concession prices will also apply.
With more games than ever before, Seasoncards will equal a savings of at least £2 per game across the season.*
Additional 2017/18 MCWFC Seasoncard benefits
2017/18 MCWFC Seasoncard holders will also receive:
10% discount in the City Store when you present your MCWFC Seasoncard
Seasoncard Welcome Pack
One additional complimentary GA ticket to the first home game of the 2017/18 season
Seasonal Hospitality for the 2017/18 is also available. To find out more information click here.
*Dependent on seat category and fixtures.