Tickets and Travel
1
Chelsea v Manchester City: Away fan guide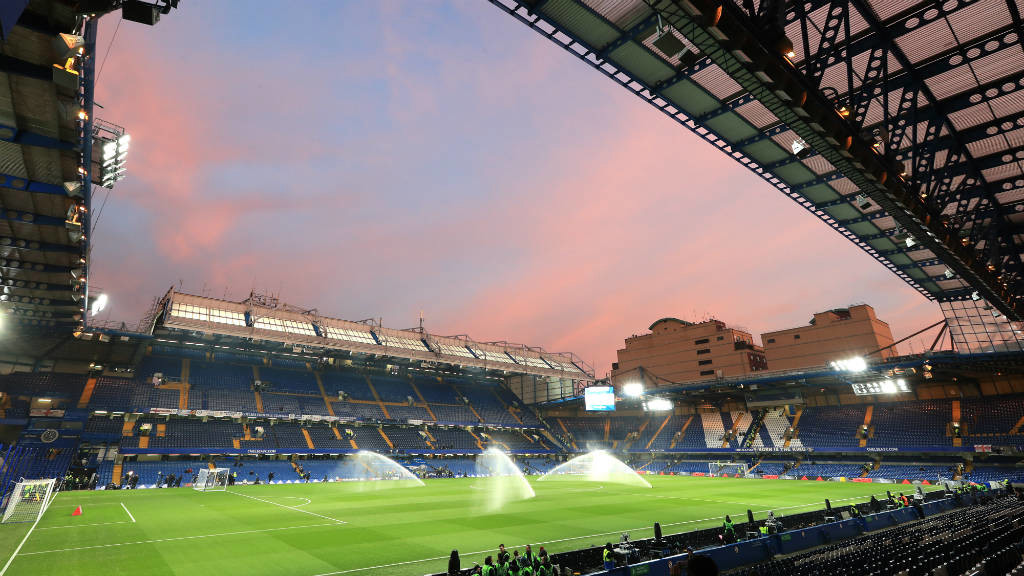 STAMFORD BRIDGE: City travel to West London.
Travelling to Stamford Bridge on Wednesday? Here's everything you need to know as an away fan...
The match kicks off at 8pm and we ask you to arrive early to ensure that there are no delays in entering the stadium.

Supporters attending this match are advised not to take any bags unless essential. Bags will be searched, in accordance with visiting supporter stand security procedures, which may cause a delay in entering the stadium.
Travelling to the Stadium
For directions to Stamford Bridge, including address and contact details, please click here
The postcode for the Stamford Bridge is SW6 1HS, however supporters are advised parking is very limited, and the best way to travel is by public transport.
The nearest tube station is Fulham Broadway on the District Line. There are two Overground stations near Stamford Bridge, West Brompton and Imperial Wharf, which are approximately a 15-minute walk from the stadium.
There is a limited area for away supporter coaches in Imperial Road. Chelsea traffic marshals will direct supporters to the ground which is approximately a 10-15-minute walk.
Supporters are advised to always allow extra time to travel on a match day and plan ahead.
Visiting supporter pubs
Police advise that visiting supporters are welcome in the Earls Court area.
Ticket collections
Supporters who have arranged duplicate tickets to be collected at Stamford Bridge can do so from the main Ticket Office which is situated in the South Stand in between the club shop and Frankies restaurant. The Ticket Office will be open from 9.15am on the day of the fixture.
Supporters must provide photographic identification to collect their ticket.
Supporters are advised to collect their tickets at least 60-minutes before kick-off to pass through security checks and enter the stadium in time.
Accessibility
Accessible parking can be discussed with a member of the Disability Team at Chelsea. They can be contacted on 0371 811 2012.
Visually impaired supporter can collect a free earpiece from window 7 on a matchday. Please contact a member of the Manchester City Access Team in advance to arrange this. They can be contacted on 0161 444 1894 (Option 1,1,1).
All disabled toilets are fitted with a Radar Key, supporters are advised to take their own, however stewards do have Radar Keys if required.
Official match ticket
The Away Supporters' Area is in the Shed End of Stamford Bridge. Turnstiles will open approximately 90-minutes prior to kick-off.
Supporters are located in lower blocks 1-4 and upper blocks 1-5. Please find the correct turnstile printed on your match day ticket. It is important that aisles are kept clear.
The Club accepts no liability for tickets purchased through unofficial channels.
General
Big screen messages can be requested by emailing bigscreen@chelseafc.com – there is a maximum limit of fifteen words per message and they will be shown at the bottom of the screens during the match.
Early arrival offers are available for fans arriving in the first 30-minutes of gates opening. Pint of Singha & pie/hot dog for £2.50 or a soft/hot drink for only £1
There is a cash machine located on-site next to the security office by the Stamford Gate.
The Chelsea visiting supporter guide can be found here.
Code of Conduct: Respect the Badge
If you ever witness crime, vandalism, violence, drugs, the use of smoke bombs and pyrotechnics or abusive behaviour from visiting or home supporters, inside or outside a Stadium, contact a steward as soon as you can and report your concerns.
Man City is proud to support the Kick It Out campaign. Download the KIO reporting app today.
In 2008, the Justin Campaign was formed to tackle homophobia, biphobia and transphobia in football, and two years later the initiative FvH began.
Stamford Bridge has a strict no smoking policy; the use of electronic cigarettes is also prohibited.
Supporters travelling via public transport are asked to be mindful of other passengers travelling and respect the staff on board.
Chelsea general enquiries can be contacted on 0371 811 1955.
Should you require any information from Manchester City Supporter Services, the phone lines are open Monday to Saturday, 9am to 5:30pm (closed Sunday and Bank Holidays).
For this fixture, the Supporter Services phone line will be open from 9am-8.15pm.