Tickets and Travel
1
Tickets: FA Youth Cup final second leg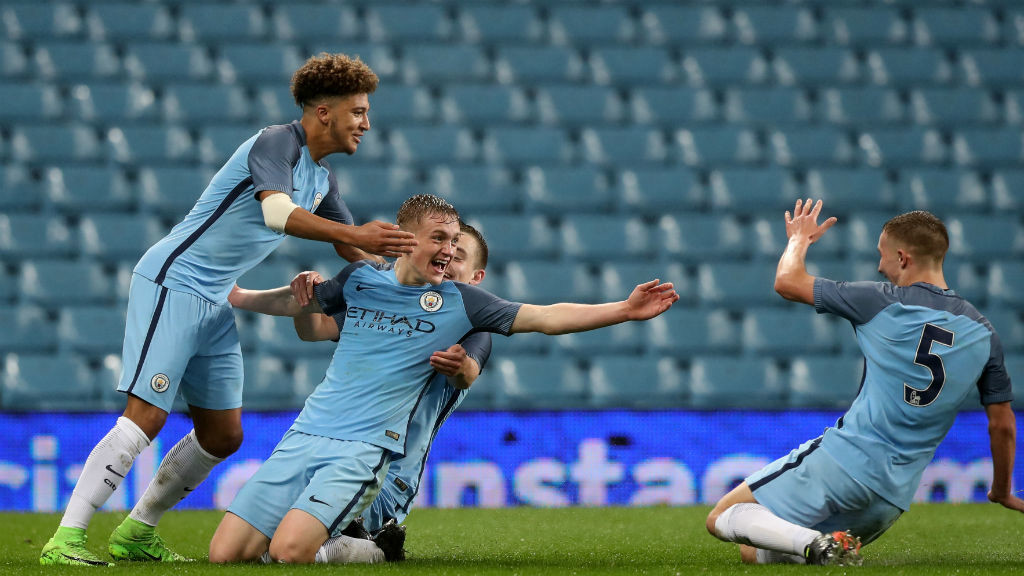 UNBRIDLED JOY: Matt Smith is mauled after his late winner over Villa in the quarter-final
Tickets for Manchester City U18s' FA Youth Cup final second leg against Chelsea are on sale now.
The Club has received an allocation of 500 tickets for the game at Stamford Bridge, which kicks off at 7:45pm on Wednesday 26 April.
Adults - £5
Over 65s - £3
Under 20s - £3
The following groups will receive an allocation of tickets for this match: Supporters, Seasonal Hospitality Supporters, Football Management, Players, Club Partners and the MCFC Supporters Club.
Qualifying sales criteria
Tickets will be available online at mancity.com/tickets, by telephone on +44 (0)161 444 1894 (option 1, option 1, option 2)* and in-person at the Ticket Office located on the first floor of the City Store at the Etihad Stadium for supporters that meet the following criteria:
Any Cityzens– Tuesday 18 April at 2pm.
Qualifying supporters can purchase up to 4 tickets.
*Tickets purchased over the telephone will be subject to a £2.50 booking fee per ticket. Phone lines are open 24-hours, 7 days a week. No booking fee payable on tickets purchased online.
Disabled supporters
The Club has received a limited allocation of wheelchair bays and a limited number of walking ambulant tickets, both with the provision for a free personal assistant.
Disabled supporters are unable to purchase online.
Those who meet the qualifying criteria should call the Disabled Ticket Line on +44 (0)161 444 1894 (option 1, option 1, option 1). For additional help or assistance, please contact our Disability Access Officer on +44(0)161 444 1894 (option 1, option 1, option 1).
If you are making your own way to Stamford Bridge, plan your journey following the directions as advised by Chelsea FC.
As guardians of this great Club, we all have a responsibility to act as ambassadors of not only Manchester City, but also the City of Manchester.
On your visit to Stamford Bridge, please respect the stewards and staff at the Club and we ask that you:
Remain in the seat that you have purchased.
Keep your ticket with you at all times.
Do not block the aisles or gangways.
Do not smoke.
The use of pyrotechnics, flares and smoke bombs is strictly prohibited
The Ticket Office is open Monday to Saturday 9am to 5:30pm. Supporter Services is open Monday to Saturday, 9am to 5pm.
Both facilities will open at 10am on Thursday and are closed on Sunday/Bank Holidays except where there is a First Team home match. For queries, please call +44 (0)161 444 1894 (option 1, option 3).
To keep up to date with all the current ticketing information follow official Twitter account, @MANCITYHELP
All tickets are sold subject to availability and are issued subject to Manchester City Football Club Limited's 2016-17 Away Match Terms and Conditions of Sale and the applicable Ground Regulations of the opposing team.
It is important to note that tickets cannot be returned within 7-days of the match in line with our refund policy.