Tickets and Travel
1
Cup final: Supporter information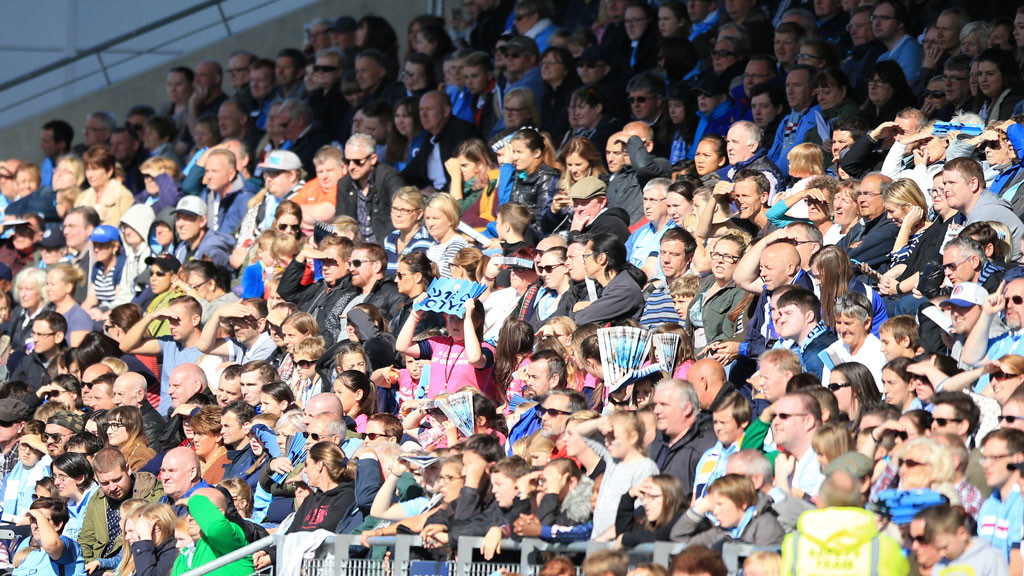 MULTI PURPOSE: The clappers had two uses at the game, to create plenty of noise and shield the sun away from fans' eyes!
Important information for the FA WSL Continental Tyres Cup Final 2016 match MCWFC against Birmingham to be played on Sunday 2nd October, kick off 3pm, at the Academy Stadium.
Below you will find information on:
Travelling to the stadium
Car Parking
Ticket Sales and Collections
Turnstiles Opening Times
Food and Drink
Prohibited Items
TRAVELLING TO THE STADIUM
Ensure you check travel conditions before setting out. Highways England provides live traffic information via its website, local and national radio travel bulletins and electronic road signs. Information is also available from Twitter via @highwaysNWEST
The Metrolink runs from Manchester city centre and Piccadilly Train Station directly to the Etihad Stadium and Velopark Metrolink stops and on towards Ashton Under Lyne. The Velopark drops you directly opposite the North side of the Academy Stadium. Supporters are not able to use their Metrolink Matchday Season Ticket for this match and must purchase a ticket for their journey.
There are service changes on the Metrolink throughout the 2016/17 season. Please click here for the most up to date information and you can also follow, @MCRMetrolink.
CAR PARKING
Onsite parking is available at the Etihad Stadium. There will be a £5 charge per vehicle for this match. Please use the Blue car park, which can be accessed from Alan Turing Way (A6010) via gate 3 (postcode M11 4DW).
ADVANCED TICKET SALES
Tickets are still available for this match and can be purchased as follows:
Online: Tickets are available online with a Print@Home ticket option for this match.
In person: At the Ticket Office located on the first floor of the City Store, Monday to Saturday 9am until 5:30pm.
ON THE DAY TICKET SALES
From 1pm on Sunday 2nd October, tickets will be available via the ticket machines located at the North West corner of the Academy Stadium (City Plaza). The ticket machines accept both cash and card.
Further information including ticket prices and qualifying sales criteria can be found here.
Supporters under 14 are unable to enter the stadium without an adult (Over 18). ID may be requested. We will be operating a RESERVED seating policy for this match.
Tickets must be purchased direct from the Club subject to any qualifying sales criteria. Tickets purchased through other means may not be valid. Manchester City Football Club accepts no liability for tickets purchased through unofficial channels. We are unable to provide you with alternative tickets should you purchase in this manner, regardless of the price paid. We may also refer the details to Greater Manchester Police.
TICKET COLLECTIONS
Supporters are strongly advised to collect their tickets at least 30-minutes before kick-off. All home supporters who are collecting pre-purchased tickets may do so as follows:
Collect in advance up to 5:30pm on Saturday 1st October from the Ticket Office located on the first floor of the City Store.
Collect on Sunday 2nd October from 1pm to 3:30pm at the Ticket Trailer located under the bridge at the City Plaza of the Academy Stadium.
TURNSTILES
All turnstiles will open 60-minutes before kick-off. We advise that you arrive no later than 30-minutes before kick-off to avoid any delays in entering the stadium. North East turnstile is fully accessible for disabled supporters.
FOOD AND DRINK
This is available at all concessions. Please note that supporters are not allowed to drink in the seating/standing areas of the stadium bowl. Cash, credit and debit cards are accepted.
PROHIBITED ITEMS
The following items are not allowed to be brought in to the Academy Stadium:
Pyrotechnics flares and smoke bombs
Golf umbrella or any article that may be used as a weapon and/or compromise public safety
Professional recording equipment (audio and visual)
Bags larger than A4 size
Food and drink
Push chairs
The Academy Stadium and Etihad Campus are both smoke free zones, including the use of electronic cigarettes
The Ticket Office and Supporter Services are open Monday to Saturday, 9am to 5:30pm (closed Sunday and Bank Holiday). Please call +44 (0)161 444 1894 (option 1, option 3). You can also use our online 'frequently asked questions', #mcfchelp or our official service Twitter account, @MCFCHELP.