From original documentaries to immersive Pitcam highlights, make the most of an action-packed month with a CITY+ subscription.
A subscription entitles the viewer to selected livestreams of Women's, Elite Development Squad and Academy matches, as well as full-match replays of all Men's and Women's fixtures.
CITY+ | SUBSCRIBE TO ACCESS EXCLUSIVE CONTENT
Away from a matchday, original and insightful City Studios content can also be accessed, including the upcoming documentary Georgi Kinkladze: The Magician of Maine Road.
For more details on how to sign-up, click here. Below, you can find our February offering on CITY+, which costs just £1.99 per month.
Live Matches
With the Premier League 2 and Under-18s Premier League title races starting to take shape, five matches involving our EDS and Academy sides will be broadcast live across the month on CITY+.
All three of our EDS matches can be accessed in February, beginning with a trip to Derby County on Monday 7 February.
Ben Wilkinson's Under-18s then face Liverpool on Saturday 12 February as we aim to build on a statement win over title rivals Blackburn Rovers on Tuesday afternoon.
It's first vs. second in PL2 the following Friday, as City welcome West Ham to the Academy Stadium for a 13:00 (UK) kick-off, before our U18s travel to Burnley the following day.
And an action-packed month of live matches concludes on Monday 28 February when our EDS face a tricky away tie at Leicester.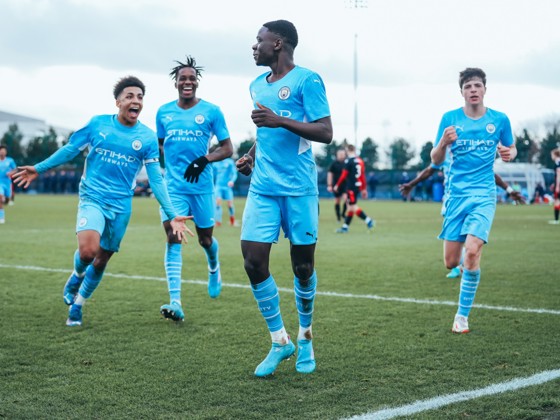 February matches on CITY+:

Derby v EDS – Monday 7 February (19:00)
U18s v Liverpool – Saturday 12 February (12:00)
EDS v West Ham – Friday 18 February (13:00)
Burnley v U18s – Saturday 19 February (12:00)
Leicester v EDS - Monday 28 February (19:00)
Kinkladze: The Magician of Maine Road
Georgi Kinkladze's legendary Manchester City career will be celebrated in a new CITY+ feature this month.
Set for release on Thursday 3 February, Kinkladze: The Magician of Maine Road remembers the Georgian's unique talent and recounts his unforgettable three season spell at City.
In the latest City Studios production, our former midfielder recalls his memorable Maine Road stint in his own words, whilst there are also interviews with former team-mates Michael Brown, Paul Dickov and Ian Brightwell as well as number of fans.
Tottenham 3-4 City | 2004
One of the greatest FA Cup comebacks of all time will be celebrated as part of an original documentary.
Featuring interviews from goalscorers Jon Macken and Shaun Wright-Phillips, former City midfielder Michael Brown (who was part of the opposition team!) and legendary City kitman Les Chapman, you can relive one of the most memorable matches in our recent history once again.
Pitcam Highlights
Enjoy the best of the action from each of Pep Guardiola's men's matches across the month from a unique angle.
Our Pitcam highlights provide immersive coverage of all the key moments including goals, celebrations plus pre and post-match fan footage..
Full-match replays
As always, a CITY+ subscription also entitles you to relive every Men's and Women's match, and selected EDS and Academy games, in their entirety.
Available from the midnight after the game, we take care not to reveal the score when publishing the full-match replay to allow any of our fans who don't want to know the score in advance to enjoy the re-run.
Classic Match Replays

Three classic City matches can be accessed in full on CITY+ throughout February.
On Friday 5 February, savour every kick of our famous 4-3 comeback win away to Tottenham in 2004, where Kevin Keegan's side – down to ten men - came from three goals down to claim a famous FA Cup victory.
A dramatic Champions League win follows on Sunday 20 February, when our late 3-2 triumph over Schalke in 2019 is made available.
And yet another classic European away day can be enjoyed in full six days later, was we celebrate two years since our famous 2-1 win away to Real Madrid with yet another replay in its entirety.
Man City podcast
Enjoy the official Man City podcast ad-free with a CITY+ subscription.
Combining Matchday Live analysis and post-match reaction, the podcast is the perfect way to look back on each of Guardiola's men's matches as the dust begins to settle.