Pep Guardiola says he expects nothing less than West Ham United to be at their very best on Sunday.
After a long run of success against the Hammers - 10 wins in succession between 2016 and 2020 - the East London side have found a formula to make life difficult for City over the past two seasons.
The last two visits to the London Stadium ended in draws (though in October 2021 the hosts won in the Carabao Cup after a penalty shoot-out), and the last two clashes at the Etihad have been hard-fought 2-1 wins for City.
CITY+ | SIGN UP TO WATCH EXCLUSIVE CONTENT. 
Asked at his Friday press conference if this game might have been easier had the Hammers reached the Europa League final, Guardiola said: "I don't know. Sometimes when you play finals you are more focused.
"They are playing to qualify for Europa League next season. I expect the best West Ham, playing in the final or not.
"This morning I watched their last game; the games we played against them this season and we will do what we have to do."
City have scored a number of early goals this campaign and the City boss was asked why that might be?
"I didn't know the stats," said Pep.
"I don't know. If this happened, it's because the team started really well, but I don't know the reason why.
"If it's happened it is because they start focused, with good rhythm and know exactly what to do. It is so important.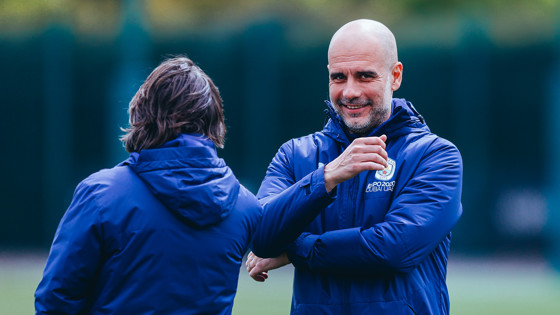 "We can manage the pace and the rhythm we need to play the game. I am more concerned with how we react in the bad moments; all big teams are defined in that way."
Guardiola also was keen to address several pundits who claimed his side lacked character in the aftermath of the Champions League exit to Real Madrid.
Asked how his players had reacted to that loss – with successive 5-1 Premier League wins – the boss said: "The answer is so easy. It is the same character that lost to Madrid in the last minutes.
"The former players Dimitar Berbatov, Clarence Seedorf, Patrice Evra... these type of people were there.
"I played against them and I didn't see this kind of personality when we destroyed them in the Champions League final against United.
"(They say) we don't have personality because we concede in the last minutes, and after the last two games we have personality.
"Personality is what we have done in the last five years. Maybe Liverpool is going to win all four titles or just one. Am I going to say they don't have personality or that they had a bad season?
"Of course they have and of course they are good, but sometimes in football, it happens.
"It is football, you cannot control it. When you always arrive in the latter stages, semi-finals, finals, it is incredible.
"This for me, because we arrive until the end, playing a lot of games, this is the most important thing."