City's high profile charity fundraiser against Barcelona will be available to watch live on CITY+ and Recast.
Pep Guardiola's side face the Catalan outfit this Wednesday, 24 August with a kick-off of 20.30 (UK).
All proceeds from the game will go towards ALS (amyotrophic lateral sclerosis) research at Luzón Foundation in support of former Barcelona goalkeeper and coach Juan Carlos Unzué, who was diagnosed with the incurable degenerative neurological condition just over two years ago.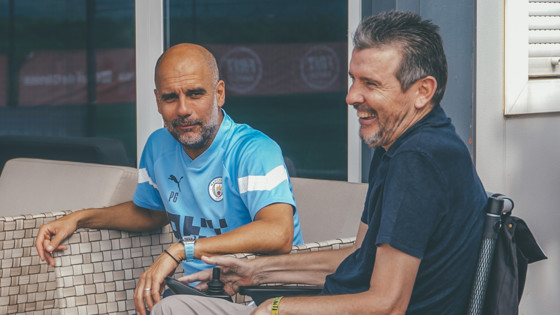 "We will be together - a few days with our new players. Our chairman will be there. We can recover and train in a good environment," said Guardiola.
"And we go because Barcelona open doors to play a game for an important person in our lives.
"They invite us to raise money for the battle that he has, and it is an incredible argument for us to be there. To play at Camp Nou is important for us. A big stage and a big team.
"Then we will come back, make recovery and see the draw for the Champions League and prepare for Crystal Palace."
CITY+ | SUBSCRIBE TO WATCH BARCELONA V CITY
Available for just £2.99 per month across all our digital platforms, a CITY+ subscription provides supporters with unrivalled access to new and exclusive City content.
It will allow you to watch full-match replays of all Men's and Women's matches, selected broadcasts of Women's, Elite Development Squad and Academy matches and provides access to the full catalogue of City Studios documentaries.
The official Man City Recast channel offers fans flexible, pay-per-view live fixtures and on demand viewing options including match action from across the years, legend interviews, Best of Series, Man City Esports and City Studios documentaries.