City's all-time record goal-scorer Sergio Aguero has heaped praise on Julian Alvarez after the youngster's first few months at the Club.
With Argentina kicking-off their World Cup campaign against Mexico today, Aguero believes Alvarez can become a key player for club and country in the years ahead - and says he expected nothing less.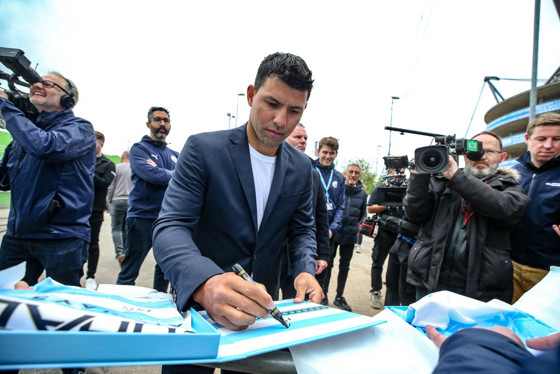 "Julian has a polished character, he's calm and collected, and always eager to learn and I think his first steps at City have shown this," said Aguero.
"Arriving from Argentina and kickstarting your career in the Premier League - especially in a team filled with amazing players like City - is easier said than done.
CITY MAGAZINE WORLD CUP ISSUE: AVAILABLE NOW
"However, he's had a superb adaptation. He has been able to find the net, yes, but most importantly, he's been able to suit Pep's vision perfectly – applying constant pressure, sprinting non-stop, finding gaps and partnering up.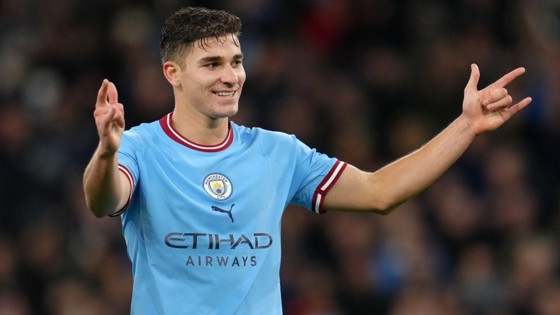 "It's been his first few months, but he's proven he's a talented and reliable player, up to the quality that a major club like City demand."
A Manchester City legend in every sense of the word, Kun scored 260 goals in 390 appearances across 10 years for the Club.
And he is happy some people see similarities to his early days at City and the start Alvarez has made - as well as some of the clinical finishing the former River Plate start has demonstrated.
"Keep the goals coming, I say then!" he said.
"That just might be the case (the similar style). Julian has a knack for finishing a play when facing a keeper.
"He knows when and how to signal a pass from a team-mate, maintain a good spatial sense, and shoot precisely.
"He's got a way to go, as this is his first season in Europe, but under Pep's guidance, in a team like City, he has all he needs to grow. His ability to learn is the final piece of the puzzle."
And of his role with Argentina, Aguero believes Alvarez can be a fantastic asset for the Albicelestes in the coming weeks.
With three goals and 12 caps so far, the City striker is looking to make an impact when called upon for his country in Qatar.
"Argentina has a wealth of forwards and strikers, and a player like Julian is a great option," said Kun.
"Any team that aspires to do well at the World Cup finals needs a roster full of great players.
"And Julian is one of them."