City never losing when Phil Foden scores is news… to Phil Foden!
The 20-year-old playmaker has scored 18 goals for City so far and is yet to end on the losing side in any of those 16 games.
When asked post-match what he thought of the record and if he was aware of it, he said: "No, not really – is that right? That's good then!"
Foden produced a stellar display as City beat Olympiakos 1-0 to secure a place in the Champions League Round of 16.
CITY+ | SIGN UP TO ACCESS EXCLUSIVE CONTENT
And Foden says early qualification was important with City's Premier League campaign yet to hit the heights of the previous two seasons.
"This result means we've qualified for the next round which is really important for this football club," said Foden.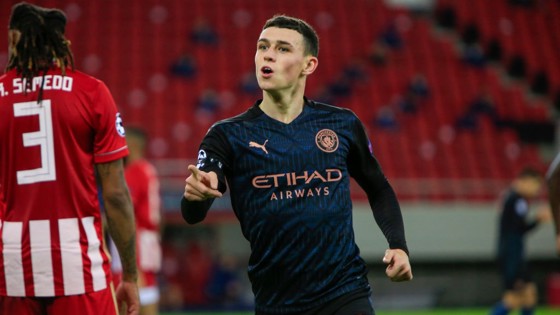 "We haven't had the best of runs in the Premier League so it's great to see we're doing the right things in the Champions League and getting the right results.
"Fair play to Olympiakos because they came out fighting after half-time and made it hard for us, so we did well to dig and get the result."
The England star also said the one goal perhaps should have been more, but that the team are making opportunities and things will improve.
"It's something we need to work on, but we are creating the chances and I'm sure the goals will come soon," he said.
"As for my goal, Raheem is a great player and somehow, he saw me, found me the back-heel and gave me the chance, so thanks for the assist!"