Under the tutelage of Pep Guardiola, Manchester City have become a by-word for sustained success and technical excellence of the highest quality over the course of the Catalan's remarkable six-and-a-half-year reign.
There has also been an aesthetic beauty to the style of play overseen by Guardiola, with his philosophy and principles to attacking football ushering in a sea change in the mindset of how the game is both viewed and approached across the country.
An incredible haul of 11 major trophies since 2017 bears tangible witness to the seismic impact of the City manager, who has today penned a new two-year contract with the Club.
That collection of four Premier League titles, four League Cups, an FA Cup and two Community Shields has seen City established as English football's most successful Club in what has been a golden period like no other in our long, illustrious history.
However, Guardiola's impact has also permeated on an even deeper level.
The boss is always at pains to talk about how he constantly strives for continual improvement – both personally and collectively.
And a glance at the official Premier League statistics reveal just how much Pep's City side has consistently raised the bar in the English game since he took charge in the summer of 2016.
By whichever metric one wishes to employ in terms of the Premier League – be it possession, passes, shots on target, most goals scored or fewest conceded _ City come first in the OPTA rankings which are recognised as the gold standard for official stats in this country.
And that applies both cumulatively – looking at the figures compiled since Pep took charge at the Etihad in 2016 – and individually when one breaks down the stats for each season in isolation.
Looking at the overall stats from 2016/17 to today, Guardiola's City boast an overall possession percentage of 67.24 per game.
In that time frame City have also racked up a dizzying 165,189 passes, in the process accumulating a pass accuracy percentage of a staggering 88.77 per cent.
It's a similar dominant story in terms of touches in the opposition box – our overall tally of 9,369 again putting City in top spot.
Alongside silverware, goals have also been the currency of Guardiola's remarkable Etihad tenure – and yet again, City's cumulative total of 605 league goals since the summer of 2016 puts us ahead of the rest.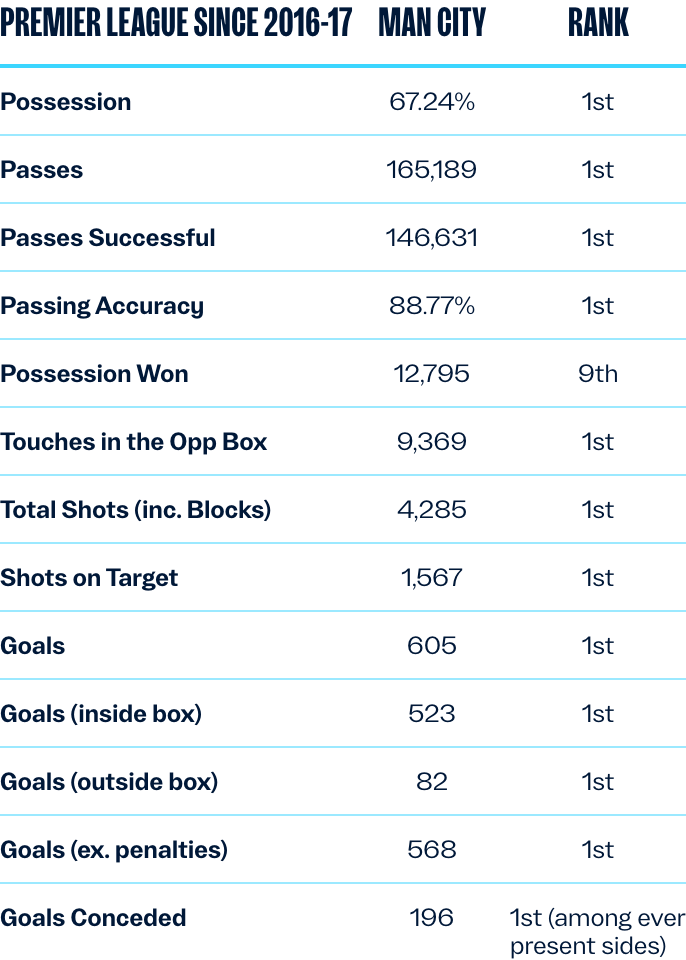 Further breaking down that pivotal area of the game, City's tally of 523 goals inside the box, 82 outside the box and 568 strikes excluding penalties, are again number one across the Premier League rankings.
And, given goalkeeper Ederson has claimed the Premier League's prestigious Golden Glove award on three consecutive occasions, it's surely also no surprise that City's figure of 196 goals conceded since the start of the 2016/17 season is also the lowest.
On a season-by-season basis there have been numerous highlights but City's 2017/`18 Centurions campaign – which saw us record our first title under Guardiola – really served as the guiding light for what we have gone on to achieve in the years since.
In becoming the first English side to accumulate 100 points in a Premier League season, City racked up a host of remarkable records along the way that memorable campaign.
That season saw us achieve an average possession rate of 71.9 per cent – the highest tally to date of Pep's time in charge.
Likewise, our combined number of passes that term (28,241) also stands as another eye-catching high-point, while that season's amazing tally of 106 domestic goals established yet another league first – with that campaign paving the way for a period of sustained success.
While the 2022/23 season may still be in its infancy with only 14 games so far been completed up until the break for the World Cup finals, City have already assumed pole position in terms of another army of impressive stats, including possession (66.6 per cent), passes (9550), touches in the opposition box (540) and goals (40).
It's just further evidence – if any were needed – of the class and consistency of Guardiola's City.
When the Catalan was first appointed, the hope was that he would prove a transformative manager.
Alongside City's bulging trophy cabinet, the sheer weight of staggering numbers accumulated by City under his leadership stands as compelling evidence that Guardiola has already proved that and so much more.
And with a new two-year contract signed and sealed, City fans have every reason to be confident there is even more to look forward to going forward.