Pep Guardiola heaped praise on Riyad Mahrez after another man of the match display against Chelsea in the FA Cup.
The Algerian opened the scoring in a 4-0 victory over Graham Potter's side with an exquisite free-kick, before adding his second and City's fourth from the spot in the second half.
Mahrez also grabbed the only goal of the game in Thursday's 1-0 triumph at Stamford Bridge in the Premier League, and was voted Etihad Player of the Month for December earlier this week.
Former City goalkeeper David James even went as far as to declare that the winger is playing some of the best football of his career.
"The quality of Riyad is everything. He loves to play football, he helped us to play the game," Guardiola reflected on Mahrez's performance.
"It was really good. It was a fantastic free-kick. He played an outstanding game.
"He never lost his love. He loves to play football. The way he is training now and playing was exactly the same in Abu Dhabi. Riyad in important games is fantastic.
"The last game he didn't start at Stamford Bridge and the impact he had was incredible.
"When they play in this way, and maybe complain [about not playing every game] I say 'yes, you're right'.
"Before, he cannot complain because he wasn't playing at the level he is now. It's not just about quality, it's more in football, you have to do more.
"[But] now since we came back for World Cup, he is playing really, really well."
The boss also paid tribute to former Chelsea striker Gianluca Vialli, who sadly lost his fight with pancreatic cancer on Friday.
Guardiola declared that the Italian, who was part of Roberto Mancini's coaching staff at Euro 2020, will live fondly in his memories.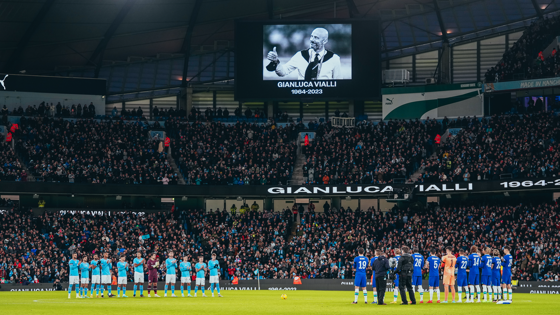 He said: "On behalf of Manchester City, his wife and kids, it is difficult to find a more charismatic person.
"I was lucky to meet him on the golf course. In life you realise as a football player, you know how to take care of the body and life and you realise at the end your life is a coin - sometimes it goes one side and sometimes the other.
"I want to say thank you to the Italian national team, especially Roberto Mancini for him being involved in Nations league and Euros. I know it made him feel alive.
"It's difficult to find a person who could top the charisma he had. I remember at the golf course in Mallorca, we played, arrived late, we were hungry together and started to eat cheese and salami, we had an incredible conversation.
"He told me he was fighting. Unfortunately, he passed away some days ago but I saw the reaction in Italy. He was something unique. He will not be forgotten.
"We have to remember with a big smile. For family and friends, a huge hug."