Pep Guardiola has given updates on Rodrigo, Ruben Dias and Fernandinho.
Rodrigo went down under a heavy challenge from former Liverpool youngster Yan Dhanda on 72 minutes.
Pep says he is yet to speak with the Club doctor on how Rodrigo but is hopeful the Spaniard will be OK after City's 3-1 win over Swansea.
TV cameras saw him limping painfully towards the dressing room but Pep says he hopes he will recover quickly.
"I didn't speak with him but the doctor didn't tell me anything," said the City boss.
"Hopefully, he will be fit. We will see in the next hours.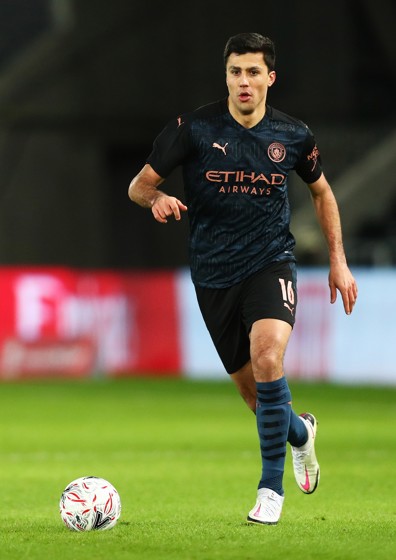 "He's playing really well. His presence, his personality. He is playing really well, like the last few weeks. He has [played well] all season, I would say."
Ruben Dias and Fernandinho both missed the trip to South Wales, with the boss revealing Dias was unwell and Ferna has some muscle issues.
"Ruben had a fever," he said. "He still has some problems with the stomach. That's why he couldn't train yesterday.
"Fernandinho had some problems, some niggles in the quads and he was not able to come here to play."
City recorded a 15th win in succession in all competitions, bringing up Guardiola's 200th City victory, but as ever, the Catalan was keen to turn the spotlight on his players.
"I'm very pleased for the way they performed," he said.
"All of them. Swansea is a strong side. They are a really strong team. You understand how many games they were unbeaten. We are in the next round. We are very pleased.
"The game takes more than 90 minutes. I would love to win after eight minutes.
"That's why you have to be patient, control the strength points. In general we played a really good game."
And on the 15-match winning run, he added: "It shows how special these players are. And we think of the next one. I know we broke a record of all-time.
"Now it belongs to us and it will be broken for sure. Sport is like this. It means a lot. This is the toughest period.
"To do what we have done so far is quite remarkable. The important thing is the way we are playing, consistency and the next ones.
"We have an incredibly tough week ahead and will take it game by game."
Gabriel Jesus' good form continued with a third goal in three starts.
His boss thought he might have added to the tally on another night but is pleased with the Brazilian's contribution.
"He could have scored more but he played really well again," said Pep.
"He was incredible at Anfield when he didn't play. He was incredibly supportive to his mates.
"When he plays he always plays good. It's important for strikers to score. He was brilliant, really brilliant."