Pep Guardiola says he is delighted to have Gabriel Jesus back after a six-week injury lay off.
The Brazilian striker damaged his hamstring during the 3-1 win over Wolves in September but returned against Olympiakos to score City's second goal.
With Sergio Aguero not fully fit ahead of the game against Liverpool, the boss says Gabriel's return is a major boost.
CITY+ | SIGN UP TO ACCESS EXCLUSIVE CONTENT
"It is important, of course the fact that Gabriel is back," said Pep.
"He is so important for us. He scored a brilliant goal, and I'm so happy that Gabriel is back."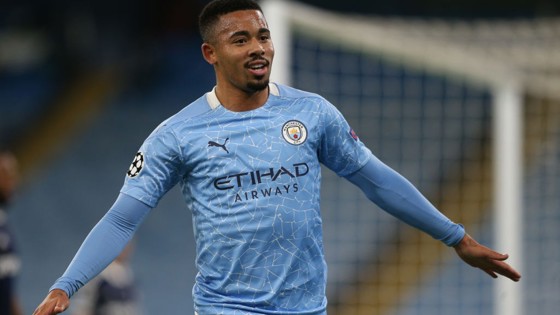 The Catalan also had praise for Ferran Torres, who has now scored in each of his first three Champions League games for City.
The Spanish forward opened the scoring against the Greeks with a sublime 12th-minute finish and his manager has been impressed by what he has seen so far.
"He played really well again and he scored a brilliant goal," said Pep.
"He moves really well with the ball and without the ball. He's growing, but he's already scored a lot of goals. We're happy for his performance.
"Overall in the first half, we played really good in all aspects; the way we pressed, the way we played, but unfortunately the finishing, the last pass, the last shot wasn't perfect.
"But in general, the first half and the last 15 minutes was really good.
"The way we played the chances we created we had to score more.
"We created chances and then at the end when Gabriel scored, the game was over."
The players will now take a short break before returning on Friday ahead of our clash with Premier League leaders Liverpool.
Pep says rest and family time are most important before returning to focus on Sunday's crucial fixture.
"Tomorrow is regeneration," he said. "I saw the forecast and the next few days is sunshine, so that is the best news.
"Then we have two days to prepare for Liverpool - but now is the time to enjoy this victory, the position in the table and move forward.
"Always during my career you have four days between games so they will have tomorrow afternoon off and Thursday to be at home with the family.
"Then we have two days to prepare for the last game before the international break.
"I'm delighted with the players in the situation we have. We struggled in the beginning but we move forward.
"It's still just six seven games in the Premier League and we have a lot if games to play and one game left before the international break.
"Now is time to enjoy tonight, I want to think about tonight, nine points and recovery, then tomorrow we will prepare for Liverpool."