Pep Guardiola says scoring four goals at Arsenal does not necessarily mean his team will rediscover their goal-touch immediately.
The boss urged caution in just assuming the recent issues in front of goal were completely over and insisted he will judge things on a game by game basis.
That said, he was delighted to move into the Carabao Cup semi-finals and is targeting a fourth final in a row,
"It's like in Manchester, everyday it rains and then the sun shines for one day, it doesn't mean the weather is going to change," said Pep.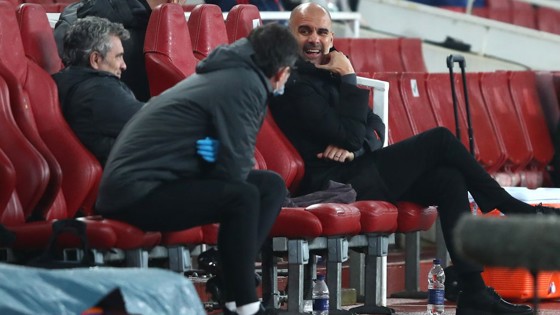 "It is just one game.
"We started well, they changed their system and after we struggled a little. In the second half we were much better.
"You have to be professional; you have to run a lot. The second goal was the goalkeeper situation, the third was maybe offside. These situations changed the game.
"I think we started well. After that they changed the set-up and we had more problems finding our spaces. They didn't create much but we weren't fluid.
"We changed it half time and put one more player in the position we needed and we were much better. We are in the semi-finals and that is important for us."
When asked about the final being moved back to April, he added: "One step at a time, please. I don't know where we will be in April."
"Now it is Newcastle and then Everton - just two days difference We have to see the draw. We are going to play to reach the final four years in a row."
And asked about Mikel Arteta's position as Gunners boss, the Catalan said his former No.2 and close friend didn't need anyone to defend him.
"I didn't speak with him," he said.
"We will speak in the next few days. What can I say? All the managers are judged for results, everybody knows it. I am not the guy he needs to defend him.
"Mikel defends himself perfectly. All I can say is, we would not have had the success we had without him. I learnt a lot from him. He is an incredible human being and a manager.
"Sometimes we need time. I know his proposal. I know what he wants to do. He just needs time. The results aren't going to change my opinion of him.
"He is an outstanding manager, an incredible work ethic and puts the club before himself. I am not here to defend him, because he can defend himself perfectly on and off the pitch."
Official Man City Start Page and Wallpapers
Get the Official Manchester City Start page for your Chrome browser. Add the extension to your browser, for the latest news and wallpapers in your desktop tab.