Pep Guardiola was delighted by the display of teenagers Liam Delap, Tommy Doyle and Taylor Harwood- Bellis as City beat Bournemouth 2-1.
Another teenager, Adrian Bernabe, was substituted with what looked a leg injury before the break and 19 year-old Eric Garcia impressed as City overcame an experienced and disciplined Cherries side.
"Am I happy? Definitely," said Pep.
"It was a good game, but all our young players played at a high level, Tommy, Taylor, Liam. All of them were really good.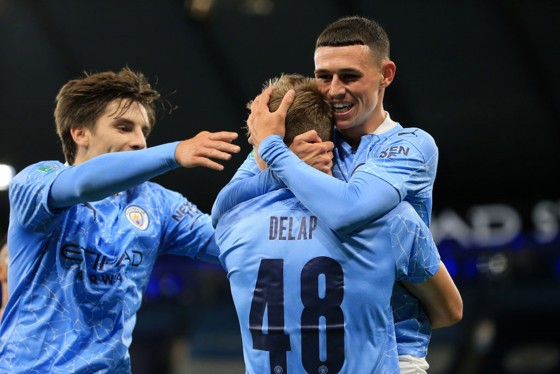 "At 17 years-old, Liam is a different striker to what we have in terms of physicality.
"We see in training how good a finisher he is. Now is the time to be calm and keep working. We are delighted with his performance. He played really well.
"With the situation we have right now, we need players from the Academy.
"We have just 13 players fit. With the problems we have up front, he will stay with us. We will use him.
"We cannot forget, like with Phil, he is only 17 years-old. He has a lot of things to improve. We cannot anticipate the progress of every young player.
"We've had Phil, Eric, Liam and we have Cole Palmer who will be an exceptional player.
"We congratulate the Academy. I am the last step, but before there are a lot of people in the club working for this and it is a big success for them. Jason Wilcox is the Academy boss who helps us have these players."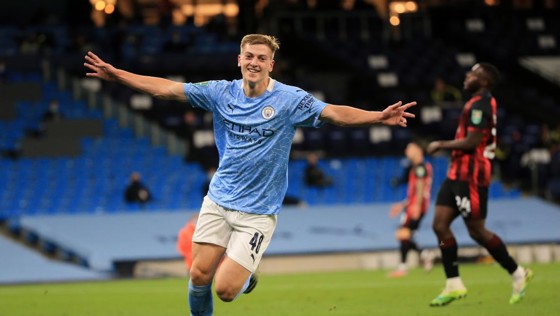 "That's why you have the Academy. When you need players we can use it. It depends on the quality of the player.
"When they have desire, work ethic and the quality is good, they will have chances. Tommy played incredibly well as a holding midfield. Taylor as well. These guys did not play one game of the last three months.
"This was the first 90 minutes. They played a team who were in the Premier League last season and top of the Championship right now.
"I would say congratulations to the Club for providing these players for us. "
The boss was also keen to praise the start Phil Foden has made to the season.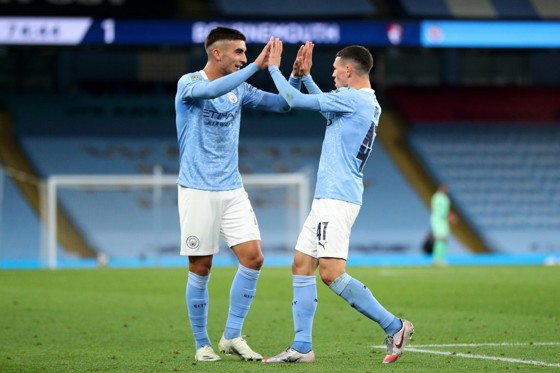 The 20 year-old playmaker scored his second of the campaign and also provided the assist for Delap's goal in another impressive display.
"For more than one year you know my words about Phil," he said.
"He is an exceptional player. He does everything. I'm happy for him because I feel every game he is making a step forward."
Zack Steffen was another impressive debutant and the City boss thought he did everything that was asked of him, adding: "Well the goal we conceded was almost unstoppable.
"We didn't defend the shot properly. After he saved on a counter attack. He was calm. He was safe. He gave a good performance."
Turning his thoughts towards Leicester on Sunday, Guardiola admitted he is expecting nothing less than a hard match when his team faces the Foxes.
Brendan Rodgers' side top the table after two matches played and will be a tough test for a City side who will have several notable absentees.
"It will be incredibly tough, we know that. It is always difficult and this will be no exception," said Pep.
"We play at home. I see the team really well in terms of happiness. The young players help us a lot and we move forward.
"Last season they were incredible. They struggled in the last part of the season when Chilwell and Maddison were injured, they were big players for them.
"They have exceptional players up front and in the middle. We know it. We know how tough it will be
"We will recover and try to arrive fresh for the game. We don't have time to practice anything. Just avoid injuries. Right now it is what it is.
"We prepared for five weeks. At this club excuses don't exist. We have 13 players; we have to win the games.
"Now we recover and Friday before the game we'll see the players more fit and ready. "
CITY+ | SIGN UP TO ACCESS EXCLUSIVE CONTENT
Fans can sign up to a 30-day free trial, after which CITY+ is just £1.99GBP / month.