Pep Guardiola says he is very satisfied to leave St Mary's with the three points.
City were stoic in defence once again and have now conceded just one goal in eight games, but the boss accepts his team are still not firing on all cylinders at the moment with goals still hard to come by.
"Our momentum is not good up front," said Pep.
"We had chances to score more. The back four were brilliant, Rodri and Gundogan as well. It is a good victory for us.
"We know exactly which team we faced, how good they are, the build-up is so, so good.
"They put a lot of players forward and make runs in behind. It's good for us to climb the table and improve our mood.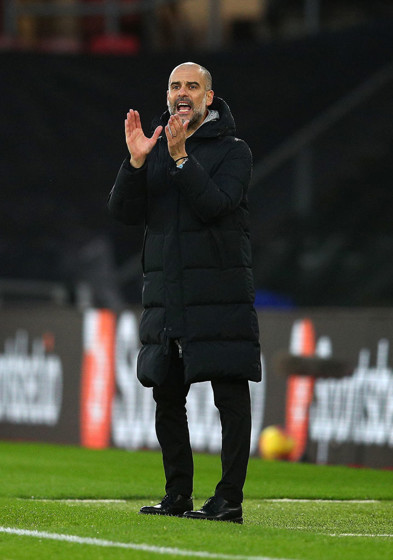 "Our position is to try and win games, to be up there as quickly as possible. as close to top of league as possible.
"But reality is our momentum in front of goal is not good. We had chances to score more and we couldn't do it.
"We will struggle if we don't break this situation and score more goals."
Pep also said the excellent form of John Stones is down to the player's own hard work when asked about his performance.
"Excellent," he responded. "He is back. He turned his situation perfectly. He played really well, with Ruben as well and Kyle and Joao.
"He is one of the first players we signed when we arrived here. He knows exactly what we have to do.
"He could not do it in previous years, but now he has done it and he has done it himself.
"His private life is settled; he has no injuries - we are delighted because he is an incredibly nice person.
"His mum and dad must be so proud of what a nice person he is. His daughter has a great father. We are delighted. But he is just in the beginning and he has to continue."
St Mary's housed 2,000 home fans in this fixture – the first fans City gave played in front of in nine months…

"We are delighted to have these fans back," he said.
"It's much better to play with 2,000 people than without. It's not unfair that they have and we don't.
"We would love everyone to come back to the stadiums for all the teams. We would love to have our fans back.
"What's important is the welfare for everyone.
"People all around the world are still dying because of the pandemic. It's not solved, we still have to social distance, wear masks.
"It's not about fair and unfair. All around the world the virus is there and we are going to do what the people say."