Paul Dickov has highlighted the crucial role that Rodrigo plays in our defensive setup as well as his 'outstanding' football intelligence.
The Spaniard has come into his element this season, offering a consistently assured presence at the heart of our midfield and contributing hugely to our phenomenal defensive record.
Indeed, City have let in nine fewer goals than any other Premier League side this season and, until Borussia Dortmund's 84th minute equaliser on Wednesday evening, we had gone 788 minutes without conceding in the Champions League.
And on Wednesday's We're Not Really Here (#WNRH) show ahead of that Champions League quarter-final clash with Dortmund, former City forward Dickov lauded the midfielder's unassuming but essential role.
CITY+ | WATCH FULL-MATCH REPLAYS OF EVERY CITY GAME
He said of Rodrigo: "We talk about the defensive record, he's pivotal in that.
"If the full backs are going to bomb on it can sometimes leave the centre backs exposed but he just sits in there and protects the back four unbelievably well.
"His game management's outstanding, when he does win the ball back he very rarely gives it away.
"You can see what a player he's going to be now. He's pivotal to how Pep wants us to play.
"We all talk about the fantastic forward players we've got, but he's the one in there who sits in there and puts out fires left, right and centre!"
The Spaniard's typically solid display in the centre of the park helped the team keep Dortmund's potent attacking force relatively at bay under the Etihad lights, particularly this season's leading scorer in Europe's elite competition, Erling Haaland.
Fans will be familiar with the Norwegian forward's father, Alf-Inge, who turned out for City for three years after being signed by Joe Royle at the turn of the millennium.
We're Not Really Here duo Dickov and Andy Morrison were both part of the squad that the midfielder joined in 2000 and had nothing but positive things to say about their former teammate.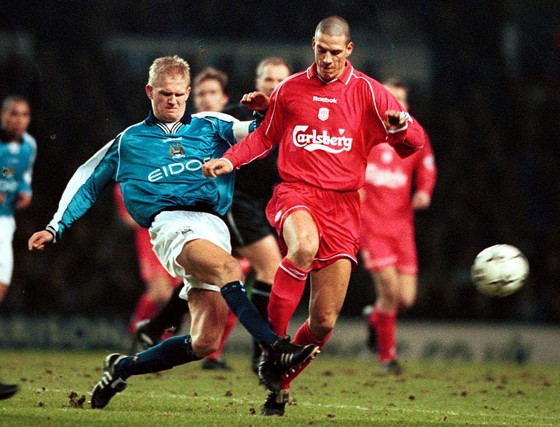 "Erling's everything his dad wasn't, he's a goalscorer, right foot, left foot, quick, good-looking," Dickov commented, tongue in cheek, about Haaland senior.
"Alf-Inge came in and did a very good job for us.
"He was a box-to-box midfielder who loved to get a challenge in, chip in with the odd goal and was just a good character.
"Technically maybe he wasn't the best but he made up for that in his desire to help out in games."
Morrison agreed with the former Scotland forward, highlighting the Norwegian's conscientious nature both on and off the field.
The former City skipper also believes those qualities are visible in his son, as the young forward's burgeoning reputation continues to blossom.
He said: "Alf-Inge was a very private person, very professional and meticulous in how he carried himself.
"I'm sure those qualities will also be ingrained in his son, he was a super athlete able to get around the pitch and he had a very strong mentality that came from a very strong upbringing.
"Alf-Inge was great, he was a good lad as well and strong in the changing room."
We're Not Really Here (#WNRH) begins one hour before kick-off in all first team matches, and is available on all digital platforms.
If you prefer your match coverage to be steered towards City, then it makes for essential viewing and you can also get involved using #WNRH.