Pablo Zabaleta has joked that he was on course to be the hero of City's inaugural Premier League title triumph before its dramatic finale.
With Roberto Mancini's men needing to beat Queens Park Rangers to be crowned top flight champions for the first time since 1968, the Argentine opened the scoring on the stroke of half-time.
A second half comeback from the London side threatened to derail our title bid in heartbreaking fashion, but Edin Dzeko and Sergio Aguero's stoppage time intervention sealed the Premier League in thrilling fashion.
But as the ten-year anniversary of our inaugural Premier League win approaches, Zabaleta claims that Aguero's famous last-minute strike has taken the attention away from the defender's own contribution back on 13 May 2012.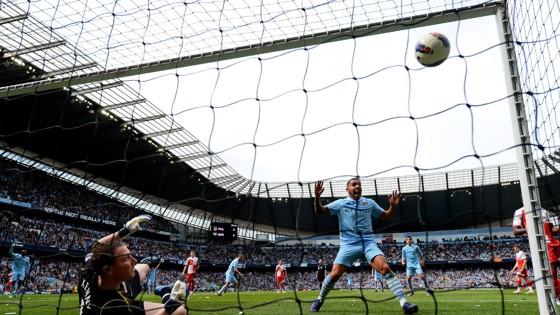 "That's the forgotten goal, Sergio (Aguero) stole my moment," the former City skipper smiles when looking back on his strike.
"That was my only goal of the season, I think it was a few minutes before half-time. QPR needed a point to be safe and they defended so deep.
"We needed to get that goal to get more confidence. I scored the goal and at half-time I thought I'd be the hero!
"But then in the second half we were in a situation where we needed to score two more goals. A point wasn't enough.
"(Edin) Dzeko scored from the corner, a good header, then Sergio. I'm so happy that I scored in that game but nobody remembers it.
"The City fans do but if you ask anyone from relaxed football, everyone remembers that game but not that first goal."
While there may have been a hint of fortune in Zabaleta's goal, his clever run inside left-back Taye Taiwo proved the catalyst to break down the visitors' stubborn defensive rear-guard.
Receiving the ball from Yaya Toure on the edge of the box, the Argentine's effort was fumbled over the line by Paddy Kenny to send the Etihad Stadium crowd into raptures.
Zabaleta has explained that his decision to cut inside rather than go for the more obvious overlap was influenced by QPR frustrating City by sitting deep and defending in numbers.
He said: "I tried a few low crosses before my goal and there was so many QPR players defending inside the box.
"I needed to try something different, some inside runs, one-twos, combinations. That's what we needed to break QPR down.
"Yaya in those spaces was always good so the pass was perfect. I didn't have much time as they were coming to block the shot.
"As a full-back you always try to run wide, but when you see the opponent defending with so many players you get to go into different situations."
However, as Zabaleta previously alluded to, the visitors rallied after the break and, with Djibril Cisse and Jamie Mackle both on target in quick succession, City needed to find two more goals to salvage our title challenge.
Reflecting on the moment that QPR took the lead at the Etihad Stadium, the defender has revealed that the City supporters played a major role in helping the team over the line.
"I think for a few seconds there was a silence in the stadium. I couldn't believe we were losing 2-1," he recalled.
"We were trying to get the 2nd goal - we were playing too quick and were giving the ball away.
"We went into the added time of five minutes, that was the moment City fans said 'Come on!' and that we can still do it.
"In that moment, all the City fans chose to keep believing that we could do it - I think that was great."