Pep Guardiola says Phil Foden is improving as he recovers from a foot injury sustained in the Manchester derby.
The England playmaker missed the 3-0 win over Wolves as a result of the knock he received at Old Trafford, but the boss confirmed the 22 year-old is recovering well and could train on Thursday afternoon ahead of Friday evening's FA Cup tie with Arsenal.
Asked how Foden's injury was, Guardiola said: "It is getting better, we have training this afternoon."
The boss also revealed there are no other injury concerns ahead of the game against the Gunners.
When asked how the rest of the squad were, he replied: "Good."
Guardiola was asked whether the game against Arsenal could have a bearing on the title race that is developing between the defending Premier League champions and Mikel Arteta's side.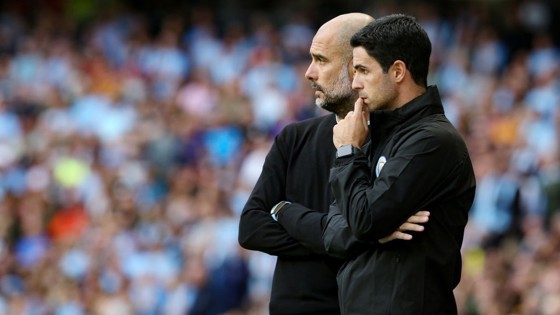 "It's a different competition," said Pep.
"It's the FA Cup. It's a final. And of course, it's more than Arsenal - it's about proving ourselves – how is our level?
"When a team makes 50 points in one leg, it's because they have been the best and they are.
"So we have to prove ourselves, how far away or how close we are and the best way to notice is perform our best level.
"Otherwise against a team in that moment, it will be difficult."
City v Arsenal
Our FA Cup fourth round encounter with the Gunners takes place at the Etihad on Friday 27 January, with kick off at 20:00 (UK).
We've got you fully covered with comprehensive coverage throughout the evening.
Our Matchday Centre, beginning at 18:00, provides text updates, stats and reaction before, during and after the match with blow-by-blow analysis of the match as it happens.
Just before 19:00, our Matchday Live show features Shaun Goater, Paul Dickov and Michael Brown in the studio as they give you their pre-match thoughts, half-time analysis and full-time verdict.
During the game itself, Alistair Mann and Andy Morrison will guide you through the action with live commentary from 20:00.
After the game, we will have a gallery of the best images from the game, full reaction from the manager and a player - both in written and video format - as well as short and extended highlights.
Subscribers to CITY+ and Recast can enjoy a full-match replay of the whole 90 minutes from midnight while our short and extended highlights will be available from midday on Saturday.