Nathan Ake says City's third win in seven hectic days was also the hardest.
The Dutch defender believes the champions had to dig deep to see off a determined Arsenal, but added the three points won on New Year's Day were huge.
"It is a very big win," said Ake.
"We are very happy with this victory after a very busy period. The last week especially has been very tough, with a lot of travelling as well.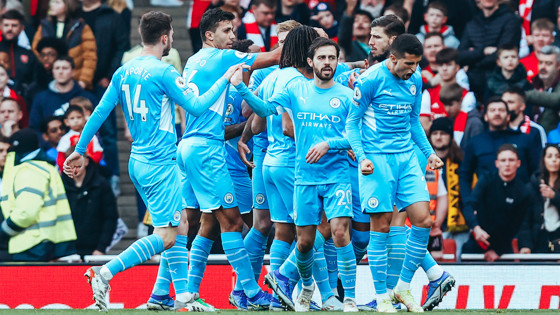 "It was a very tough match and I think Arsenal are doing very well this season. We conceded first, so it was tough for us, but we managed to win the game and it is a massive three points.
"We didn't have our best game today, but it helps massively if you get the points over the line.
"Riyad stepped up for the penalty and he scored, and after that we tried to keep the ball as they had the red card.
"We pushed and pushed and even though it wasn't our best game, we still managed to score so we have a lot of willpower to keep going.
"They were really dangerous on the counter-attack and we had problems keeping the ball because our energy was low.
"In the second half we assessed that and tried to come out with a bit more energy and tried to keep the ball better.
"I thought we did that, but it still wasn't our best performance. As the manager said, they were probably better, but the main thing is to make sure your head doesn't drop and just keep going and stay mentally strong.
"You have to stay in the game and then, with the quality that we have up front, we can always create something out of nothing and that is what happened with Bernardo and the penalty.
"After that, we got a little bit more energy and  kept on pushing and we got the result.
"For everyone to stay fit and to show that we are able to play a lot of games is really good.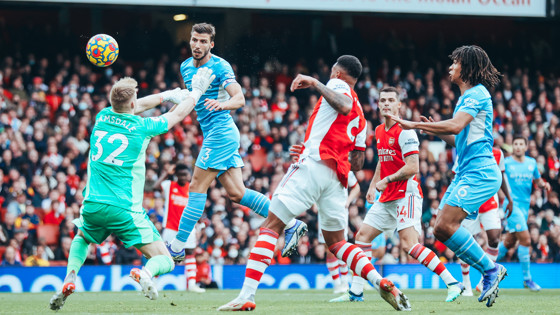 "There are so many more games to come. We will focus game by game and try to make sure that we keep winning and trying to keep that mentality of winning and we will see where we are.
"Beating Arsenal was massive and to start the new year with a win is so important. Now we have a little bit of time to rest, focus and prepare for the FA Cup."
Without doubt, Ake's superb clearance off the line after Aymeric Laporte had headed over the onrushing Ederson was the game's turning point.
City had levelled moments before and a second Arsenal goal – and with both teams having 11 players at that point – would have made a difficult task that much harder.
In a crazy two-minute spell, seconds after Ake's heroics, Arsenal defender Gabriel was shown a second yellow after pulling Gabriel Jesus down on the halfway line reducing the hosts to ten men.
Reflecting on his clearance, Ake said: "It was a bit of a miscommunication and I saw it happening a little bit so I thought I would keep going just in case and it did happen.
"I just predicted that something may go wrong as I saw Ederson come out and luckily I kept going and I cleared it off the line.
"It is helpful to win games, but we just want to look at it game by game. You cannot win the title now as there is so many games to play. We just have to see it game by game.
"You can see that the energy today was not the same. Now I think we have deserved a few days rest and we go into the FA Cup before a big game against Chelsea.
"We are looking forward to that and hopefully we are ready for that."
And as the players celebrated with the travelling City supporters at the end, Ake paid tribute to the fans who had sold out allocations at Brentford and Arsenal in the space of three days.
"They are always there," smiled Ake. "Travelling all over the country, they were at Brentford as well the other day. Now here at Arsenal.
"It is a lot of travelling, so thank you very much to them from all of us."