Can City win a fourth Premier League title in five years?
Plus, when are the Manchester derbies taking place, what's our festive calendar like and who do we start the season with and end it against?
The Premier League fixtures for 2021/22 have now been released and the answers to all the above questions can now been revealed – and plenty more.
CITY+ | Sign up to watch exclusive content
City will begin the defence of the Premier League crown with a tricky opening day clash away to Tottenham Hotspur on 14 August.
The last time we opened the campaign away to Spurs was on 14 August 2010, with a Joe Hart wonder show helping Roberto Mancini's side earn a 0-0 draw at White Hart Lane.
The two teams last met in April's Carabao Cup final at Wembley, with Aymeric Laporte's late goal sealing a 1-0 victory.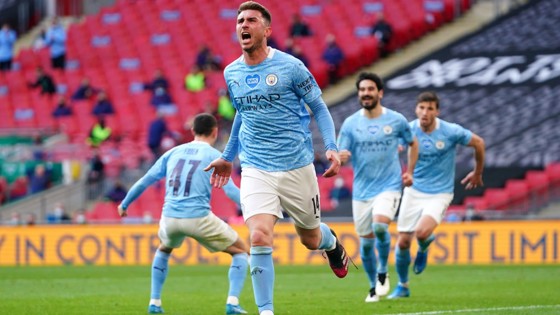 It's the fifth year in succession that City will start the new season on the road.
Our second Premier League fixture – and first home game - will be against newly-promoted Norwich City at the Etihad on 21 August and we'll wrap up August with another home fixture, this time against Mikel Arteta's Arsenal on 28 August.
The first Manchester derby will be at Old Trafford on 6 November, with the return at the Etihad on 5 March.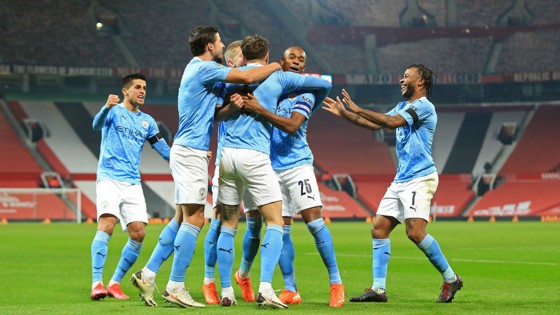 Chelsea and Liverpool are expected to once again be title contenders in 2021/22 and City will face both sides away in the space of a week on Matchdays 6 and 7.
The trip to Stamford Bridge will be on 25 September followed by a visit to Anfield on 2 October, in what will be a stern test of the champions' title credentials.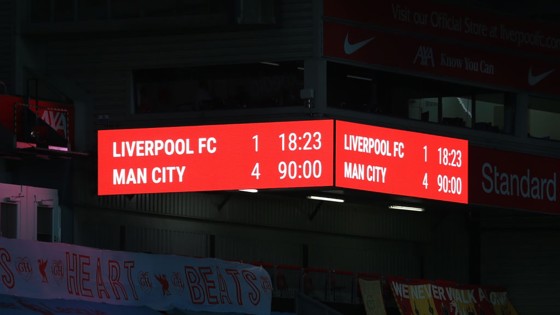 Last season, two of our stellar displays were against both sides, beating Chelsea 3-1 at Stamford Bridge and Liverpool 4-1 at Anfield.
Our Boxing Day fixture will see City host Brendan Rodgers' Leicester at the Etihad and two days later, we will travel to West London to take on Brentford at the Brentford Community Stadium for the first time in the top flight.
Our return fixture with the Bees will be at the Etihad on 9 February.
We will begin the New Year away to Arsenal on 1 January and the FA Cup third round is scheduled for Saturday 8 January.
City's 2021/22 Premier League campaign will wrap up with a final day home clash with Aston Villa on Sunday 22 May.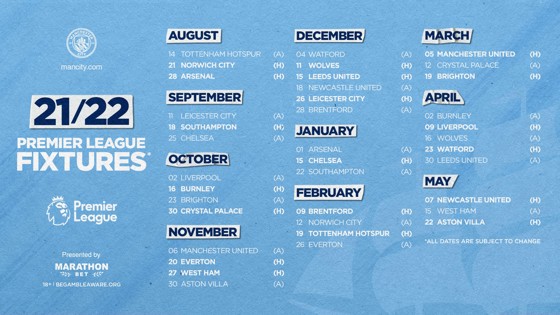 FIXTURES IN FULL
Sat Aug 14 Tottenham Hotspur A
Sat Aug 21 Norwich City H
Sat Aug 28 Arsenal H
Sat Sep 11 Leicester City A
Sat Sep 18 Southampton H
Wed Sep 22 Carabao Cup Round Three
Sat Sep 25 Chelsea A
Sat Oct 2 Liverpool A
Sat Oct 9 International Date
Sat Oct 16 Burnley H
Sat Oct 23 Brighton & Hove Albion A
Wed Oct 27 Carabao Cup Round Four
Sat Oct 30 Crystal Palace H
Sat Nov 6 Manchester United A
Sat Nov 13 International Date
Sat Nov 20 Everton H
Sat Nov 27 West Ham United H
Tue Nov 30 Aston Villa A
Sat Dec 4 Watford A
Sat Dec 11 Wolverhampton Wanderers H
Wed Dec 15 Leeds United H
Sat Dec 18 Newcastle United A
Wed Dec 22 Carabao Cup Round Five
Sun Dec 26 Leicester City H
Tue Dec 28 Brentford A
Sat Jan 1 Arsenal A
Wed Jan 5 Carabao Cup Semi-Final (1)
Sat Jan 8 FA Cup Round Three
Wed Jan 12 Carabao Cup Semi-Final (2)
Sat Jan 15 Chelsea H
Sat Jan 22 Southampton A
Sat Jan 29 International Date
Sat Feb 5 FA Cup Round Four
Wed Feb 9 Brentford H
Sat Feb 12 Norwich City A
Sat Feb 19 Tottenham Hotspur H
Sat Feb 26 Everton A
Sun Feb 27 Carabao Cup Final
Wed Mar 2 FA Cup Round Five
Sat Mar 5 Manchester United H
Sat Mar 12 Crystal Palace A
Sat Mar 19 Brighton & Hove Albion H
FA Cup Quarter-Final
Sat Mar 26 International Date
Sat Apr 2 Burnley A
Sat Apr 9 Liverpool H
Sat Apr 16 Wolverhampton Wanderers A
FA Cup Semi-Final
Sat Apr 23 Watford H
Sat Apr 30 Leeds United A
Sat May 7 Newcastle United H
Sat May 14 FA Cup Final
Sun May 15 West Ham United A
Sun May 22 Aston Villa H
other comps & downloads
With the 2022 World Cup in Qatar taking place between 21 November and 18 December, the FA Cup final will be played on 14 May.
After reaching the final in 2021, City will hope to end the new season in the 2022 Champions League final on 28 May in St Petersburg, Russia.
All Premier League fixtures are subject to change, with any new dates announced on mancity.com as and when the broadcasters select their chosen games.
Get the fixtures added to your calendar - https://www.mancity.com/calendars/mens
View all Man City fixtures - https://www.mancity.com/fixtures
As part of Cityzens Matchday Membership, match-attending fans can enjoy priority access to match tickets, as well as £5 off home match tickets – and no booking fees.
This includes an exclusive membership pack, 10% City Store discount, priority access on selected retail lines, plus partner discounts and rewards.
Join now!