Joleon Lescott says the excellent start Aymeric Laporte has made to the 2021/22 is no surprise at all.
The Spain international has been flawless in the opening couple of months of the new campaign she puts a frustrating 2020/21 behind him.
With John Stones and Nathan Ake also vying for a place alongside Ruben Dias, Laporte has found his best form at exactly the right time – though all City's centre-backs are likely to see plenty of game time in the weeks and months ahead.
CITY+ | SIGN UP TO ACCESS EXCLUSIVE CONTENT
"I've been very impressed, but not surprised," said former City favourite Lescott.
"Two years ago, we were talking about City not being able to mount a challenge defensively without Laporte in the team.
"It was more of a surprise that he didn't play or feature as much last season, but I'm not surprised when he does play well because he's a top player.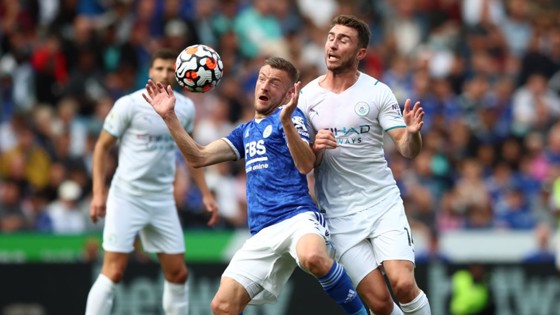 "It was similar to John Stones last year. We bought Ruben Dias and Nathan Ake so John Stones was maybe third or fourth choice, he wasn't guaranteed an opportunity to play – but he showed great character to battle for his place.
"Laporte will always be first, second or third choice. It's not easy, but it's easier to be ready because you know there's opportunities; you know there's going to be games you can feature in.
"At the same time though, you have to take them and he's done that so far."
Lescott rates Laporte as one of the Premier League's best – with Dias and Stones very much in the same bracket – but he believes it his strength with the ball at his feet that makes him an outstanding defender.
"I think in possession he's a good as anyone in the league and that's a massive thing for the style Manchester City and Pep use," said Lescott.
"But again, it's not his main strength. What I like about all the defenders at City is that their best attribute is out of possession and I'm a strong believer that should be the case for every defender.
"I think you should be good in possession, but that shouldn't' be the thing you're best at because you're in the team to defend.
"Being a left-footed centre-back is huge, because it means it's less predictable for the opposition because of the options you have.
"If you have two right-footers, you know if you close them off one way, you're forcing the ball down one side.
"It's more predictable for them to regain possession. But when you're facing the balance of left foot - right foot, you can go both sides.
"The ball that comes across from the opposite centre back can go straight out to the full back because you're on your strong foot. The balance probably isn't as noticeable in terms of the effect it has on the team but it's huge."