Erling Haaland has showered praise on his City teammates after scoring his second hat-trick in five days to inspire a 6-0 Premier League victory over Nottingham Forest.
The striker followed up his treble against Crystal Palace last weekend with another hat-trick at the Etihad Stadium, with all three goals coming in the first-half.
Pep Guardiola's side remained on the front foot after the interval, with a Julian Alvarez double and Joao Cancelo thunderbolt securing a convincing victory.
Haaland, who has nine goals after five Premier League matches, paid special tribute to his teammates after the win.
"Amazing. Nothing more to say," he said.
"It was about keep doing what we did in the second half against Crystal Palace.
"Play, play, play and we knew we'd get the chances and we did that. It was nice. It's been good so far, I'm not complaining!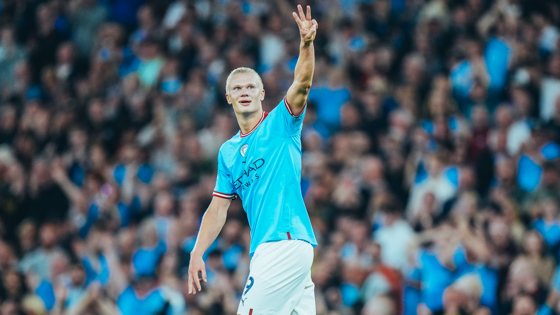 "I try to listen as much as I can to Pep [Guardiola] and the boys. They're amazing footballers, without them I can't score goals. It's about finding the chemistry and to listen to Guardiola.
"It's fantastic. That's why I came here. We play so good, we find each other, it's going to be nice."
It's another quick turnaround for City, with matches coming thick and fast as we travel to Villa Park to face Aston Villa on Saturday.
CITY+ | SIGN UP TO ACCESS EXCLUSIVE CONTENT
Haaland believes City's momentum could play a key part over the next few games.
"It's important to keep going and it's going to be a lot of games," he admitted.
"It's important to enjoy as much as we can because in the end we have to win games."