Erling Haaland, Kevin De Bruyne and Joao Cancelo each lead two of the early season stats categories.
The lists, provided by Opta and taking into account all competitions competed in so far, include goals, assists, and tackles, as well as five more top threes.
The Blues have made a superb start to 2022/23, winning seven and drawing two of the nine games played to date.
Pep Guardiola's men have scored 29 goals during that time, conceding just seven.
There are contributions from all departments, and City players dominate many of the Premier League's top 10 stats lists as well.
Here are the top three players in each category for our campaign to date…
Goals
Erling Haaland – 14
Phil Foden – 3
Julian Alvarez - 3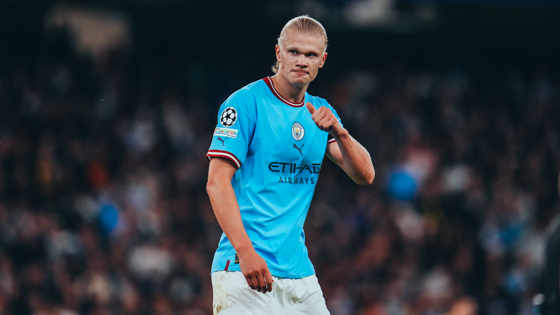 No surprise to see Haaland way out in front after his incredible start to life as a Manchester City player.
He has scored a fraction under half of all our goals to date, with Julian Alvarez and Phil Foden each with three goals so far.
This provides a snapshot of how City's attack has changed this campaign, with goals in previous seasons widely shared amongst the starting XI.
It's early days and other players will add to their tally as we go, but Haaland has added a new, devastating dimension to our attack.
Assists
Kevin De Bruyne – 8
Bernardo – 3
Joao Cancelo – 3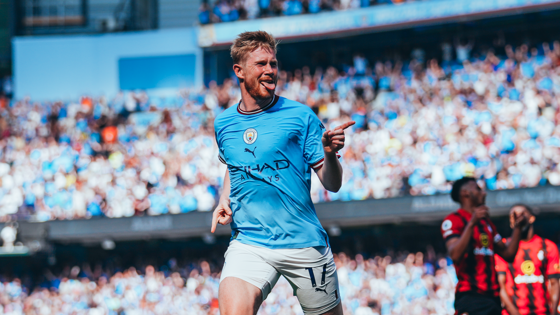 Kevin De Bruyne has picked up where he left off from last season – and the season before, and the season before that!
To have assisted eight goals already is pretty impressive, even by his standards.
The Belgian has provided some sumptuous crosses this campaign and has struck up an immediate understanding with Haaland – as have many of our creative midfielders.
Portuguese duo Bernardo and Cancelo have each provided three assists as well, with both making excellent starts to the season.
Shots
Erling Haaland – 40
Kevin De Bruyne – 26
Rodrigo – 16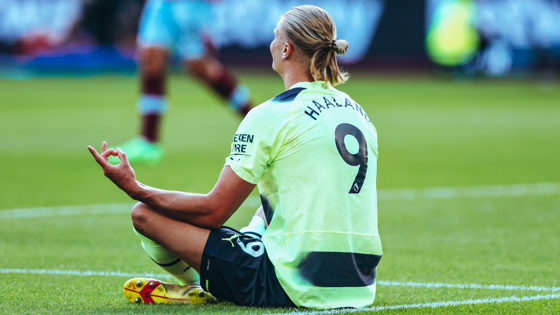 No surprise to see Haaland top this list with his 40 shots meaning he is averaging slightly better than four per game.
De Bruyne isn't far behind with 26, while Rodrigo takes up third with 16 shots so far.
Passes
Rodrigo – 863
Joao Cancelo – 813
Ruben Dias – 759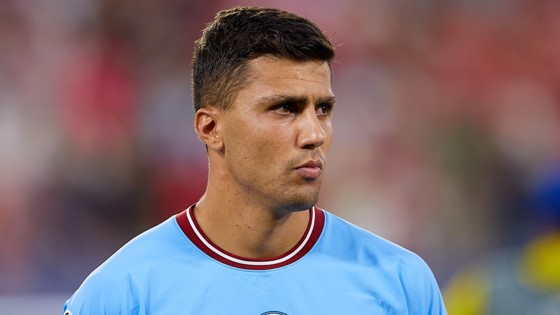 Spain international Rodrigo tops the passing list as it stands.
Our anchor midfielder is ahead of the equally influential Cancelo, and Dias is not far behind – illustrating where many of our moves forward begin.
Passing Accuracy
John Stones - 96.4%
Nathan Ake – 94.7%
Manuel Akanji – 94.6%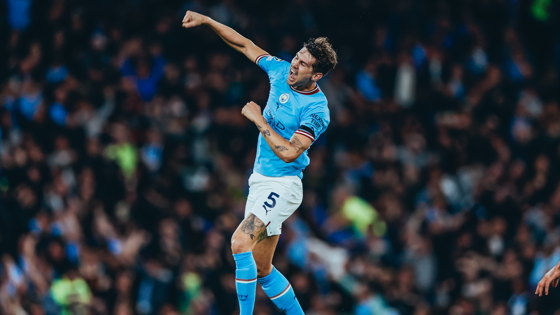 If you play for a Guardiola team, your passing ability has to be superb.
If you are a defender in a Guardiola side, your passing needs to be almost flawless – and this trio have been somewhere near that benchmark so far.
The City boss will be delighted to see Stones, Ake and Akanji topping this group, as it means his philosophy of playing from the back with confidence and accuracy is being demonstrated week in, week out by the whole team – and particularly our defenders.
It also underlines what a wise signing Akanji - just three games into his City career - has been.
Chances created
Kevin De Bruyne - 39
Ilkay Gundogan - 19
Bernardo – 15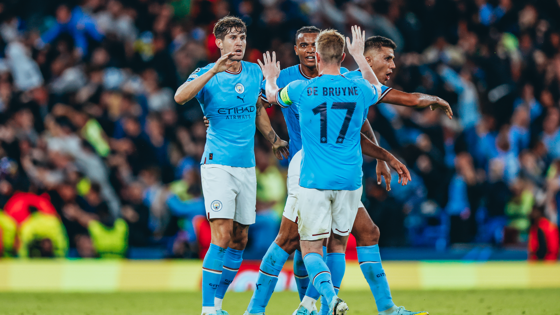 De Bruyne's creativity and vision is again there for all to see with 39 chances created so far.
Ilkay Gundogan has also provided an excellent 19 opportunities for his team-mates, while the ever-productive Bernardo has created 15 chances to date.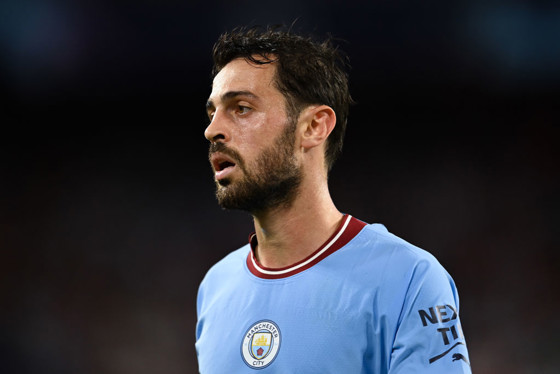 Tackles
Joao Cancelo - 20
Bernardo - 13
Rodrigo – 13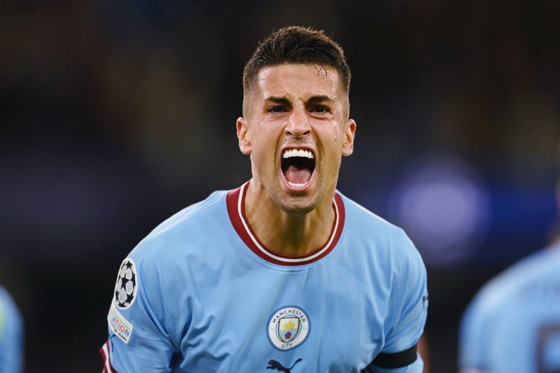 It's not all about scoring goals and creating them – any successful team will attest to that.
There's a job to be done keeping the opposition at bay and Cancelo's 20 tackles made top of this particular category.
As a defender, you'd maybe expect him to be near the top, but the fact that Bernardo is joint second with 13 – as well as being on the chances created list – shows the value of our tireless Portuguese midfielder.
Rodrigo appears again, too, also with 13 tackles.
Interceptions
Joao Cancelo - 15
Ruben Dias - 10
Rodrigo – 9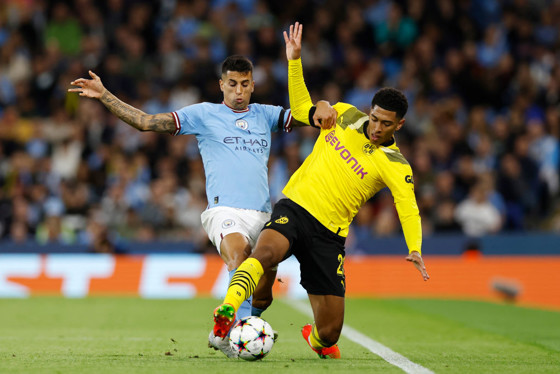 Preventing counter-attacks, crosses into our box or breaking up play – intercepting the opposition before they can hurt you is key for any side that presses high and sees as much possession as City do.
Cancelo's value is again underlined with 15 key interceptions so far, with Dias (10) and Rodrigo (9) again prominent on another of our top three categories.
Clean sheets
Ederson – 5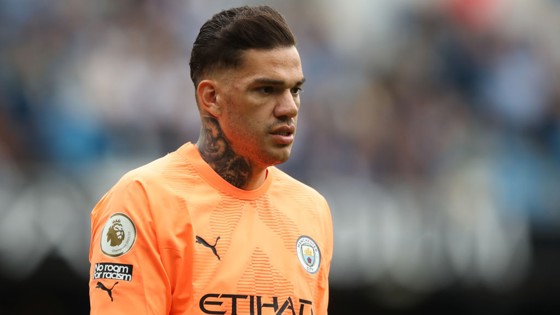 Ederson is our only keeper to have played in Premier League and Champions League fixtures so far, with the Brazilian recording a shut-out in five of his nine appearances.
The three-times Golden Glove winner also tops the Premier League list of keepers with four clean sheets to date.
CITY+ AND RECAST
Exclusive Manchester City content is available to watch on CITY+ and Recast.
Available for just £2.99 per month across all our digital platforms, a CITY+ subscription provides supporters with unrivalled access to new and exclusive City content.
It will allow you to watch full-match replays of all Men's and Women's matches, selected broadcasts of Women's, Elite Development Squad and Academy matches and provides access to the full catalogue of City Studios documentaries.
The official Man City Recast channel offers fans flexible, pay-per-view live fixtures and on demand viewing options including match action from across the years, legend interviews, Best of Series, Man City Esports and City Studios documentaries.