Gael Clichy insists he always felt the Premier League title was within City's grasp in 2012, despite falling eight points adrift of Manchester United with six matches remaining.
A 1-0 defeat away to Arsenal in early April, courtesy of a late Mikel Arteta strike, had seemingly left City with an impossible task in our pursuit of a first top flight title in 44 years.
However, a combination of six successive victories – including a Manchester derby win - and United dropping further points against Wigan and Everton, set up the Premier League's most dramatic finale.
And Clichy has revealed that a team talk from Roberto Mancini following defeat to the Gunners demonstrated to him that our dreams of becoming Premier League champions were far from over.
The former City defender explained: "Obviously, when you find yourself eight points behind a team like United you feel like it could be over.
"But I really felt that passion and the 'fight until the end' phrase that we kept saying, it was a time to show it.
"Roberto told us that from now on we would act as if we'd lost the title and he'd go to the press saying it was over but he told us, 'guys I'm going to be talking like that but obviously we aren't giving up and we want to go for it'.
"We all knew that something was possible, that we were not ready to give up and when you look back at the situation and how it happened, that speech at that moment from Roberto was a key moment.
"He clearly told us: 'I am going to be talking in a certain way, but between us we are strong, we are going to go for it and I believe we can do it'.
"The coach needs to trust the players (and) the players need to trust the manager, (but) more than that, the foundation and structure of the Club was always to go forwards.
"Ten years on, we never looked back and what the Club is doing now is blowing people's minds."
Victory over United at the Etihad Stadium saw City go top of the Premier League on goal difference with just two matches remaining.
However, with a trip to Champions League-chasing Newcastle United on the horizon, Mancini's men knew we would need to be at our best to maintain that slender advantage.
Alan Pardew's men were unbeaten on home soil since the turn of the year, but a stunning individual performance from Yaya Toure helped City grind out a 2-0 win.
Reflecting on the match, Clichy felt that Toure's performance – in which he grabbed both goals - demonstrated the influence he had on City's fortunes across the campaign.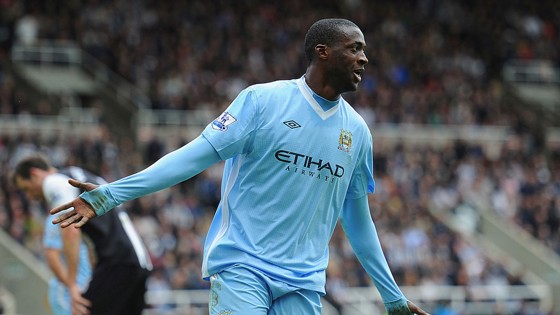 "Newcastle is always a difficult place (to go), (it was a) sunny day, the fans are there, loud, they had decent players and they wanted to be the team to stop us," the former French international remembers.
"We could feel it and hear it but again in that season, I really believe that when Yaya (Toure) said 'guys, today is for me' and was on it, nobody could beat us.
"That was one of those games, and he did that for the whole season.
CITY+ | SUBSCRIBE TO ACCESS EXCLUSIVE CONTENT
"Going into that game, being confident and having the top player deliver for us (made it) a normal day, a routine day. (We were) so focused and so ready to crush anyone in front of us.
"That was a performance where everybody realised outside the club that we were going somewhere. Newcastle away, that performance and not conceding was a big one."
Gael Clichy was speaking as part of our City Studios documentary: 93:20: The Ultimate Premier League Finale.
You can hear the defender's full interview, plus those of his teammates, with a CITY+ subscription.