Manchester City have secured the services of one of the most prolific strikers in Europe with the signing of Erling Haaland.
The Norwegian, who has penned a five-year deal with the Club, has been a byword for goals since making his first team debut at the tender age of 16.
Be it at Molde FK, Red Bull Salzburg, Borussia Dortmund or for his national team, he has hit the back of the net with alarming regularity.
A scoring sensation if ever there was one, the numbers that have underpinned Haaland's career to date are as remarkable as his stratospheric rise to becoming one of the world's deadliest finishers.
Here, we take a look at the facts and figures that set our new striker apart.
Rapid return
Haaland has the best minutes per goal ratio in the history of the Bundesliga (minimum 25 goals).
The Norwegian averaged a goal every 87 minutes for Dortmund, putting him ahead of Robert Lewandowski (100 minutes), Pierre-Emerick Aubameyang (116 minutes) and Bayern Munich and Germany legend Gerd Muller (105 minutes).  
He also has the best minutes per goal ratio in Champions League history (minimum 15 goals), scoring on average every 64 minutes.
That comfortably beats the others in the top five: Mario Gomez and Roberto Soldado (both 102 minutes) and Lionel Messi and Harry Kane (both 104 minutes).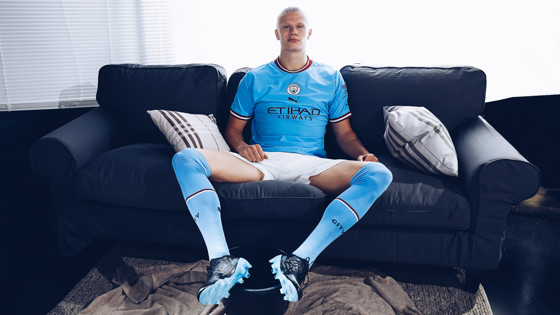 Milestone man
Haaland's brace in Dortmund's 2-2 Champions League draw with Sevilla last season saw him set three competition records in one swoop.
The striker's second of the evening was his 20th goal in the tournament, a tally he reached at a younger age and in fewer games than anyone else.
It took Haaland 14 matches to reach the milestone, beating previous record holder Kane by 10 games, whilst at 20 years, 231 days, he knocked Kylian Mbappe (21 years, 355 days) off top spot as the youngest player to get to 20 goals.
He is also the only player to do so before the age of 21, eclipsing, Messi, Raul, Cristiano Ronaldo and Wayne Rooney.
Bundesliga boy wonder
In total, Haaland scored 62 league goals in 67 games in Germany. No other player has hit the back of the net that often in their first 67 games.
He was also the first player to score 25 goals in his first 25 Bundesliga appearances and the youngest and quickest to net 50 times in the competition.
Followng his arrival at Dortmund in January 2020, he went on to score two or more goals in the league on 23 occasions (20 braces, two hat-tricks, one game with four goals) – more than any other player in Europe's big five leagues.
In the same time period, only Lewandowski (123) and Mbappé (93) have scored more competitive goals across all players from Europe's big five leagues than Haaland (86).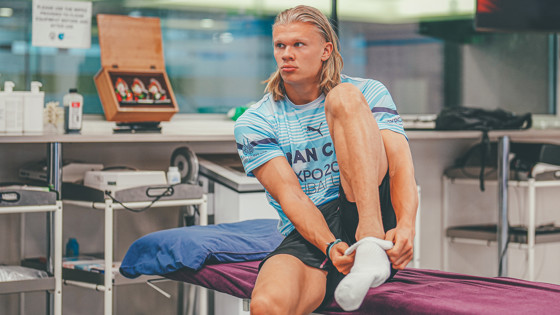 Fast starter
It's fair to say Haaland hit the ground running at Dortmund, scoring a hat-trick on his debut against Augsburg, and following that up with a brace in each of his next two games.
That ensured he became the first player to score five times in his first two Bundesliga appearances and seven in his first three.
He enjoyed equally impressive beginnings in the Champions League, hitting a hat-trick on his competition debut as Red Bull Salzburg beat Genk 6-2.
He is one of only 10 players to score three times in his first Champions League appearance, with only Rooney (18 years, 340 days) doing so at a younger age than Haaland (19 years, 58 days).
The striker is also one of only four players to net in his first five Champions League games.
He followed Alessandro Del Piero and Diego Costa, whilst Sebastian Haller has since done so, too, but Haaland achieved the feat at the youngest age.