Pep Guardiola told Aymeric Laporte to 'sign for City and not me' during the negotiations to bring the defender to the Club back in January 2018.
Laporte had come close to joining City 18 months earlier, before deciding to stay with Athletic Bilbao and continue his rapid development. 
But with City in need of reinforcements at centre-back, we made another move for Laporte in 2018 and got our man.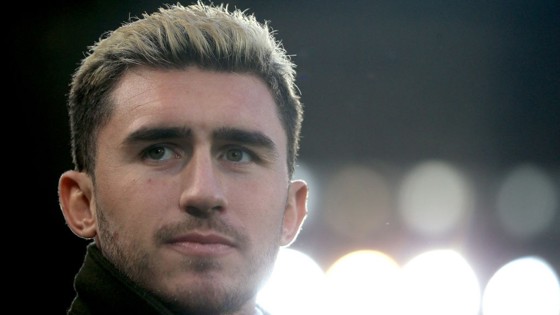 During the discussions between Club officials and Laporte's representatives, Guardiola was unequivocal in his belief that our structure meant joining City guaranteed Laporte long-term success, regardless of who was the manager.
GET YOUR MANCHESTER DERBY TICKETS
And now, in a new documentary released later today on CITY+ and Recast, Aymeric Laporte's financial adviser Kepa Cabreda reveals details of the discussions he had with Guardiola during transfer negotiations.
"I think Pep was brilliant, because he told Aymeric to not focus on the fact he was the manager of Manchester City, he wanted Aymer to believe in the project City were building," said Cabreda.
"Pep said. 'Don't base it on the fact that I'm the manager because I can do a good job or a bad job' - he wanted Aymer to believe in the plan and he wanted players that wanted to play for Manchester City."
Meanwhile, the documentary also reveals the whirlwind nature of Laporte's first 48 hours as a City player.
Having landed in Manchester and completed the transfer, he was summoned to the training pitch two hours later – despite having no boots with him!
And after his first session at the CFA, Guardiola told him he would be making his debut against West Brom the following day.
"So, it was a few days before the transfer market closed, maybe five days before I knew the interest and we had to do everything quick," recalls Laporte.
"I arrived here at maybe 1pm. The first player I saw here was Phil Foden, he was coming back from the (Under 17s) World Cup.
"I said to him congratulations, because he won the trophy of the best player at the tournament, and he said to me congratulations for signing here and then we signed all the papers.
"And Pep said to me, 'have you got the boots with you?' and I said, 'no I just arrived now, I don't have the boots'.
"Then he said, 'Okay, so in two hours we have to train' and I said, 'the last two weeks I didn't train and you're asking me to train in two hours and I don't have my boots - so we need to find a solution.'
"So they came back with some boots, I trained in the afternoon two hours after I arrived here and after the training session he said to me to come up to his office to ask me if I was prepared to play the game the day after.
"The day after was amazing, unbelievable."
The Laporte family also recalled those hectic first few days of City life.
"We were in one of the rooms in the Club's headquarters. Pep was there and there was also other executives from City," said his sister Alexia.
"It was a simple but also a very unique moment. Like time stood still.
"That's how I remember it."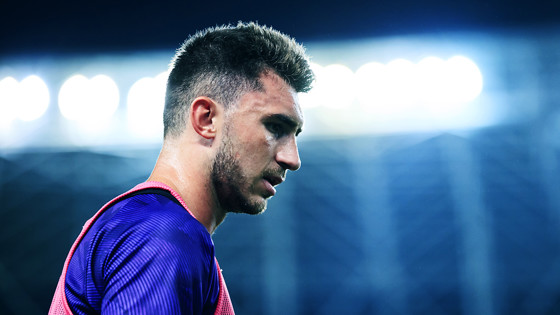 Aymer's mother, Agnes Fevre, added: "I didn't expect him to go on the pitch [against Werst Brom]! I saw him coming onto the field. He's just coming on. I shook, like in his first game [as a child], just like his first game with Bilbao.
"I thought they were crazy! He doesn't know anyone, he doesn't know his teammates. But he played, he won the game.
"I see everything again, I see him small, I see him growing, it's... it's all sacrifice and hard work."
Aymer's father, Lionel, said: "He played an extraordinary game [against West Brom] with two impressive passes in particular.
"Everyone was impressed. I was working at the time, but I watched it on TV. He was... a monster!
"This first game, you could only see him."
Txiki Begiristain says Laporte was a player City had been determined to sign for some time.
"He has a strong personality, he has a lot of self-confidence, and we knew that it wasn't going to be a problem (making his debut so quickly)," he said.
"He's big, he's fast. He's good with the ball… just what we needed. 
"So we knew that he was going to perform, again he's a big personality, top with the ball, very aggressive, both a good size and good in the aerial game.
"We wanted to bring him for a year and a half; we couldn't, but then finally, we got him. "
Watch 'Laporte ABC' from 17:00 (UK) Sunday evening on CITY+ and Recast ahead of the Germany v Spain World Cup clash.
CITY+ AND RECAST
Available for just £2.99 per month across all our digital platforms, a CITY+ subscription provides supporters with unrivalled access to new and exclusive City content.
It will allow you to watch full-match replays of all Men's and Women's matches, selected broadcasts of Women's, Elite Development Squad and Academy matches and provides access to the full catalogue of City Studios documentaries.
The official Man City Recast channel offers fans flexible, pay-per-view live fixtures and on demand viewing options including match action from across the years, legend interviews, Best of Series, Man City Esports and City Studios documentaries.