Media Watch
1
Mendy: 'Now for more titles...'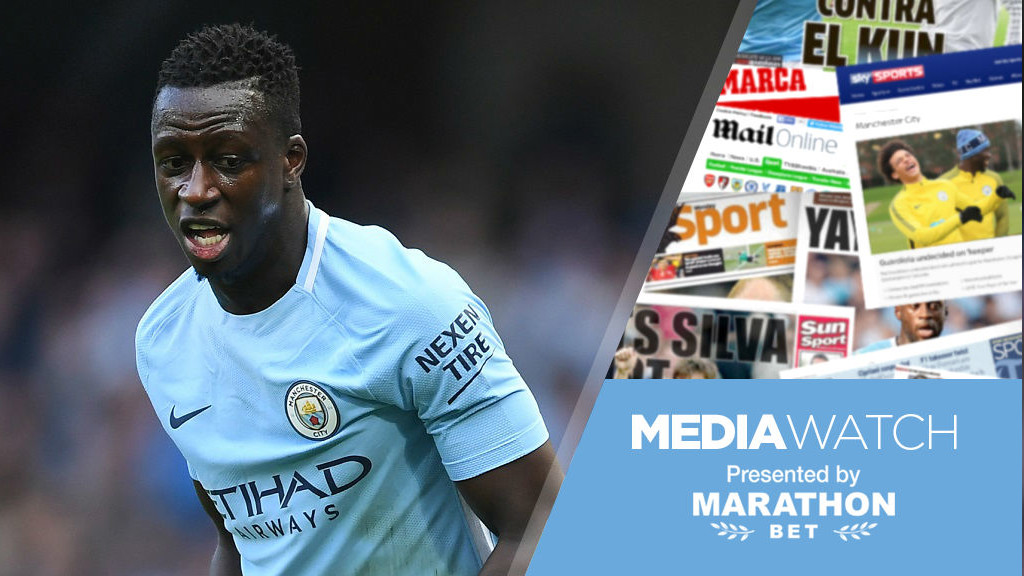 Plenty to go at as the Blues head back from a productive trip in the States.
We've got Benjamin Mendy's hopes for the new season and memories of an unforgettable summer; how the Miami Herald saw City's dramatic win over Bayern Munich; praise for the Blues' exciting crop of youngsters plus David Silva's Champions League dream.
Let's begin with the irrepressible Mr Mendy.
French channel NDTV Sports report: "Benjamin Mendy is ready to make up for lost time at Manchester City and add to his ever-growing list of silverware.
WATCH: Mendy meets a rival Shark Team
"A knee injury forced the 24-year-old for out seven months last season but having made just 11 appearances all season he ended the summer with World Cup and Premier League winners' medals.
"Mendy played only 40 minutes for Les Bleus in the group stage against Denmark and ticked off just enough matches for City to have something hanging round his neck during the celebrations. His gold World Cup medal hasn't left his sight since picking it up in Moscow.
'I have the medal in my pocket," Mendy told reporters in Miami ahead of City's pre-season friendly here this week.
'Before the World Cup I said to the dressing room, 'if I win I'll come back with the medal'.
'This (the medal) is my skin now. For four years it's my skin for a life. In four years we have a new World Cup but now we are the kings.
'Before we were going, everybody was talking about their country. I said that you'll see the French win, but some other guys said no.
'After we played we spoke but every time it's with respect. When we won against Argentina I spoke with Kun (Aguero) straight after the game with a text.
'When England won their quarter-final I spoke with Raz (Raheem Sterling) and Kyle (Walker). Everything is like this. So, when I come back I don't go "waaaaaaah!" I say hi and we speak.'
"Mendy is hopeful of being fit and raring to go for the season-opener at Arsenal after missing most of his first campaign with injury.
He said: 'Really, I didn't have any low moments. When I go to the hospital some people [are worse than] me. It's just one knee though.
'All the time I was asking about when I can do the next thing. I was always asking. The time went so quick. I remember when I went to the hospital in Barcelona, I asked before my surgery whether I could go to the World Cup.
'The surgeon said: 'I'm not a magician, but normally yes.' That was my goal.
"I want to play. When you win one time you want to win a second time. You don't want to stop. I am so, so, so excited for keeping going like this with City.'
Meanwhile, The Telegraph are full of praise for City's teen stars after the win at the Hard Rock Stadium.
They write: "Pre-season matches normally see wildly differing starting XI's, yet Guardiola has kept faith with the bulk of his young and mostly inexperienced squad. Eight of his line-up which started this match have begun all three games.
"Youngster Phil Foden was involved throughout and it was the England U-17 World Cup winner whose shot was parried for City's equalizing goal from Lukas Nmecha at the start of the second half.
"German born Nmecha's work rate would have pleased his Spanish coach while there were also decent showings from Oleksandr Zinchenko and Brahim Diaz.
"Substitute Bernardo Silva also impressed. He was excellent and showed the depth of midfield talent at Guardiola's disposal. There was also a first City appearance for 17- year-old Spanish attacking midfielder Adrian Bernabe."
And, as an alternative view, here's how the Miami Herald saw things: "The 29,195 fans who showed up at Hard Rock Stadium Saturday night for the International Champions Cup got a glimpse of the potential future stars of Manchester City and Bayern Munich.
"With more than two dozen players missing from the two teams due to post-World Cup vacation and injuries, the reigning champions of the English Premier League and German Bundesliga took the opportunity to showcase their youngest talents.
"Manchester City, which rallied from two goals down to win 3-2, used a starting line-up that included 17-year-old Eric Garcia, 18-year-old Phil Foden, 18-year-old Luke Bolton, 20-year-old Douglas Luiz, and 19-year-old Lukas Nmecha, a German-born player who scored the tying goal to make it 2-2 in the 52nd minute.
'I am satisfied with how our guys played, doesn't matter the score. For these guys it was a huge experience, to see they can play against really big teams,' Manchester City manager Pep Guardiola said of his inexperienced roster. We came here with a lot, a lot, a lot of young players. We had just one or two professional players from the first team. For these guys to play against Liverpool and Bayern Munich, this will be good for them for the future.'
Finally, El Mago has a dream… one all Blues will share. And it's one he wants to achieve before he eventually ends a glittering career for club and country.
The Mirror write: "David Silva has set his sights on ending his Manchester City career as a Champions League winner.
"The Spanish playmaker has confirmed he will walk away from the Etihad when his contract expires in 2020 after lifting three Premier League titles, the FA Cup and three League Cups during his eight years with the Blues.
"But Silva – who has won the World Cup and two European Championships with his country – still harbours one burning ambition.
"He is desperate to establish City as part of Europe's elite before taking up a new challenge.
"Silva said: 'I have been at City for eight years and I have been very happy with what the club has achieved in that time.
'But there is something missing - the Champions League. It is the only trophy I don't have at home and, of course, I want to win it to complete the set.
"'f we win the Champions League in the next two years then after that I could retire and really enjoy my life.
'That isn't to say that I am only thinking of the Champions League. I want to win anything and everything that I am playing for.
'It doesn't matter if I am playing in the Premier League, the World Cup or FIFA 2018, I want to win.
'If there is a title available then I aim to win it. That will never change. But it is true that the Champions League is very important – both for City and myself.'
More City-related media stories tomorrow…