Media Watch
1
Media Watch: De Bruyne's salute to Sterling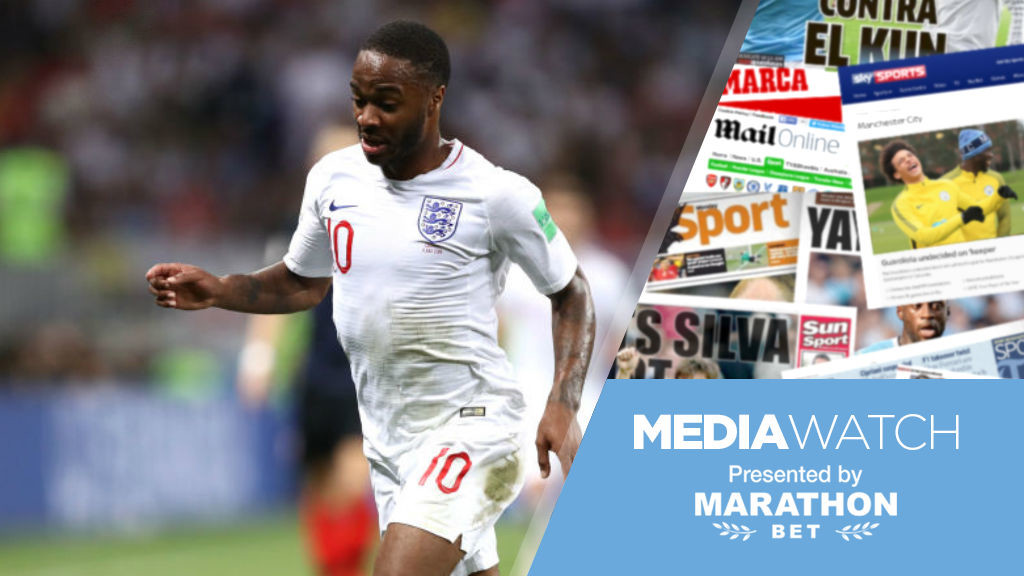 KEY FIGURE: Raheem Sterling's impact at the World Cup has been hailed by Kevin De Bruyne
There's praise for Raheem Sterling's World Cup impact and a note of thanks to Gareth Southgate from Fabian Delph in today's Media Watch round-up.
Sterling and England will be looking to end a memorable few weeks on a high today when they wrap up their World Cup campaign against Belgium in St Petersburg.
Moved inside to a central position, his role has involved a lot of dropping into pockets of space and linking up with onrushing midfielders. He has played selflessly and his efforts have been hugely appreciated by his manger and team-mates.
And ahead of today's third and fourth place play-off between England and Belgium, Sterling's Etihad colleague De Bruyne, who could line up against Raheem today for the Red Devils, echoed those views when speaking to the Times.
De Bruyne said: "Raheem has done really well in the games I saw."
READ: Ali Benarbia says Riyad Mahrez will be a huge success at Man City
READ: Man City 100 Goal of the Season Fernandinho earliest title win
"He hasn't scored goals, but not everything in football is about goals," he added.
"Raheem is a wonderful player. He's an easy-going guy who gives everything for everyone, even with the criticism. Personally, I don't understand why you would criticise people from your own country when all they are trying to do is win it."
De Bruyne also welcomed the arrival of Riyad Mahrez at City, after the winger's arrival from Leicester City earlier this week. "He's a very good player. I'm glad he's with us," he said.
De Bruyne insisted that winning the bronze medal in St Petersburg was an important objective. "We'll try and win because third place has never been done before by Belgium and I'm proud of what we did in Russia as a team," he said.
Sterling's England colleague Fabian Delph meanwhile, says he is anxious to end what has been a remarkable few weeks on a winning note today.

As well as being part of the England squad that has gripped the nation with their heroics in Russia, Delph also became a father for the third time earlier this month, jetting home briefly for the birth of his daughter.
And he told FIFA.Com: "It's been an incredible month for me, I'm not sure it's sunken in yet but I am sure when I get home and get to hold my baby daughter I'll start to reflect on it all."
Delph took a brief interlude from Russia 2018 to be with his wife Natalie as she gave birth to their third child, and returned just before the quarter-final with Sweden and says he will remain indebted to coach Gareth Southgate for ensuring he'd not miss the important occasion.
READ: Fabian Delph says Man City midfielder Phil Foden is at the right club to progress
READ: Riyad Mahrez what they said
"He's one of the best people I've met in football," Delph added. "He's really a genuinely nice guy, very understanding and very caring but on the flip side of that he's very passionate too. I'll be forever grateful to him for what he's done for me like letting me go home for the birth of my third child, I am not sure many managers would have let that happen but he understands how important family is."
While returning home, especially if England can finish third, will soften the blow, Delph admitted the anguish of losing the semi-final to Croatia will live long in the memory.
"There was massive belief and the end goal was to win the competition and to be totally honest with you, in years to come when I am an old man, I'll still be really, very devastated," he explained. "I and the lads had the genuine belief we were going to win the World Cup, but we came up short.
"I'll be disappointed for a very long time. I know how everyone is talking about how great the tournament has been but inside it's at the back of our minds and we'll be kicking ourselves, asking 'what if we'd done this', and 'what if we'd done that'.We'll have to wait another four years now, but I am sure with the experience we've had it will stand us in good stead for that, and we will set out to win against Belgium."
"Everybody seems to be fearless, going in the same direction, and it's quite similar.

"It felt like I was leaving club football to join up with club football again, if you like.
"I thoroughly enjoyed it. It's always an honour to play for your country and to do it with a bunch of lads that are such good lads and to go as far as we've gone…
"We've not quite done it but it's been a fantastic experience for me personally and I think it'll stand us in good stead for the future."
Finally on the transfer front, City continue to be linked with a potential move for Croatia and Real Madrid midfielder Mateo Kovacic.
READ: Man City 100 most Premier League goals 100 Champions League
READ: 10 things to look forward to for Manchester City
And according to the Manchester Evening News, the Blues are now favourites to clinch a deal for him.
They report: Manchester City are the bookmakers' favourites to sign Mateo Kovacic this summer.
The club are considering a number of targets as they look for alternatives to Napoli midfielder Jorginho after Chelsea emerged as a potential destination for the Blues' long-time target.
With Jorginho's former Napoli boss and mentor Maurizio Sarri sent to be named as Antonio Conte's successor at Stamford Bridge, the Londoners are in the mix to steal him away.
Pep Guardiola has monitored a move for the Real Madrid man Kovacic as an alternative throughout the past year and is impressed by the player's ability.
Recent reports have also linked the 24-year-old with a move away from reigning Champions League winners as he looks to push for regular first-team football.
Of course, as regards any transfer news you will read it first here at www.mancity.com