Media Watch
1
Media: Does City ace hold key to England future?
RARING TO GO: Phil Foden and Riyad Mahrez in pre-season training
The City-centric headlines are focused on new signing Riyad Mahrez after his unveiling at the Etihad on Thursday, plus after Wednesday's World Cup woe - does the answer to England's midfield future lie at CFA?
As the dust settles on an heroic Three Lions campaign in Russia - the third place play-off is still to come of course - Sky pundit Jamie Redknapp has given his verdict on the Croatia match.
Comparing City starlet Phil Foden to masterful World Cup finalist Luka Modric, Redknapp said: "I watch him and the way that he plays, with that technical ability he possesses maybe he can be the one that does that for us in a couple of years."
Now back to an already-established Premier League star, new boy Mahrez, who spoke to the press on Thursday following his Blues move.
WATCH: Phil Foden technical spotlight
READ: Expert view - how Mahrez will improve City
GALLERY: Mahrez's City unveiling
ESPN's Jonathan Smith reports: "As well as the title, City won the Carabao Cup but were knocked out of the Champions League quarterfinals by Liverpool - and Mahrez believes they are ready to challenge for Europe's top prize.
"'I know they have the ambition to go further the next season. It's a Champions League team, who wants to win trophies every season. That's why I made the decision to come here because I want to be part of that.
"'It's a club who wants to win this type of trophy. The Champions League is for big clubs, they're a big club. They have everything to try to win the Champions League. Now we have to work and see what can happen.'"
There has been discussion among City fans as to how boss Pep Guardiola will arrange his stunning array of attacking power next season, but Mahrez is confident he can thrive wherever he plays according to the Guardian's report.

"'I haven't talked about my precise position with the manager yet, but City wanted me and that means a lot,' Mahrez said.
"'The price tag doesn't affect me – fees for players have got very big in the last couple of years. I am very happy to be here and will try to give my best for the club. I thought what City did last year was amazing, it was unbelievable to break all those Premier League records, but I am confident about myself. I want to help this team improve and I believe that is what the manager wants.'
"Mahrez knows he will have to adapt from being a regular pick at Leicester to proving his worth in a stronger set-up at the Etihad, but he is prepared for the challenge. 'Players at top clubs always have to face competition for places, it is normal for big clubs to have a lot of great players and City are a big club with a big manager.'"
Finally, the Daily Mail were one of a number of outlets to pick up on a social media message from City and England's Kyle Walker.
Great goals!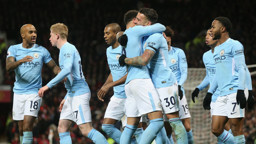 Their report read: "Club rivalries, both in stands and on the field, were also forgotten as England manager Gareth Southgate created a tight squad comprised of players from all across the Premier League.

"Walker took to Twitter the morning after Wednesday's 2-1 extra-time defeat at the hands of Croatia in Moscow.
"The Manchester City right back, who has played as part of a three-man defensive unit in Russia, admitted he was deeply disappointed that England's World Cup dream had died.
"But Walker hailed the English public for their role in this summer's adventure and urged them to 'keep this unity alive'.
"Writing above a picture of England players applauding their supporters in Moscow, Walker tweeted: 'I'm still heartbroken and never felt so gutted. But there's something I want to say.
"'This past month, I've seen videos going around, photos been sent to me. That felt so good for us here in Russia, and united us more and more, just like it did in our country.'
"In a second tweet, Walker added: 'We might live in a time where sometimes it's easier to be negative than positive, or to divide than to unite, but England: let's keep this unity alive. I love you.'"
That's all for today, we'll be back same time, same place tomorrow!