Media Watch
1
Gossip: Young stars in focus
CITY DEBUT: Claudio Gomes
The futures of three bright young City stars is the focus of your Friday media round-up, plus which song best describes Pep Guardiola's style of football? Read on...
First to a report on Claudio Gomes' City bow against Liverpool after the young French holding midfielder signed earlier this week.
The MEN's Simon Bajkowski had his media microscope trained on the 18-year-old and reckoned: "But on a dreadful pitch, Gomes quickly gave the impression of a man playing on a carpet.

"Happy to shuttle the ball from left to right along the floor, he was as comfortable pinging wedged balls in the air with a beauty finding Jack Harrison."
Bajkowski added: "However tough the baptism proved against a Liverpool side with superior fitness, Gomes showed enough with his catalogue of passing to demonstrate why Pep Guardiola is so impressed with the teenager and with Douglas Luiz not appearing against Liverpool there should be another opportunity in Miami."
READ: New York tour diary
READ: Which TV channel is City v Bayern on?
Now to Phil Foden, who has been speaking to media during the US tour and revealed yet more of his deep connection with the Blues.
"Phil Foden had a front-row seat when the balance of power shifted in Manchester," writes the Daily Mail's Jack Gaughan.
"He was crouched on a stool as Vincent Kompany rose to head past David de Gea before going off on that now legendary celebration packed with frenzied emotion.
"It was a Monday night in April six years ago and Manchester City's derby victory helped seal a first league title since 1968. Foden, a ball boy that season, jumped up in delirium.
"'I remember I was sitting at the opposite end to where Vinny scored — behind the other goal,' Foden says in his first newspaper interview. 'It was such an important game and Vinny got the header.

"'It was just such a mad atmosphere. I've had a few instances like that, where I've fallen over the hoardings when I've tried to jump over them!'
"Foden, only just 18, is shy. He is deliberate in what he says and wants to make the right impression. Born in Stockport, there is an authenticity to his character and he still plays football in the street with mates. 'Any free time I get, I go and play with people in my old area,' he says."
Keeping to the youthful theme, a young defender has impressed MEN journalist Stuart Brennan.
In his player ratings for the Liverpool game, Brennan wrote of Eric Garcia: "One of the success stories of the tour so far - an astute and alert defender with a lovely right foot and an eye for going forward."
Best goals!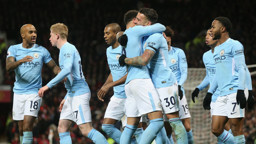 And finally a musically inspired piece in the Guardian.

Simon Burnton declares: "In his famous "symphonic fairy tale" Peter and the Wolf, Sergey Prokofiev used different orchestral instruments to represent each character. 'The role of each animal or bird will be played by a single instrument,' Natalia Satz, the director of Moscow Children's Theatre who commissioned the piece in 1936, remembered the composer saying. 'The characters' individuality will be expressed in the timbres of different instruments, and each of them will have a leitmotiv.'
"If a similar trick were to be attempted with current football teams, Guardiola's City side could be perfectly represented by Smooth Operator's opening saxophone solo: classy, seductive, technically flawless, wildly popular, ludicrously successful."

That's all for this morning, we'll be back tomorrow with more paper talk!