Media Watch
1
David Silva: Joining City was 'best ever decision'
David Silva has told ITV that he couldn't have made a better choice when he signed for the Blues in 2010.
Widely acknowledged as one of the best Premier League imports, the Spain and City play-maker's consistency has been key to the Blues winning seven major trophies in the past eight years and the Blues' No.21 wants to continue making history with the Club.
"I signed for Manchester City and it was the best decision of my footballing career," Silva said in an ITV interview.
"Right now, I'm concentrating on this year and trying to improve on last season.
READ: Guardiola previews Liverpool clash
"Would I like to finish my career at City? When it gets to 2020 I'll think about it. In football, you can't plan your future like that. It's day by day."
One of El Mago's potential heirs to the throne is undoubtedly Phil Foden.
Over the next few seasons the Stockport-born teenager is hoping to learn from the master and is being tipped as the creative midfielder England desperately crave.
The New York Post report: "Phil Foden embarked on his first preseason tour of the United States last July as an unheralded teenager getting his feet wet on the Manchester City first team. A year later, much has changed for the midfielder.
"The owner of a Premier League winners' medal and a U-17 World Cup Golden Ball (he led England to the title in 2017), the 18-year-old is shouldering huge expectations for the future.
'Last year was a good year for me,' Foden told The Post from New York City FC's training complex in Orangeburg, N.Y., where his team was practicing for Wednesday's International Champions Cup match against Liverpool FC at MetLife Stadium. 'I won quite a lot of things and it's gonna be hard to beat that in my life.'
"Even if Foden struggles to replicate that trophy haul, no one will be disappointed if he reaches his lofty potential.
All you need to know...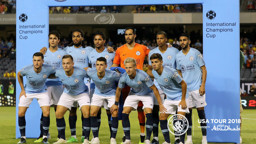 "Standing 5-foot-7, he has been tapped to become the playmaker England have missed for so many years. While he may lack the physicality of some of his Premier League peers, he plays with the intelligence of his similarly built (and talented) teammates David Silva and Bernardo Silva."

Bernardo has added his own thoughts on Foden in an interview with NBC, saying: 'He's a fantastic young player … he can be one of the best midfielders in the world if he works and if he's mentally strong.
'And he's a good kid as well, he works a lot. So, I hope he can get his time to play and to show his talent.'
Moving on, and Leroy Sane admits the summer disappointments at international level has left him even more determined to kick on again and ensure he isn't left out of future German squads.
NBC report:"The former Schalke 04 winger told PST that he is using the snub as motivation for the upcoming season and as a goal for him to reach in four years' time when the World Cup heads to Qatar.
'It motivated me a lot because it's a dream for me to play there at the World Cup,' Sane told Pro Soccer Talk. 'That's why I keep working harder and looking forward. We will see what happens over the next four years.'
"City will aim to continue its dominance from last season during the upcoming PL campaign and in Europe, but Sane will have a new running mate up front in Riyad Mahrez.
"The former Leicester winger became an instant star upon arriving at the King Power Stadium in 2014, and now provides the Citizens with yet another danger man that opposition must be wary of going forward.
"Despite his quiet demeanour and relaxed attitude, Sane believes Mahrez is the ideal fit in the Man City system with his languid style and unpredictability complementing City's other attackers.
'He brings a lot,' Sane said when asked about the addition of Mahrez. 'He's a great player and extremely skilful. He has an unbelievable left foot, which makes our job up front even easier because we can kind of relax a bit more and strike against the other defence.'
Finally, The Liverpool Echo report that City's young defenders could have their hands full when the Blues take on Liverpool in New Jersey in the early hours of tomorrow morning (UK time).
They write "Mohamed Salah and Sadio Mane are in contention to make their pre-season bow in Wednesday's International Champions Cup clash with Manchester City in New Jersey's MetLife Stadium.
"Jurgen Klopp had initially stated that the prolific duo wouldn't feature on the tour of the USA until Saturday's game with Manchester United in Ann Arbor. However, with Salah and Mane both looking fit and sharp in training Klopp is considering giving them cameo roles against Pep Guardiola's side.
"Klopp, who intends to ditch his approach of fielding a different XI in each half, could also turn to Marko Grujic. Like Salah and Mane, the young Serbian midfielder only reported back for pre-season training last Friday following an extended break after the World Cup.
"Gini Wijnaldum is available for selection against City after proving his fitness. The Dutchman has yet to play in any of the friendlies due to a muscle issue and then a virus."
That's all for this morning – more of the same tomorrow…