Media Watch
1
Goal.com: 'Blues not interested in midfield trio'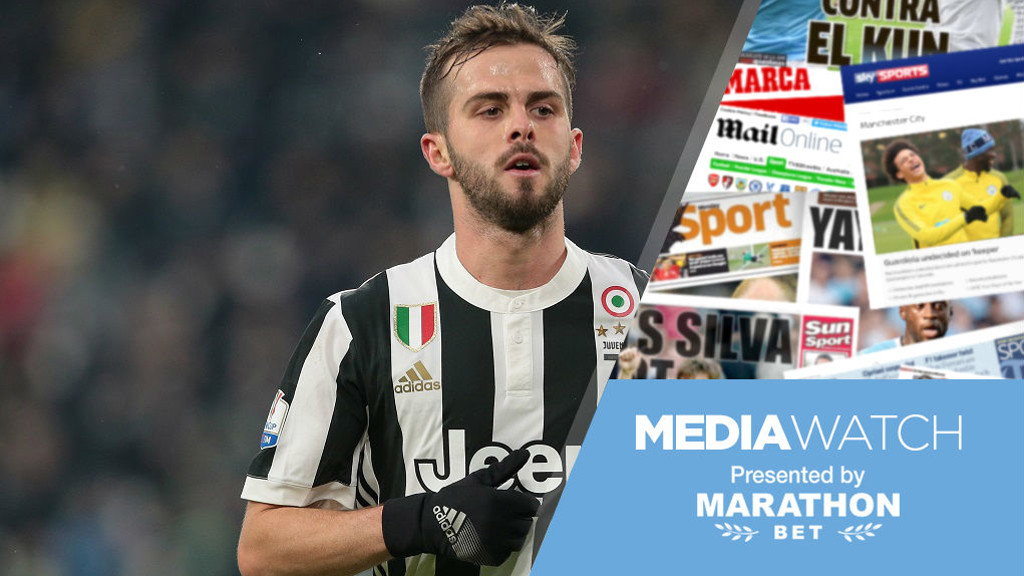 City aren't interested in Thiago, Miralem Pjanic or Mateo Kovacic according to Goal, The Sun and a number of other media outlets .
Several journalists covering City's US tour have posted stories on Sunday morning suggesting the Blues are not looking to add to the current squad as things stand.
Goal.com's Sam Lee writes: "Pep Guardiola is not interested in overpaying for a new midfielder, despite missing out on Jorginho, who chose to join Chelsea this month

"Manchester City sources have ruled out a big-money move for Juventus midfielder Miralem Pjanic, Goal understands.

"Reports in Italy had claimed that City boss Pep Guardiola has spoken to Pjanic in the past few days to convince him to move to the Etihad Stadium in an €80 million deal.
"But Goal understands that a move for an established name is unlikely at this stage in the window, and that Pjanic is not under consideration.

"The same goes for Bayern Munich midfielder Thiago and Real Madrid's Mateo Kovacic, City sources have indicated."
The Sun's
Martin Blackburn follows a similar path as he writes: "Pep Guardiola has ruled out moving for another high-profile midfielder after being snubbed by Jorginho.
"Manchester City were sure they had landed the Italy international — until Chelsea nipped in to seal a £57.4m deal last week. Defensive midfield was one of the positions the Premier League champions were looking to strengthen this summer.
"The club have continued to be linked with both Bayern Munich's Thiago Alcantara and Miralem Pjanic of Juventus.

"But it is understood neither of those names are now under consideration at the Etihad for this summer and they are highly unlikely to spend big.

"A new face of some kind is not out of the question — but it seems certain £60m club-record signing Riyad Mahrez will be the only big name to arrive in this window."
WATCH: Inside City Chicago special
Moving on, and with a thrilling final day at The Open in store, reporters didn't miss the chance to link Pep Guardiola with his golfing pal Tommy Fleetwood.
The Southport-based world No.10 famously played a round of golf with Pep on the day the Blues were handed the title as United lost to West Brom.
It's only a snippet, but the Daily Mail write: "Pep Guardiola sent Tommy Fleetwood a good luck message last week and has been watching at Manchester City's Chicago base.
'There are many contenders to win,' he said.
'There is Tommy Fleetwood and Rory McIlroy. I'm happy for Rafael Cabello. He didn't miss the cut so we will be watching the final day to see what happens.'
With Tommy's wife a City fan and Rory's dad a Blue, best of luck to both!
Meanwhile, Sportskeeda carry quotes from Leroy Sane regarding this summer's World Cup mystery.
It's still a talking point for City fans, but our German winger says he is OK with everything after a word from the national team boss.
"Leroy Sane says he was given good reasons by Joachim Low after the Germany coach opted not to select him for the World Cup," reads the story.
"City winger Sane was a shock omission from Germany's squad, having contributed 10 goals and 15 assists in a runaway Premier League crowning, with the World Cup holders subsequently crashing out at Russia 2018's group stage.
"Low will remain in charge of Germany despite that disappointing performance and the 22-year-old attacker is not holding a grudge against the coach despite being left out.
'I talked to Jogi Low about it. Of course, I also accepted that decision,' Sane said to Sky.
'He gave me good reasons to do so. That's why everything is fine.
'It was a great pity for me that they were already out in the group stage. I think it's a bit hard to handle that.'
Finally, Argentinian observing website Mundo Albiceleste spotted the debut of a City youngster against debut that has strong connections with a previous World Cup winner.
They write: "Benjamin Garre from Argentina made his debut for Manchester City in a 1-0 pre-season friendly loss to Borussia Dortmund.
"With Manchester City coach Pep Guardiola being unable to count on Sergio Aguero and Nicolas Otamendi as they have yet to re-join the team following the World Cup, there was still one Argentine representative.
"Despite losing 1-0 to a Mario Gotze goal, Pep gave the 18-year-old winger his debut. The positive news for Argentina fans is Pep's track record not only in integrative youth players into his teams, but also giving them full confidence and making them grow as a player.
"He is the grandson of Oscar Garre, World Cup winner in 1986 with Argentina."
Back tomorrow with more gossip and City-related threads…