Media Watch
1
Media Watch: 'De Bruyne is a joy to watch'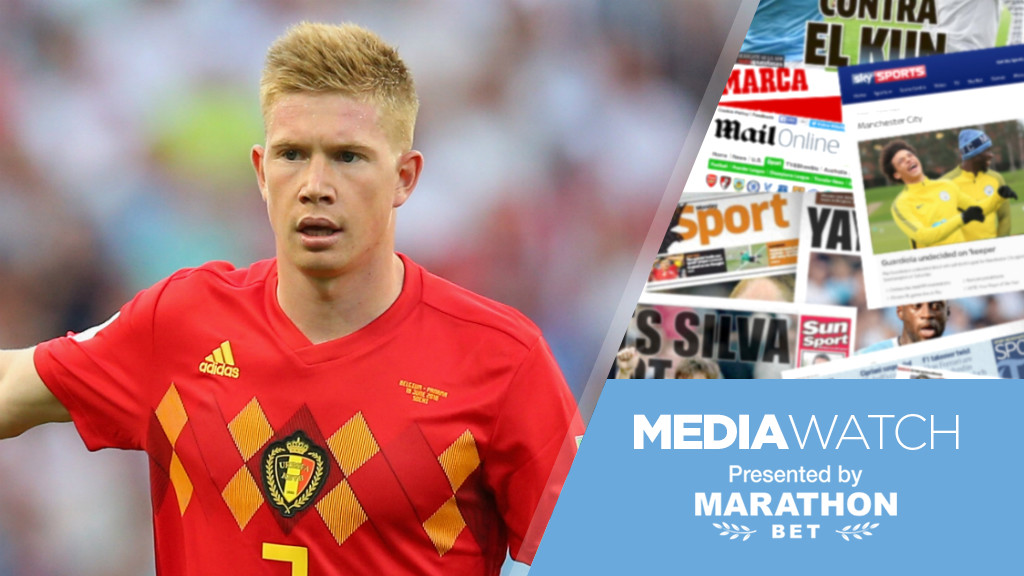 SUPER KEV: Kevin De Bruyne played a key role in Belgium's dramatic 3-2 win over Japan...
World Cup action and reaction, plus three transfer tales… There are plenty of City-centric topics for discussion this Tuesday morning.
Let's kick-off with the assessments of last night's dramatic exertions, as Brazil and Belgium booked their places in Russia's quarter-finals.
Four City stars were in action – Gabriel Jesus, Fernandinho, Vincent Kompany and Kevin De Bruyne (Ederson and Danilo were on the bench). The Selecao sealed progression with a 2-0 triumph over Mexico, while the Red Devils incredibly netted in injury time to complete a stunning comeback against Japan.
Roberto Martinez's men found themselves 2-0 down less than ten minutes into the second half, but clawed level with two quickfire goals of their own before snatching victory with the last kick of the game.
The matchwinner arrived courtesy of a brilliant counter-attack and you won't be surprised to know that mercurial midfielder De Bruyne played a crucial role, collecting Thibaut Courtois' pass just outside his own area before sprinting into his own half and executing the perfect through-ball for Thomas Meunier to latch onto and cross for Nacer Chadli to convert.

READ: Belgium and Brazil into World Cup quarter-finals
WATCH: World Cup memories | Kevin De Bruyne
It was a superb team goal and De Bruyne's influence did not go unnoticed. In fact, former United star Rio Ferdinand was full of praise for the playmaker, as the Daily Star explain.
"He's the assist king in the Premier League," Ferdinand stated. "This guy is such a joy to watch – a great footballer, plays off both feet, (with) balance.
"But what I love about him as well, in this team, he's a trigger a lot of the time when they press the ball.
"Here you see it, and you'll see more clips of that. But once he does receive the ball, his first option is to kill the opposition.
"He could go safe with that pass there but no, he plays for the jugular to get in towards goal.
"That's what you want from your midfielders when they're playing the attackers through. That's why they make the runs once he's on the ball."

You're preaching to the converted here, Rio!
Elsewhere, there's more admiration for our City stars. Speaking ahead of England's eagerly-awaited last 16 encounter against Colombia, Three Lions manager Gareth Southgate hailed the character of Raheem Sterling and Fabian Delph.
Discussing Sterling, as quoted by the BBC, Southgate told press: "I have great belief in him – he has been a really important part of the team.
"In the last five or six games, with the change of system, he has been key. His movement, his ability to run at teams from deep, his inter-changing of position with the other forward players is very important.
WATCH: Best of the Best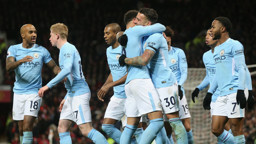 "At times, I have wondered why there has been such a focus on his position in the team and not others but that's the way it has been.

"He's tough and resilient and he is a player who will be looking forward to this occasion immensely."
Delph meanwhile, has temporarily returned home for the birth of his third child. Southgate is fully supportive of the midfielder's decision; again, commending the Yorkshireman's personality.
"Fabian has been exceptional," the manager added. "We have been so fortunate to have a squad of players whose character and spirit have formed an incredible bond while we have been away and he has been fundamental to that.
"I can't speak highly enough of his character around the group."

New Lincoln recruit Bruno Andrade has also shared his support for Sterling, having played alongside the City man at youth level for Queens Park Rangers. The Portuguese forward has described his former teammate as 'the nicest guy you could meet.'
Andrade's comments feature in a Lincolnshire Live article, as he recalls: "One season, I was playing on the left and he was playing on the right. He caused teams havoc and his career has catapulted since then.
"He's a funny guy who doesn't take life too seriously. How you see him on TV is how he is. Off the pitch, he's one of the nicest guys you could wish to meet.
"When it comes to football, he's got tunnel vision. I really want him to do well.
"I think he gets unfair criticism from the press. The people who know Raheem, like myself, know what sort of player and person he is. That's all that matters."
READ: City quartet up for Golden Boy award
WATCH:Ederson's top ten saves of 2017/18
Switching focus and as usual, there's plenty of transfer gossip to ponder over. The daily 'updates' regarding Riyad Mahrez and Jorginho's alleged moves continue to surface, while apparently there's another name that has been added to the wanted list.
On Mahrez, the Mirror's James Nursey claims: "Manchester City target Riyad Mahrez has been excused from Leicester's pre-season training until next week.
"It increases the likelihood of the star never pulling on Foxes' colours again as the champions continue to chase him.
"Leicester's squad returned for the start of pre-season on Monday. But the 10 players who have been on World Cup duty, and those in international friendlies, have all been given extra time off - including Mahrez, who played in Algeria's 3-0 friendly loss in Portugal on June 7."
So, in actual fact, his absence from training is due to his international participation… Okay.
There's a similar story regarding Jorginho, who – according to Goal – has been left out of Napoli's pre-season training camp.
68/18: Two titles 50 years apart
Writes Patric Ridge: "The drawn-out negotiations now appear to be nearing a conclusion, with Napoli confirming on Monday that the Brazil-born Italy international had not joined the squad for their pre-season training camp in Dimaro Folgarida.

"The Blues had been hoping to bring him to the club ahead of the World Cup, but adjusted their expectations after Napoli rejected their initial proposal.
"Jorginho recently spent some time with family in Brazil, his homeland, after learning that the deal had dragged on, but returned to Europe and is now ready to sign a five-year deal at the Etihad Stadium."
Finally, Sports Mole believe City and United could be set to do battle over the signing of Adrien Rabiot.
Jonny Whitfield reports: "The 23-year-old, who was left out of France's World Cup squad, scored five goals and registered seven assists in 50 appearances in all competitions last season.
"According to Paris United, however, Rabiot is looking for a move away after being told by PSG boss Thomas Tuchel that he will be on the fringes of the first team next season.
"The source says that both Manchester clubs have held initial talks with the player's agent and mother over a potential move to England ahead of next season, with City reportedly showing more interest in the Frenchman.
"Barcelona and Juventus are also said to be keeping tabs on Rabiot's situation."
As always, any confirmed transfers will be reported right here on ManCity.com first!