Media Watch
1
'We won't lose sleep over Neymar' says Kompany
CAPTAIN FANTASTIC: Kompany focused
City and Belgium skipper Vincent Kompany is not concerned by Brazilian superstar Neymar and says the Red Devils won't be losing any sleep ahead of the Saturday evening World Cup quarter-final.
Speaking to FourFourTwo, Kompany, who has returned to the side from injury at the perfect time, admits he would rather have played the Brazilians in the final rather than the last eight – but whoever wins still faces a tough semi against either Uruguay or France.
The report reads: "Belgium defender Vincent Kompany he was focusing on their upcoming game with Brazil and not thinking about Brazil forward Neymar's behaviour on the pitch.
"Neymar has been criticised by the media and experts for falling on the ground too often in alleged pain following contact with opposition players.
'I am not thinking about Neymar and what he is doing,' Kompany said.
'In fact, I only think about how we will play with Brazil, about how we will play as a team, our tactics for the upcoming game and how to fulfil our task. I am not reflecting on other things.'
Staying with the most mouth-watering tie of the weekend, Chelsea star Willian has jumped to the defence of City striker Gabriel Jesus.
The youngster is yet to score in Russia, but his work rate and team ethics are more than enough to justify his selection says his international team-mate,
The Independent report: "Tite, the Brazil coach, is coming under pressure to drop Jesus and start Liverpool forward Roberto Firmino in the Selecao's quarter-final against Belgium in Kazan tomorrow night (7.0).
"But Willian, who sidestepped questions over his future amid reports of Chelsea rejecting a £50 million (€57m) bid from Barcelona for the forward, gave his staunch backing to Jesus.
"The 21-year-old has yet to score in Russia and watched Firmino come off the bench to claim Brazil's second goal in their 2-0, last-16 win over Mexico.
'He has the confidence of everyone around here,' Willian said of Jesus.
World Cup Player Focus #15: Gabriel Jesus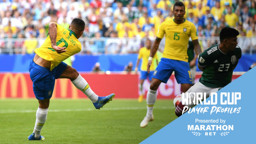 'I hear people criticise him for not scoring but the work he does in marking and recovering the ball is brilliant. We trust him to continue with us. Gabriel Jesus and Roberto Firmino are equally important.'

Well said.
Staying with the World Cup and Raheem Sterling has revealed the extent of the Colombian players' gamesmanship during England's dramatic win on Tuesday evening.
Give Me Sport write: "There was a point in the first half when Colombia's Yerry Mina, who scored the late equaliser that took the game to extra-time, was penalised for climbing on Sterling's back.
'I just remember him [Mina] turning and I felt him on my back and I just thought - Look at my strength!' he added.
"Then, something that Sterling didn't even believe was possible. An opposing player grabbed his ribs.
'There was one of their guys who had a hold of my ribs,' the 23-year-old continued. 'I don't know how that was even possible, but he had hold of my ribs."
"Sterling, who saw Colombia's players trying to unsettle Kane before his penalty, says England's players came into the game expecting plenty of foul behaviour.
'We knew their game plan and exactly what they were trying to do,' he said.
'We knew what would get thrown at us and that was kind of silly from him [Urtasun]. We just kept going, blacked that out and focussed on the football.
'They're a physical team. They were trying to do everything they could to get into our heads, but we kept cool heads and that's the most important thing.'
Finally this morning, news that Luke Brattan will line up again for Melbourne City after agreeing a new one-year extension to his contract.
Melbourne City's official site report: "The 28-year-old British-born midfielder returns for his third season on loan from Melbourne's sister-club Manchester City FC.
"He made 27 appearances in the 2017-18 season under manager Warren Joyce, scoring against Sydney FC.
"Director of Football, Michael Petrillo, said: 'Luke's contribution to the side over the past two seasons has been significant both on the field and in the dressing room.
"He has played an important role in linking our defence and attack, and his experience has played an important part in developing the young talent in the squad.
"We are glad to have him back on the pitch for 2018/19."
That's it for today – more City-related news and snippets tomorrow.