Media Watch
1
Media: Continued praise for "sharp shooter" Mahrez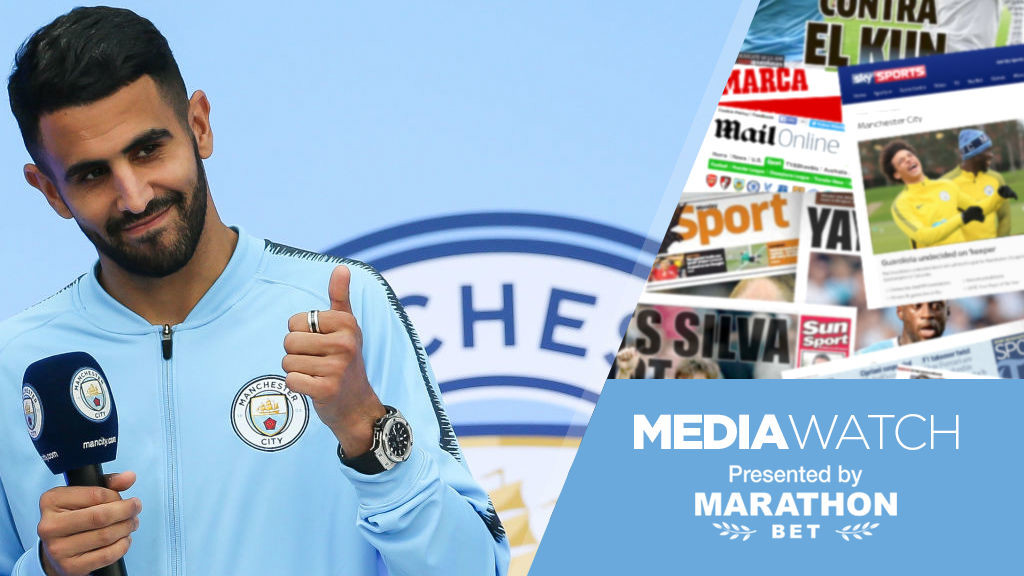 MEDIA WATCH: Your Sunday media round-up!
It's that time again – it's your Sunday media round-up!
In today's media watch we take a closer look at the Premier League's recent article on our new signing, plus we hear from Fabian Delph and Kevin De Bruyne after Belgium secured third place in the World Cup over England on Saturday afternoon.
Firstly, we begin with our new signing, Riyad Mahrez.
It's been almost a week since the 27-year-old made the move to Manchester, but the press don't show any sign of cutting back on their praise for the Algerian star.
The Premier League write in a recent article that Mahrez's sharp shooting, his attacking prowess and his left-footed threat will add "tactical variety" to Pep Guardiola's squad.
Adrian Clarke writes: "The former Leicester City player has the talent to make Pep Guardiola's fantastic side even stronger in 2018/19.
"The Algerian is the only Premier League player to have reached double figures for goals and assists in two of the last three seasons.
"He is a neat amalgamation of all the wonderful attacking midfielders at the Manchester City head coach's disposal.
"The 27-year-old has elements of David Silva's craft, Kevin De Bruyne's passing expertise, Leroy Sane's dribbling prowess and Raheem Sterling's ability to time clever runs in behind.
"While he did not post figures that beat all his new team-mates in the key categories last season Mahrez was close to all of them across the board.

"Given that he will be playing for a superior side in 2018/19, Mahrez's contributions should rise sharply."
Clarke also added that the addition of Mahrez will provide Pep with the luxury of rotation without losing speed on the wing.
"Mahrez's wide skill-set will provide Guardiola with greater tactical flexibility," the Premier League added. "While he will likely operate from a position to the right of centre, as part of a forward line or as an attacking midfielder, Mahrez could also slot in for any of Sterling, Sane, David Silva or De Bruyne.
"Guardiola now has the luxury of being able to rest or rotate either of his wide men without sacrificing the speed and dribbling prowess that Sane and Sterling offer.
"And it will be interesting to see how often Mahrez is used infield, too."
Now we move on to the World Cup.
READ: KDB and Kompany shine as Belgium finish third
READ:Delph | Phil Foden is at the right club to progress
Speaking after the 2-0 defeat to Belgium – meaning that the Three Lions missed out on third place and a bronze medal – Fabian Delph has explained that himself and the squad will always be frustrated for exiting the competition at the semi-final stage to Croatia.
"On a group level we can go home proud of ourselves but I think we will kick ourselves in those quiet moments," Delph said after the play-off match, as quoted in the Daily Mail. "We had a great chance to reach the final and we came up short."
"Not just in the near future, I think for the rest of our lives we will be kicking ourselves thinking we had a real opportunity there.
"We have had a fantastic camp and I think we have got something to build from for these next four years.
"Finishing the tournament with a loss there (on Saturday) didn't go down well for us. We played a very good team today who were able to take their chances."
This comes after Kevin De Bruyne's comments about teammate Raheem Sterling.

"Raheem has done really well in the games I saw," KDB told the Sunday Times. "He hasn't scored goals, but not everything in football is about goals."Raheem is a wonderful player. He's an easy-going guy who gives everything for everyone, even with the criticism. Personally, I don't understand why you would criticise people from your own country when all they are trying to do is win it."
Finally, it was announced yesterday that Tessel Middag had joined West Ham United Ladies.
In their official announcement story, the Hammers wrote: "Middag joins the Irons from Manchester City, having spent two years with the north-west side, and becomes head coach Matt Beard's latest acquisition at the Hammers.
"General manager Karen Ray is thrilled to add a player of Middag's quality and ability to the side.
"'Signing someone of Tessel's calibre shows that we want to compete in this league,' Ray told whufc.com. 'The experience she brings from her time at Manchester City will benefit the environment we are creating at West Ham.
"'We are all excited to welcome Tessel to the club and look forward to supporting the next stage of her career. A true professional and a fantastic addition to the family.'"
We want to wish Tessel the best of luck at her new club!
That's all for today but we will be back tomorrow with all the latest City news from the back pages at the same time tomorrow!