Media Watch
1
Media Watch: City linked with European stars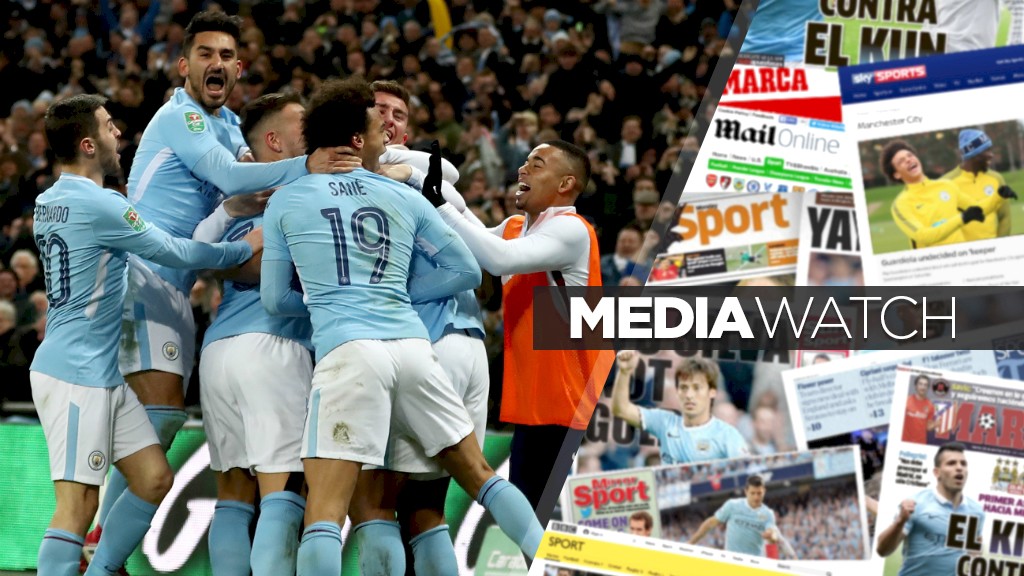 Media Watch: It's your Sunday morning paper review
City returned to Premier League winning ways last night and our efficiency in front of goal has been lauded in the press, while two European stars have been linked to the club.
Gabriel Jesus, Ilkay Gundogan and Raheem Sterling were all on target for City against Tottehnham to put us just three points from the Premier League title, and the press have been effusive in their praise for City's ruthless performance.
The Manchester Evening News' Simon Bajkowski has reminded readers that City are on course to break another Premier League record in an incredible domestic campaign.
"Without getting too far ahead of ourselves, two milestones are firmly in sight," he writes.
"City need just nine points from their final five games - three wins, essentially - to break Chelsea's Premier League record for most points in a single campaign.
READ: De Bruyne: Spurs win shows quality
WATCH: Spurs 1-3 City: Brief highlights
"A minimum of four wins and a draw from fixtures with Huddersfield, Swansea, Brighton (all home), West Ham and Southampton (both away) would see them reach the magical 100-point mark.
After exiting the Champions League at the quarter-final stage, the Blues bounced back convincingly at the national stadium.
"The players stood tall, kept their calm and were ruthlessly efficient to move to within one win of the Premier League title in another reminder of why they have been the outstanding team in this division," Bajkowski adds.
"Victory at Anfield in January may have eluded them, but they can still boast eight points more from their visits to the rest of the top six this season, coming away with 12 from a possible 15.
"The points matter for this campaign, the heart shown at the end of a disappointing fortnight bode well for next season."
Meanwhile, speculation is rife that Pep Guardiola has his sights on linking up with Thiago Alcantara, whom he worked with at Bayern Munich.
Joe Bernstein in the Mail on Sunday writes: "Pep Guardiola wants to be reunited with Bayern Munich and Spain international Thiago Alcantara, as he urges Manchester City chiefs to go for quality rather than quantity in the transfer market this summer.
"Guardiola, who managed Thiago at both Barcelona and Bayern, wants the 'new Xavi' to help revamp City's midfield next season, with David Silva, Fernandinho and Yaya Toure all in their 30s.
"He signed Thiago for Munich in 2013, when the player was being courted by Manchester United, and has watched him return from a serious knee injury that cost him his place in the last World Cup.
"He is under contract at Bayern until 2021 and was part of the team that reached the Champions League semi-finals last week."
Finally, there is talk that City could make a sensational move for Paris Saint-Germain wonderkid Kylian Mbappe.
According to Simon Mullock in the Daily Mirror, the 19-year-old is on Pep's radar.
"Manchester City will move for Kylian Mbappe if Paris Saint-Germain have to cash in on the French wonder-kid after failing to meet Financial Fair Play rules," he writes.
"French champions-elect PSG are being investigated by UEFA, European football's governing body, after paying Barcelona £198million for Brazilian superstar Neymar last summer and then tying up a loan deal with Monaco for Mbappe which will see them pay £167m for the teenager this close-season.
"If the moneybags Parisiens are found to have broken FFP regulations they face being booted out of the Champions League, as well as being hit with huge fines.
"That would put pressure on them to sell some of their top players — and City are monitoring the potential consequences for that deal with Monaco over Mbappe.
"Blues boss Pep Guardiola wanted to sign the 19-year-old last summer, after seeing Mbappe star in Monaco's two Champions League last-16 games against his team."