Media Watch
1
Press lavish praise on City after PL opener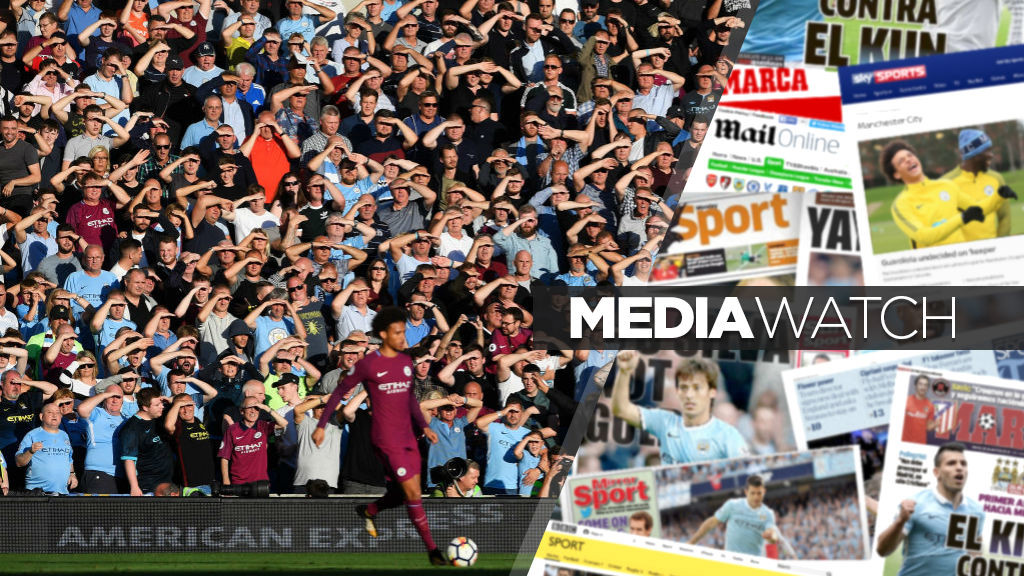 SOLID START: City got their Premier League campaign off to a flyer with a win at Brighton
Manchester City's Premier League campaign got off to a flyer with a 2-0 win over newly-promoted Brighton on Saturday and today's back pages are awash with praise for Pep Guardiola's side.
Let's start with Sam Wallace in the Telegraph who believes the strength in depth City possess will make them difficult to stop this season.
Wallace says the way City handled the challenge of Brighton suggests they are ready to make an assault on the title, with the Blues staggering array of talent describe as "jaw-dropping".
"The expectation for Pep Guardiola's team, upgraded this summer to the tune of £230 million, is that they are just too good to fail and in a Premier League season that has started with much volatility this was a Manchester City performance that suggested the machine is working nicely," he writes.
"Against them was one of the Premier League new teams, pumped up on the sweet belief of life in football's promised land, and they took some breaking down over the course of the late afternoon, but the goals came eventually. City have the power to be monstrously good this season and even after all we know about the super-club phenomenon this remains a squad of jaw-dropping quality.
"They still have their older guard, and from among them it was Sergio Aguero who scored the first, with just 20 minutes left and City gradually grinding down the resistance of a Brighton team that could not quite avoid errors that are so costly against teams as good as this. It is not just City's starting XI either, there was a bench worth around £207 million in transfer fees, more than it cost to build Brighton's Amex Stadium and the club's training ground.
"Play City and the big names just keep on coming, Leroy Sane and Raheem Sterling from the bench and then when you feel like David Silva has run most of the game, on comes Bernardo Silva to take care of the rest."
The Guardian's Amy Lawrence believes City showed their quality when needed – but feels there's much more to come from the Guardiola's side once they find their rhythm.
She writes: "For Brighton & Hove Albion, this was one of those scenarios when the age-old saying about sport's value being in the taking part rang true. It was never likely to be about the winning, not against Premier League favourites with all the massed qualities that Manchester City bring. In some ways it is no bad thing this one is ticked off now. Brighton can get on with the task in hand with a different kind of focus.
"City were not at their slickest but still possessed more than enough finesse to dominate, cruise through the game and pick up three points thanks to two late goals.
"Pep Guardiola's satisfaction to begin the campaign with an exercise in control and a straightforward win was clear. They did everything required, with gallons of potential in the tank. But do not go reading too much into it now."
Stuart Brennan, writing in the Manchester Evening News, was particularly taken by Kyle Walker's display, giving the defender 8/10 in his post-match player ratings.
Brennan writes: Kyle Walker - From his first attacking dash down the right, followed by an overlap that teed up Aguero for a chance, he was a prime offensive weapon for the Blues - and he did not stint on his defence either. 8
And Sky Sports' Patrick Surlis also heaped praise on the new Blues right-back.
"Man of the match: Kyle Walker," he writes.
"The new City full-back marked his competitive debut with a sharp attacking performance.
"He will get tougher tests defensively but made the most of City's dominance to storm forward at every opportunity, creating the game's opening chance for Aguero.
"Full-back is a position Pep Guardiola attaches particular importance to and it was just the kind of performance from Walker that City often lacked last season."
That's all for today, Blues. See you tomorrow for more press musings, same time, same place!