Media Watch
1
Nolito delighted with City start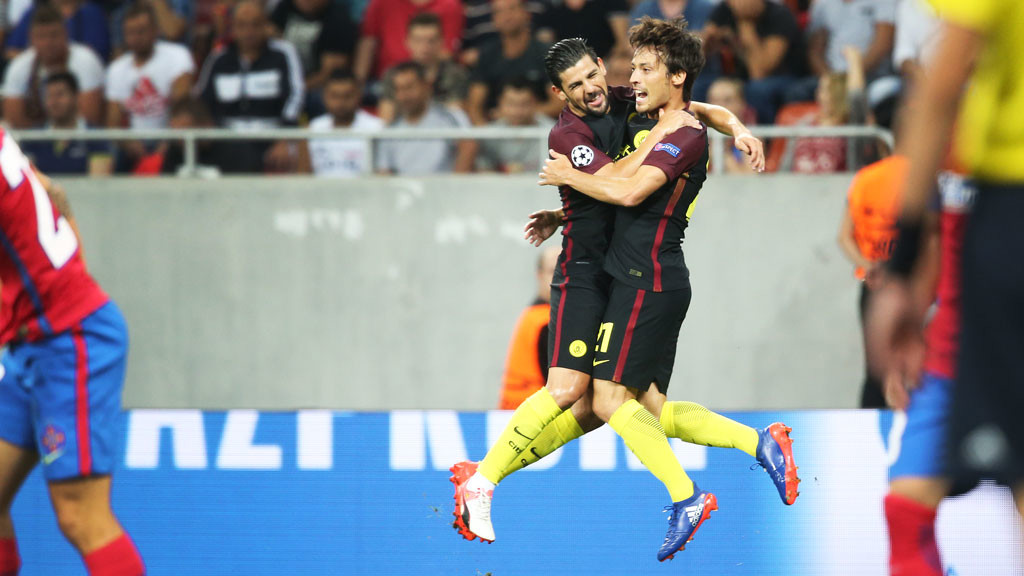 HERMANOS: Jumping for joy
Reaction from City's 4-1 thumping of Stoke continues to dominate the Blue headlines.
Some of our stars have been sharing their thoughts on the clash, with comments from Nolito and Kevin de Bruyne the main stories of the day.
Nolito, who has scored three times for City already, has reflected on the victory at the Bet365 Stadium, expressing his delight at his start to life in the Premier League.
BT Sport are just one of the outlets to carry his quotes, which read: "I didn't expect such a performance. We all know how tough the Premier League is.
"Sometimes you start, sometimes you're a replacement, but the thing is that we won, and now we need to stay calm.
"We work as a team – we like teamwork. Sometimes I will score a goal, sometimes the other guys but what matters is the victory. It doesn't matter who gets the goals.
"We are all picking up the concepts of Guardiola, and I am here because I know his style of play. It is not always easy - the conditions at Stoke weren't good and it was tough for us, but we did it and that is the important thing.
"We hear a lot of things from the fans and from the press, but we will always try to play our way, no matter what the conditions in any stadium.
"Sometimes we can, sometimes we can't – depending on our opposition – but we must just try to win."
Meanwhile, de Bruyne has told press he does not understand the criticism of Raheem Sterling, insisting the England forward is not fazed by it.
Quoted in the Daily Express, the Belgian declared: "He's a great player. I don't care what people say about him after last season or the Euros – these things happen, footballers have ups and downs. Hopefully he can continue this for us now because he is very dangerous.
"I don't think he's really bothered about people talking about him. Everywhere he goes in England there are lots of fans of the opposing team shouting at him.
"I don't know why because he's a great English player, they should be supporting him instead of booing him. But that's the way it goes – at least the City supporters will cheer him.
"I don't know how it goes in England when he plays for the national team. Obviously he's been criticised a lot in the last year but the way he's responding is great.
"You can talk as much as you want off the pitch but you have to show it on the pitch – and Raheem is doing just that."
Finally, Man City Square's Ben Kupiszewski has penned a piece on Gabriel Jesus, examining how the Brazilian's Olympic gold bodes well for his move to the Etihad Stadium.
He writes: "Well, Brazil finally did it. The footballing mecca that produced Pele, Zico, Rivellino, Socrates, Roberto Carlos, Rivaldo, Ronaldo, Ronaldinho, gets its first men's Olympic gold medal.
"This milestone was accomplished with no small help from 19-year-old striker Gabriel Jesus, who will join Manchester City at the end of Brazilian domestic season.
"Jesus scored twice for Brazill during the games' tournament, both coming in the semifinal match against Honduras. His goals in a gold medal-winning campaign for Brazil bespeaks of his golden potential for City.
"In the 26th minute, he timed his run perfectly, as his teammates combined to play him into space, and he knocked the ball past goalkeeper Luis Lopez into the corner with the outside of his boot.
"Less than 10 minutes later, Neymar slotted him through where he took the ball to the Honduran 6-yard box before roofing it for the second.
"Both finishes were classy and show he ought to be doing these sorts of things in Europe, not Brazil. It's a cause to rejoice for City fans that the Blues got him first."
That's all for today - we'll be back same time tomorrow but keep your eyes on our City Now feed for all the latest as it happens.