Men's Team
1
Guardiola: Belief is the key to success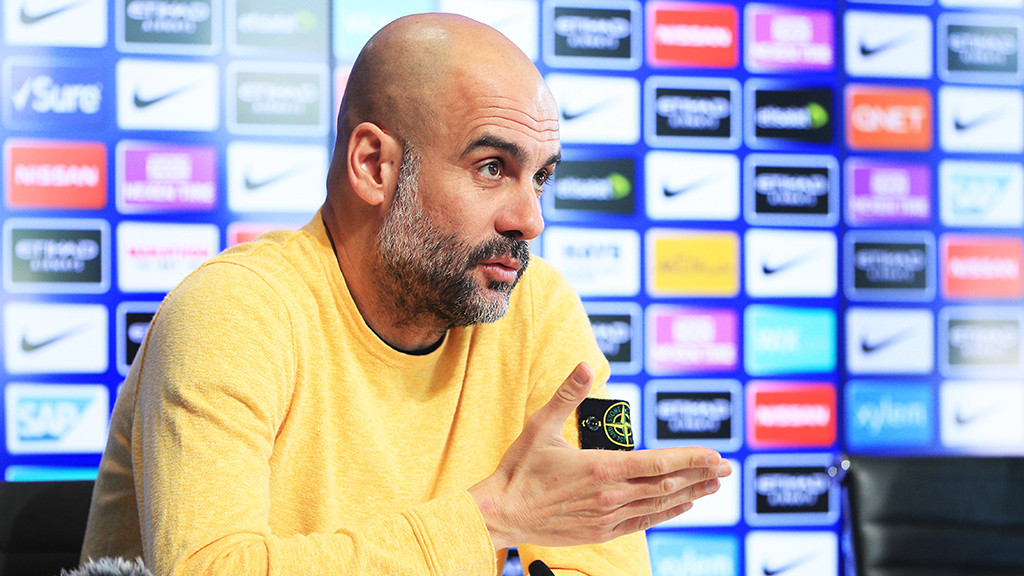 PRESS CONFERENCE: Pep Guardiola addresses the media ahead of the game
Pep Guardiola asserts his side must believe they are strong enough to compete on all fronts, if City are to emulate last season's success.
The Blues are in Carabao Cup action on Sunday – the fourth competition of an action-packed February – locking horns with Chelsea in the Final at Wembley.
With the Premier League Champions still in the hunt for four trophies, much has been discussed by the press of our chances of clinching an unprecedented 'quadruple'.
READ: David Silva | 'Sunday will be beautiful for our fans'
WATCH: Continental Cup | Road to the Final
Although Guardiola has repeatedly dismissed the suggestion, he insists belief will be the key to glory.
"You can't win anything if you don't believe: 'we are strong enough to compete everywhere'," he told press.
"In February, it is impossible to talk about [the quadruple]. Ask me the question in April or May. I will not lie to you.
"Kevin [De Bruyne] said it perfectly at his press conference in Germany: the next target is the next game.
"You are trying to sell some illusion. How many times has an English team won four titles? Don't put that pressure on our shoulders – we don't deserve it.
"Look at the legacy Sir Alex Ferguson left – incredible – but he never did it. Look how many Champions League titles Liverpool have in their pocket, but they never did it.

"In May, we will see. If we don't win four titles, then everyone will say 'Manchester City have failed!' but don't do that to us.
"In recent weeks, I have said that the most important thing after achieving what we achieved last season is that we are still fighting in all competitions. It means a lot to me."
Before City kick-off on Sunday, attentions will be placed firmly on Liverpool, as Jurgen Klopp's side face Manchester United at Old Trafford.
A win for the Red Devils would hand the Blues a huge boost in the title race, but Guardiola stated he would prefer a City win over Chelsea, given the choice.
"Once you are in a Final, that becomes the most important game," he added.
"The Premier League is the most important competition – and then the Champions League and FA Cup – but the Carabao Cup is now the most important game by far.
READ THIS...
"Of course, it would be good for us if United got a result – but we have a Final!

"Winning trophies always helps us to grow as a Club. We have to arrive in the last stages of all titles – that is what I count as a big Club.
"We are in the Final and Chelsea have played more Finals than us. It will be an incredibly tough game for them and for us.
"Of course, we want to win!"