Men's Team
1
De Bruyne to be unleashed against France
Belgium and France go head-to-head this evening with a place in the World Cup final up for grabs.
City's interest in the game is likely to hinge around Kevin De Bruyne and Vincent Kompany, both of whom have been named in the starting line-up for Belgium.
Benjamin Mendy has had reported muscle issues that have limited his appearance time – and his failure to train with France over the weekend suggests he may be side-lined again.
Whoever triumphs will play the winner of tomorrow evening's second semi-final between Croatia and England.
2018/19: 10 things to look forward to...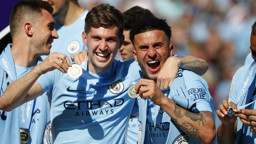 Belgium are in only their second World Cup and looking for a first appearance in the final and many believe De Bruyne is key to their progression.

The City midfielder has played a deeper role in the earlier group matches but was allowed to power the Red Devils forward against Brazil who were 2-0 down before they began to claw their way back into the game.
De Bruyne scored a stunning second goal and Brazil never recovered, eventually exiting the World Cup after a 2-1 defeat.
Skipper Kompany kept team-mate Gabriel Jesus and Neymar quiet and will lead his country tonight where they face the twin threat of Antoine Griezmann and Kylian Mbappe.
It should be a fascinating battle, but a first meeting for Kompany against either forward.
The Belgian was absent from City's Champions League clashes with Monaco in 2016/17 – games in which Mbappe scored a goal in each leg – and he has never faced Griezmann competitively having missed the 2015 friendly against Les Bleus.
For the record, Kompany has won 80 caps to date, scoring four goals and De Bruyne has won 66, scoring 14 times.
Tuesday

France v Belgium (St. Petersburg) 7pm
Wednesday
Croatia v England (Moscow) 7pm