Men's Team
1
Can Mahrez follow in the footsteps of Benarbia?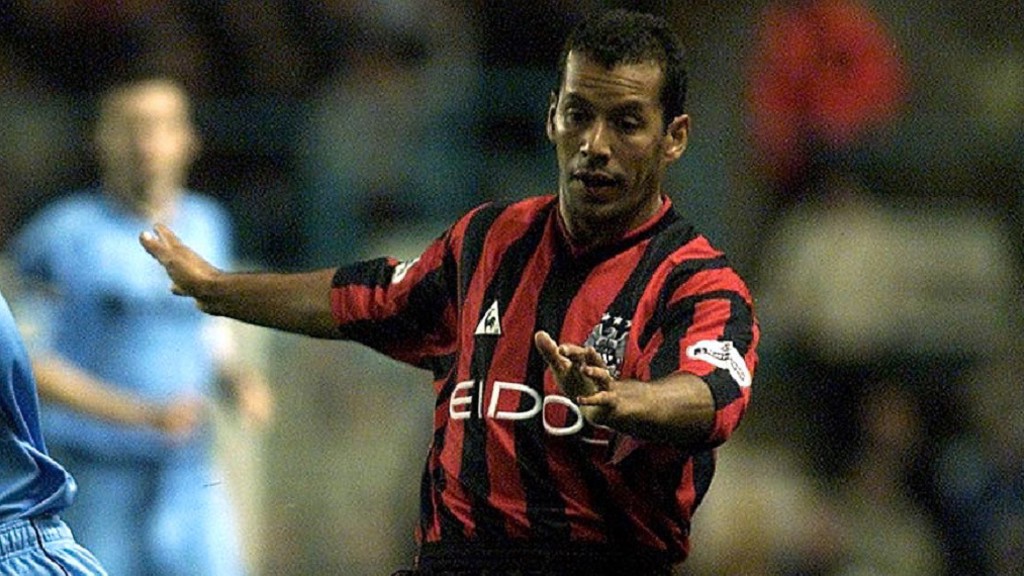 Riyad Mahrez is, of course, not our first Algerian player.
Three Algerians have already played for City, and though Djamel Belmadi and Karim Kerkar both failed to make a genuine impression during their brief stays in 2002/03, their predecessor Ali Benarbia, most definitely did.

It's probably fair to say that few people knew much about Ali when he was scouting around English clubs looking for a new home. In 2001, there was less international football on TV and social media was still largely in its infancy – today would have been a different story. The former French Player of the Year had played for Bordeaux, Monaco and captained Paris St Germain during a distinguished career in Ligue 1 that had seen him tot up more than 400 appearances.
READ: Mahrez | What the football world said
READ: Mahrez | 10 things you need to know
Though Algerian by birth, his family left the country for France when he was just one year old. Yet despite his ability and high regard in France, he was never selected to represent Les Bleus, despite qualifying to play for them. Algeria first approached Benarbia in 1986 when he was just 18, but though he never refused to play for his birth nation, he was said to be unimpressed with what he believed to be a lack of professionalism at that time with the national team and it would be another 14 years before he did pull on the green and white jersey for the first time aged 31 – the first of just seven caps.

Ali was almost 33 when he arrived for a trial with Sunderland, but he felt the club did little to secure his signature and believed they had shown him a lack of respect during his brief stay.
Black Cats' manager Peter Reid had wanted to watch him train a few times before deciding on whether or not he would offer Ali a deal, but Ali felt he didn't need to prove himself and decided Wearside was not for him.

Kevin Keegan was informed by an agent of his availability and invited Ali to lunch at the club's Carrington HQ for a chat where he told Ali everything he wanted to hear, and he was as good as signed up before he left for his plane home.

Like Georgi Kinkladze and Eyal Berkovic before him, it took Ali about 10 minutes to bewitch a packed Maine Road on his debut against Birmingham City and, by the end of his first game, the man people knew nothing of was just about the only thing supporters wanted to talk about.
He assisted two goals and could have assisted two more had the chances been taken and when he was substituted on 74 minutes, he received a rapturous standing ovation – a memorable debut that had Keegan saying afterwards: "Our supporters haven't had many heroes over the last 20 to 30 years, probably going back to Colin Bell's era. But Benarbia is in his class, make no mistake.

"He was the French Footballer of the Year just two seasons ago and I've picked him up on a free transfer. What a bargain!"
The main question was how come nobody in England knew anything about him? Benarbia had it all – skill, vision and a wonderful football brain. He may have been at the wrong end of his career, but City fans knew they were in the presence of a very special footballer from the first time they saw him to his final game just shy of two years later.
CREATIVE GENIUS

Along with Israeli magician Berkovic, City perhaps had one of the best midfield combinations in the country – including the Premier League, where City were hoping to return to before long.

Championship defences simply couldn't handle Benarbia who was physically strong on the ball and couldn't be bullied out of a game. He inspired a team that were a joy to watch during the 2001/02 campaign – perhaps the most enjoyable for City fans for 20 years or so.

City won the league in a canter, Ali was voted the Club's Player of the Year, with City scoring a record number of league goals on the way to the title.
Benarbia's influence cannot be underestimated and his vision created innumerable chances for the likes of Shaun Goater, Darren Huckerby and Paulo Wanchope – so many in fact, that Wanchope said "he finds you when you can't find yourself!"

Many wondered if he'd be able to cut it in the Premiership and, after winning the 2001/02 Player of the Year award by a landslide, his appearances became less frequent in the top division. Ali's influence seemed a little less while his midfield partner Berkovic excelled, but age and tiring legs seemed to be the reason – Ali was 34 and the fast pace of the English top flight seemed too frantic at times.

It was clear that, despite another year on his contract, Benarbia wasn't entirely happy with his lot as he completed his second season at Maine Road and he decided to call time on his career with the Blues after a competitive pre-season friendly at Mansfield Town in 2003

With the career Ali had enjoyed, it was understandable he didn't want to be remembered as a bit-part player in his final year. He'd made 78 appearances for City and scored 11 goals. Ali returned for the inaugural City of Manchester game against Barcelona where he was welcomed as a hero.

Now, City have another Algerian play-maker who creates and scores goals. Like Benarbia, he lived most of his adult life in France, playing his football in Ligue 1.

Like Benarbia, Riyad gambled on a career in England and saw it pay off handsomely.

Now he will aim to create his own Algerian legacy at City.
Meet Riyad
Riyad will be unveiled to fans at West Reception of the Colin Bell Stand on Thursday at 6:00pm.
We'll be hosting a very special Blue Carpet Experience with our City Square presenters Danny, Natalie and Hugh along with music from our resident City Square DJ!
We'll have giveaways, prizes and exclusive competitions - as well as the chance to get close to our new signing.
Get there early and you could be one of the lucky ones to make it within the barriers and on to the Blue Carpet! We get underway at 5:30pm.