Men's Team
1
Guardiola excited by Mahrez's quality
PRESS CONFERENCE: Pep Guardiola and Oleksandr Zinchenko talk to the media ahead of our match against Borussia Dortmund
Pep Guardiola expressed his delight, having captured the signing of Riyad Mahrez this summer.
The midfielder completed his long-awaited move to City from Leicester earlier this month and is enjoying his first days with the Club in Chicago on the Blues' pre-season tour of the States.
Addressing the media ahead of Friday's International Champions Cup clash against Borussia Dortmund, Guardiola praised his new recruit, asserting that his new addition will help the Premier League Champions to build on last season's remarkable success.
"Riyad Mahrez has come to help us at the front and give us the quality he has," the Catalan boss told press.
GALLERY: Blues stars visit Willis Tower
READ: City tour kits to feature iconic design
WATCH: Training | First session Stateside
"We have the same players (from last year), except one person – Mr Toure. We are going to try to continue to improve on what we started two seasons ago. What happened last season was a consequence of the first season and we will try to do that again.
"We will try to go back to basics and see our intention for the new season – to try to beat everybody like last season. I know what I have to do."
With the majority of his senior squad enjoying a deserved break after their World Cup exploits, Guardiola has little time to prepare his squad for the season ahead. However, the manager was pleased with his international Blues' displays and how his young squad have fared in the States so far.
Reflecting on the tournament in Russia, he stated: "I am so satisfied and happy for all of them – for the performances they did.

"I am not surprised. I know our quality and we are so glad as a Club that we had the biggest presence at the World Cup. Everybody gave a high level.
"We have only three or four professional players in the squad (in the States) but it has been a pleasure working with the young players.
"I have lived it before at Barca and Bayern where the players have a short time after holidays.
"I have spoken with the players. If needed, they can take more holidays. We will see. There is no stress. We would have preferred to give them more time but it is what it is and it is better not to complain but to adapt as well as possible. We will think when they come back and handle the situation day by day.
HAVE YOU SEEN...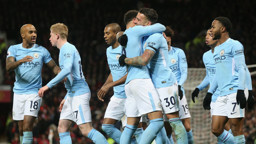 "The players have lots of experience and playing in the World Cup will benefit the future of the Club and English football."

One key player who did not make the trip to Russia was Leroy Sane, and Guardiola has urged the German winger to use his disappointment as motivation for the upcoming campaign.
"It is the past," he added. "The national managers decide what is best for the national team.
"Leroy may have been upset but maybe the decision will make him stronger. In two years, the Euros will take place and in four years, the World Cup. He can try to improve his game.
"We are really impressed and so happy to have him here with us. Leroy has to accept it and move forward and show for the national team – but firstly for us – his quality."
Guardiola often spoke last season of the role our challenging pre-season schedule played in our success.
With impressive results and beautiful football on show in last summer's US tour, City kicked off the 2017/18 campaign in style in preparation for a season full of promise.
The boss is hoping for similar tests in Chicago, New York and Miami, as the Blues face Dortmund, Liverpool and Bayern Munich in the International Champions Cup.
"It's my ninth, tenth year as a manager and every year we've come to the States has been perfect," he continued.
"It's an amazing country and Chicago is one of the nicest cities in the States, especially in this period. Although, in winter time I hear it's tough!
"I'm happy. Last season, we played against top teams and it's a good test for the beginning of the season – a chance for us to prove ourselves against top teams.
"We will try to make a good performance. We will learn (from the Dortmund game) for Liverpool and then again for Bayern Munich, and for the first game of the season."