Men's Team
1
Stones: I never stopped believing in myself
SUPER STONESY: John Stones celebrates with the England fans...
John Stones says he is riding on the crest of a wave with England, after winning his first Premier League title with City.
The defender has enjoyed a stellar tournament with the Three Lions, featuring in every game so far and with two goals to his name with a brace against Panama, as Gareth Southgate's men have reached the last four for the first time in 28 years.
Stones believes last season's achievements at Club level have provided the perfect preparation for his World Cup adventure – a dream he fought hard to achieve.
Interviewed in England's Lions' Den, the centre-back – who boasts England's highest possession stats in the back three with 339 passes and 388 touches – explained: "Playing in the big games toward the end of the season, when we knew we could win the league and do it in record time and things like that… Playing on big stages with the vital things you've learned over the season, knowing the pressure of being in big games and certain situations... It's a massive advantage.
READ: Stones' debt to Guardiola
WATCH: T'Yorkshire Challenge | Walker and Delph
"To be Champions of England is a special feeling and it motivates you to win more silverware. To get that for your country is the biggest honour you can get and it definitely helps motivate you and help you to look forward to England camp.
"We're here to enjoy it and the work through the season at City helped us to get where we are today."
Though his impressive performances have been a major talking point in Russia, Stones revealed his career path to success did not always run smoothly.
"I've been through some tough patches. When I was younger – 14 or 15 – I played down for two years. I played on Saturdays with my age group but wasn't playing a game, and playing on a Sunday with the age below. It took its toll but I had to stick at it and I never gave in or stopped believing in myself.
"People don't realise that about any of the squad – they see everything going in one direction but when you're younger, there's a lot of things that happen – a lot of adversity. All I can say is: never stop believing in yourself. Always have faith."
Reflecting on his experience with the Three Lions, he added: "It's gone so quick. You don't realise what's happening back home or what stage we're at.
"It's something I've dreamed of but I never thought I'd get the chance to play in a World Cup or even play for England.
"The things about this squad… we've known we have to enjoy it and take in every second because it doesn't come around often. I've enjoyed every minute. It's a joy to play with everyone and be part of the squad but we're not done yet!"

Stones also expressed his delight at being able to share the journey with one of his closest friends in City teammate Kyle Walker.
Describing the pair's friendship, he declared: "It started when he came to City. It was a strange one because we'd always been friends around the England squads and respected each other but I don't think we ever thought it would turn out to be such a great relationship.
HAVE YOU SEEN...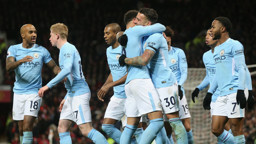 "Especially with last season, winning the league together – it was special to share those memories with him."

Asked where reaching the World Cup final would rank in his accomplishments, Stones replied: "It would definitely be up there with winning the Premier League.
"I don't want to jinx it as we're not there but I'd love it to happen. I get a bit speechless speaking about it! To even think about the fact it's one game to the final is exciting and we want to grab it with both hands.
"It's the old cliché of one game at a time – that's how I've approached it and it's done me no harm to far. We have one more step to go in Croatia and we'll treat it as: one game at a time. We'll focus all our energy on it and then that's the next step.
"As a kid, you have dreams of playing and scoring for England and how it would feel. It's a special feeling and more so for my family.

"They've put in the hours when I was a kid, taking me everywhere to training. For them to see me playing for England is more overwhelming for them than it is for me and to pay them back makes me happy to know they are.
"I've tried to embrace (this experience). It might never come around again for me so I'm trying to take every opportunity, bringing everything I've learned at City and my career to the table.
"The boys around me trust me and likewise. I try to do everyone proud – my family and friends – by putting in performances. I'm still a fan of England and I want us to do well, like everyone back home.
"It's a proud moment for us all when we put on the jersey and I'm going to grab it with both hands, run with it and enjoy it as much as we can. We're excited for Wednesday now – looking forward to it and we're trying to prepare as much as we can."